This is just a musing. I am not a financial adviser.
With that out of the way let me break down this chart a bit.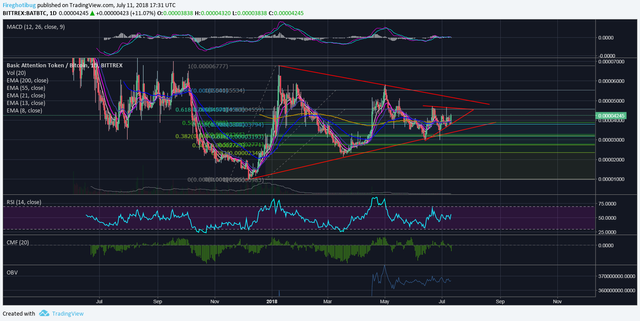 Arguably we have been in a symmetrical triangle scene the beginning of 2018 with May being our 4th touch of the overall trend line confirming the triangle. Volume being down over all lends to the symmetrical triangle idea as well.
Inside of our symmetrical triangle after the latest bounce off the trend line in early June I noticed what is looking like a bit of consolidation in the form of an ascending triangle. Both RSI and MACD seem to confirm this. RSI forming an ascending triangle of its own and MACD going sideways in a overall bullish trend.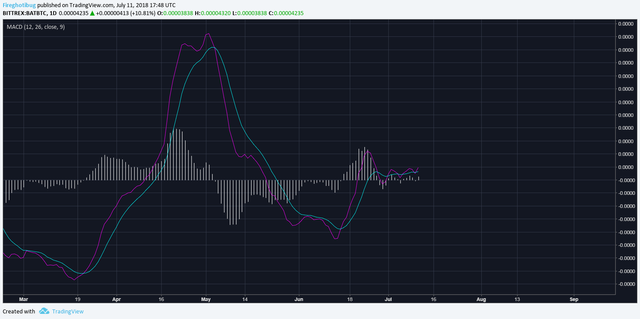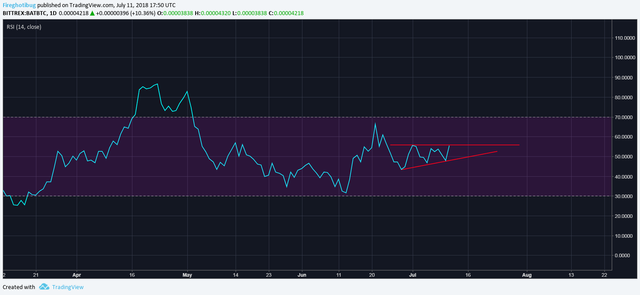 Also the CMF is still showing some selling pressure but its backing off on the smaller time frames (4 and 1 hour charts)
Symmetrical triangles have a pretty even rate of breaking either up, down or just meandering sideways . So far though I believe this will break upwards. Ill consider revaluating my position if this smaller ascending triangle fails and breaks downwards.
As for a price target on an upwards break id expect to see highs near the beginning of the year ~6700K satoshi. Basic Attention Token is a long term Hodl for me so I wont be selling much if I take profit. Its just nice to see a coin im holding doing well.
Feel free to correct any mistakes you see as I am definitely still learning and im open to feedback. Just to reiterate this is not financial advice.
Happy trading and Hodl strong through this nasty bear market!
-Enki