SALT LENDING TO THE MOON?

The Salt Lending Platform will be ready by the end of December :)
As an early member of Salt Lending, I just got an e-mail from them:
Dear SALT Community,
We are quickly approaching product launch in the latter part of December. The excitement is building throughout our office. We thought it would be a great time to take a moment, lift our heads from platform development, and share some of the things we've been working on.
Consensus: Invest 2017
The SALT Lending platform connects borrowers and lenders, and it's the lending side of our development that brought the SALT leadership team to the Consensus: Invest conference in NYC last week. We made a lot of great connections and the platform was received very well. Thanks for everyone that stopped by our booth.
SALT Ledger Nano S Sale
This week we launched the first product in our online shop, The SALT branded Ledger Nano S. Members can purchase them for 5 SALT here: https://saltlending.com/shop.
Job Openings with the SALT Team
With product launch so close, we are preparing from every angle. We've recently added several new positions to our careers page, including Finance Associate and Customer Support Representative. More can be found here: https://saltlending.com/careers
Thank you for your continued support. We're looking forward to product launch and shaping the future of lending with you!
The SALT Team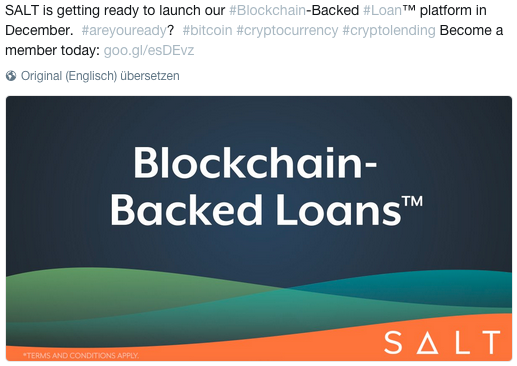 For those who have no Idea what Salt Lending is, here a short Video:
So did you bought some SALT ?