Switcheo <> EFFECT.AI Partnership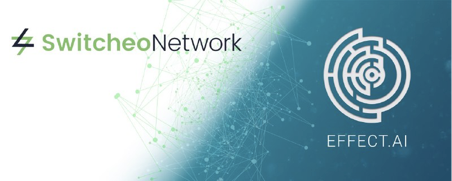 We are excited to announce a partnership with EFFECT.AI, a Decentralized Network for Artificial Intelligence development and AI related services built on the NEO blockchain.
EFFECT.AI (EFX) will be among the first tokens listed on the Switcheo Exchange, allowing users to trade EFX with NEO and GAS instantly.
About EFFECT.AI:
EFFECT.AI is developing a Decentralized Network for Artificial Intelligence and AI related services on the NEO blockchain. EFFECT.AI's main objective is to build a platform that will stimulate AI development and the creation of various AI services. The platform will be more democratic, accessible and easy to use than what is currently available.
The Effect Network will be launched in three overlapping phases:
Phase 1: Effect M-Turk
Phase 2: Effect Smart Market
Phase 3: Effect Power
In the first phase, Workers will be able to perform a large variety of Human Intelligence Tasks. This gives AI developers and other Requesters access to an easy way of creating data-sets and outsourcing large amounts of work to a reliable and accurate workforce. Fair payment, attractive rates and improved accuracy give the Effect M-Turk its edge over the competition. The second and third phase (Effect Smart Market and Effect Power) will further empower developers by allowing them to collaborate with others and to trade and run their algorithms and DApps on a fully Decentralized Network.
For more information on EFFECT.AI, visit the following links:
Web: https://www.effect.ai/
Telegram: http://t.me/effectai
Twitter: http://twitter.com/effectaix
Github: http://github.com/effectai
Reddit: https://www.reddit.com/r/effectai/
About Switcheo:
Switcheo is a Decentralized Exchange (DEX) currently on the NEO platform. It allows for the trustless exchange of NEP-5 tokens and will expand to other cross-chain tokens in the future. Switcheo Network strongly focuses on user experience and aims to be cross-chain compatible as quickly as possible. Work on the Qtum blockchain has already begun.
For more information on Switcheo, visit the following links:
Web: https://switcheo.network
Twitter: http://twitter.com/switcheonetwork
Reddit: https://www.reddit.com/r/switcheo
Telegram: https://t.me/switcheo
News & Updates: https://t.me/switcheoANN