Charlie Shrem Joins EFFECT.AI
Charlie Shrem Joins EFFECT.AI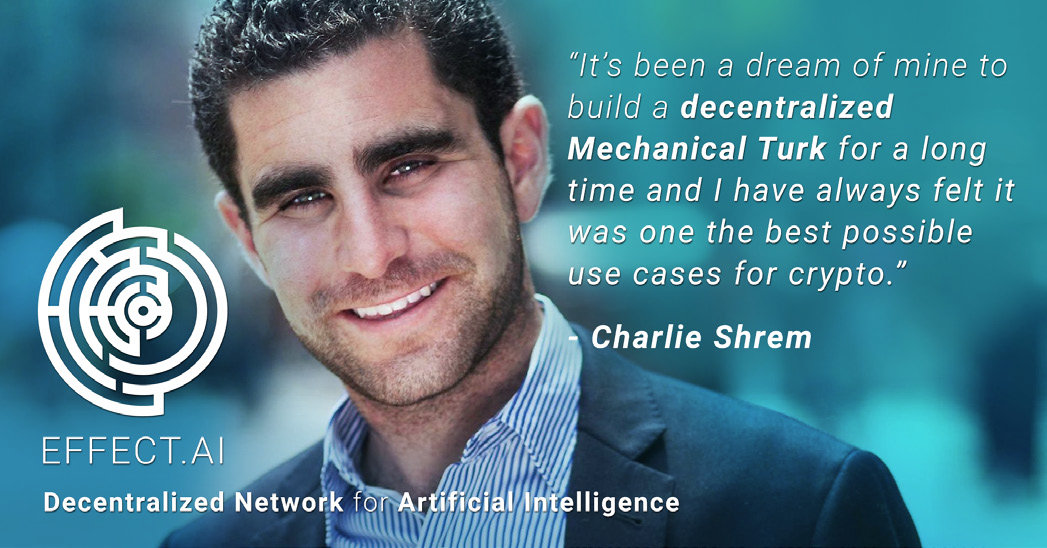 Charlie Shrem, one of the earliest advocates of Bitcoin and BitInstant co-founder, has joined Effect.AI as an advisor.
When it comes to influential thinkers in the cryptocurrency space, few have left a bigger mark than Brooklyn born and raised entrepreneur Charlie Shrem. Back when Bitcoin was still in its infancy, Charlie co-founded BitInstant, one of the first places where users could exchange Bitcoin for traditional funds. Now 28, Charlie's considerable experience with cryptocurrency, its key players and its opportunities make him an invaluable asset for any project that's out to make a name for itself in the realm of blockchain.
On advising for EFFECT.AI
Effect.AI is an Amsterdam-based project that is working on a decentralized network for Artificial Intelligence and AI related services on the NEO blockchain. It was when Effect.AI announced its plans for the network's first phase, the Effect Mechanical Turk, that Charlie Shrem became interested in joining the project. Charlie on joining Effect.AI: "It's been a dream of mine to build a decentralized Mechanical Turk for a long time and I have always felt it was one the best possible use cases for crypto. Effect.AI is working hard to make this dream a reality and I'm very excited to have joined the team."
Added value
Charlie Shrem's added value to Effect.AI cannot be overstated. As an advisor, Charlie will 1. leverage his know-how to aid Effect.AI in creating a resilient, lasting and open platform for AI development and 2. assist in the acquisition of strategic partners that will make that possible. Charlie will meet with key members of the team twice a week to discuss progress on current objectives and propose alterations if necessary.
Effect.AI Whitelist opens on February 28
Effect.AI's Whitelist registration will open on Wednesday February 28 at 9AM Central European Time (find your time zone here). Starting at 9AM on Wednesday, you will be able to sign up for the Whitelist by visiting the Effect.AI website. The process will be explained in detail there. Effect.AI's Telegram users will get a head start on signing up for the Whitelist. Be sure to join the Telegram channel.
Effect.AI Telegram
Effect.AI
Facebook.com/effectai
Twitter.com/effecaix
Github.com/effectai