Neo and a possible target of 50% or more.
Hello Crypto enthusiasts
Today I want to talk about Neo.
Neo looks to be the biggest competitor of Ethereum (ETH).
According to their website, NEO is a non-profit community-based blockchain project that utilizes blockchain technology and digital identity to digitize assets, to automate the management of digital assets using smart contracts, and to realize a "smart economy" with a distributed network.
NEO was founded in 2014 and was real-time open source on GitHub in June 2015. Since its inception, the NEO team has experienced the upsurge and boom of the blockchain industry and the frenzy and cooling of the digital money market. We believe technology drives progress and together we can create the future. Motivated by this, NEO has been created to shift our traditional economy into the new era of the "Smart Economy".
According to Coin Market Cap Neo as a cryptocurrency coin was Launched as a coin in Sept 2016.
What it's a cryptocurrency :
A digital medium of exchange. It uses cryptography for security, making it difficult to counterfeit. The idea of cryptocurrency comes from popular online games wherein you trade something for something, and emerges into a new unit of cyber-currencies between public (miners) that mimic the value of precious metals. The first of its kind is bitcoin.
At the end of November 2017, Neo started a partnership with Microsoft China. This it'a huge win for the crypto world. You can read more about this here
Partnerships like this could lead Neo to the place that we all want :new_moon:
Another proof of the team work we can see it in the interview from CNBC, where the founder shared his vision. That you can find it here
Seeing the evolution of currency in recent times, and following the chart, we can figure out how to create a further 50% increase if we apply the Elliot wave's interpretation. Which can mean a profit goal that should not be missed.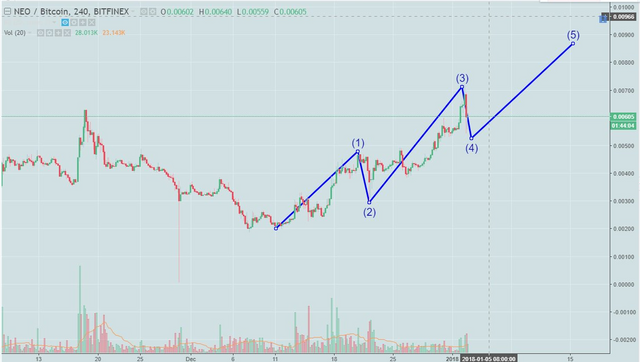 Note that I'm not a financial adviser. I'm just a crypto guy sharing my opinion. So please do your research.