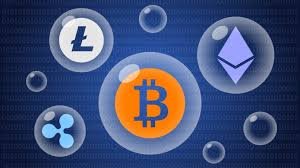 Crypto has become the trending market these days every one prefer digital currency rather than fiat.
Today i am going to introduce 5 such coin which is under 1 cent and is gonna boom in next bull run. If you have some fiat grab some of them at good price.
Electra

Electra coin has lot more potential to reach 30 to 50 cent in near future. the team and project is much clear and worth only 0.001$ at current market price. In BTC it worth only 16 satosi
Electroneum

Electroneum is most popular among all. its Ico price was 0.01$ and now it is around the ico price its ATH was 0.22$ that means it is 22X less than ATH. the team behind are very strong. project is very good CEO is Rechard Ells well known person. IT is a mineable coin. IT is not even listed on very good xchange like bittrex binance etc if it gets listed price will boom. So grab some and wait for moon.
Tron

Tron is the most viral crypto coin million of people are holding TRX due its project and the team. IT was expected to boom after its mainnnet launch but due to bear market it could not show good performance. this coin is very cheap at this price. if market goes little down you can grab it. it is already listed on very good exchanges like Binance.

Verge

Verge coin gave very good return to all the lovers and still a good coin to invest on. Its can be traded for short term as well as long term . At this price it can be called undervalued because its ATH is 0.22$ and current price is 0.022$ that is its 10X less than ATH.
Reddcoin

Once Reddcoin was most popular among the people due to the good return it is not pump and dump coin the project and road map is in their website. Its current price is 0.004$ and ATH is 0.02$ . It is also nearly 8X below its ATH .
So these were my Favorite 5 undervalued, cheap coins under 10 cents. If you want to grab these coins make sure to use stop loss and have fun.
In next Blog i will bring 5 most safest investing coin which can give good return in 2018.
Regard
@dontmiss
photographer and crypto trader.
If you like the content please upvote and comment your views.