MEET XAYA: THE BLOCKCHAIN TECHNOLOGY THAT PROVIDES AN AWESOME GAMING EXPERIENCE PLUS REWARD
INTRODUCTION
There has been a significant growth in the market size of the gaming world. Initially, it was less fascinating and inviting due to some challenges like less visibility, less creativity, marketing etc.
But as time went on, there became a geometric progression to its use. Virtual gaming came forth and It was immediately dubbed the "next big thing".
A new blockchain platform of video games emerged in late 2017 in which users could take ownership of game assets (digital assets) using Blockchain technologies. An example of this is Cryptokitties Source.
This is in part a result of mobile gaming, which accounts for $35.3 billion with a 22% YoY growth , and the lowering cost of computing platforms thus increasing their accessibility to larger human populations. Estimates of the current desktop computer gaming share vary from $24.8 to $33.7 billionSource: Whitepaper.
Early development in the gaming world was characteristically cross-linked, with developers and graphic designers having much of the monopoly. As it evolved more, sound designers, technicians and musicians became involved.
Sophisticated items, ideas were pumped into the gaming world.
This resulted in an increase in cost as funds needed to pay workers became a challenge. And then, keeping the best talents as well as maximizing profit also became a herculean task.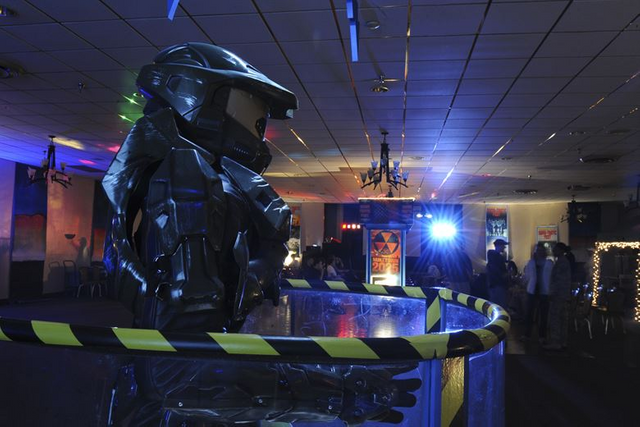 Gamers being humans have an insatiable taste for new features and experience to their gaming world, so there is always a high expectation on developers to deliver. So the time from conceptualization to release had no correlation, games expected to be released on time take longer than usual times for them to be released.
This was basically due to poor infrastructure build of the developers, there needs to be a system to automate certain processes for greater and faster productivity.

GENERAL PROBLEMS OF THE GAMING WORLD

UNCONVERTIBLE AND NON TRADABLE GAMING ASSETS
Many gaming platforms are not autonomous, one can easily loose acquired assets when problem arises.
I had a friend that acquired so many points and money while playing a virtual online soccer game, he was so happy that he forgot it was only ephemeral.
The game server was shut down by the owners and he lost everything he had on the game, both the points and saved data on the game. I felt sorry for him
Most times, I have acquired assets on many gaming platforms that cannot be transferred into real time money. It hurts so much to spend time on your passion and getting nothing worthwhile from it.

POOR SERVERS
The in-game performance of many games is dependent on servers. Some servers due to the number of players and build up make certain games unplayable and unenjoyably. The multiplayer effect works effectively on a very good server system. I am a game freak and often times, I desire to have my friends come on board with me, I get madly frustrated when some of these games become slow.
At times also, our saved data also become deleted. These are bugs from the server being used by the developers. This is one area I detest much in gaming

TIME WASTAGE FROM CONCEPTUALIZATION TO RELEASE
With the ever growing insatiability, it is important to keep up with your customers, users and gamers alike. Many exciting gaming ideas have failed to deliver because of poor time management, it is one thing to conceive an idea, another to bring unto completion.
Many developers do not meet up with the development and release of many projects and this has sent a bad signal to the gaming industry. A huge part of this is accrued to poor facilities, time management and team strength.

ADVERTISING ISSUES
Getting your project across to users is another problem of its own. A game can be fantastic, but if they people have no knowledge of it, it is going to fail.
Advertising is important to the success of games. Due to the numerous games all over the world, the need for proper synchronization is important.
With the great influx of people towards blockchain technology, any gaming platform not built on it would have globalization issues as well as user difficulty.
The blockchain remains the best bet towards making your project known to gamers.

COST OF MAINTENANCE AND EXECUTION
Cost is a big factor in the gaming industry, huge amount of funds is needed for the extensive execution of ideas. In situations where ideas are free flowing, getting them done with the basic tools requires funds.
So many complex and powerful materials are being used in game production and staying relevant in the industry requires huge amount of funds.
Also, paying the people who work for you requires funds too as well as keeping your best talents. This is one problem that has greatly limited production and development of the gaming industry
What if developers could provide autonomous, decentralised worlds, rich in tradable virtual items for gamers?

What if developers could go from concept to game release in less time and for less money without worrying about infrastructure costs (such as servers) and recurring costs (such as account administration)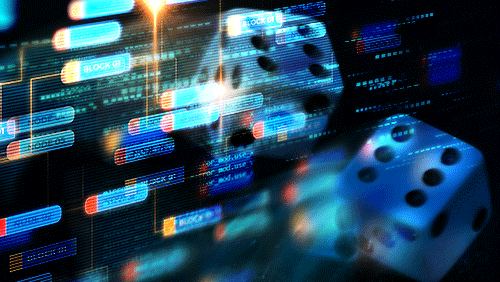 What if we could offer true ownership, simple and safe trading methods for gamers to convert virtual items into real world value through an entirely flexible system?

What if both gamers and developers could share in a win-win outcome with both able to capitalise on new revenue streams and participate in thriving new economies?

What if we could realise a substantial and growing demand for a cryptocurrency, increasing its utility and value for users?Source

Amidst all these issues and above questions, there exists a technology that seamlessly addresses all of them. Not just some random technologies, but one that would improve revolutionize the gaming industry and further improve gamer's experience. I introduce to you XAYA

XAYA is a blockchain gaming technology developed to provide an ultimate gaming experience to users. xaya provides a secure, decentralized and autonomous platform upon which other variety of games can be built
In relation with its vision - Decentralized Autonomous Universes, it creates an opportunity for different people to work together in order to achieve a feet in the virtual (gaming) environment.
With the increasing complexities of game development and gaming industry at large, XAYA provides the opportunity for gamers and players to share, secure and trade virtual assets.
While offering tradable virtual assets, xaya also creates multiple revenue streams that would over time benefit every stakeholder.
It utilizes a fast real time approach to game development and development. Unlike non-autonomous gaming platforms, XAYA runs on a severless system and is unstoppable to the very many challenges of non-autonomous system.
As regards game development and deployment, XAYA allows developers on the platform to bring their vision to life quickly at a very reduced costs. It ultimately provides variety of tools as well as infrastructures for game developers to develop their own blockchain based games.
XAYA creates room for every stakeholder in the gaming industry, no segregation or some sort
Consequently, the XAYA platform has a solid foundation from its highly experienced team members, who are original creators of blockchain gaming are successful business experts.
As regards experience, insight and value, the XAYA platform has all and many more.
As a single, custom, blockchain-based platform, the exciting advantages that the xaya platform will offer include:
Truly decentralised massively multiplayer Decentralised Autonomous Universes (DAU) ¬
True and fair virtual item ownership with simple and safe trading and sharing ¬
Rapid and cost effective game concept to market for a wide range of new massively multiplayer games and games in general.

THE EVOLUTION OF XAYA THROUGH THE HUNTERCOIN EXPERIMENT
The huntercoin was an experiment used by the xaya technology in 2013 to develop solutions to the underlying challenges of the gaming industry and also to check its prospects and constraints in the market. The huntercoin gave them a clue to what was achievable, possible and challenging to the growth of the technology.
The experiment was successful and huntercoin became the blueprint of the blockchain gaming system, not only was it successful, it established itself as the:
First decentralised massively multiplayer game
First game world built entirely on the blockchain
First human mining permissible cryptocurrency
As a pure autonomous system, it requires no servers or infrastructure for functionality. Despite having low profile launch and also requiring some specialist hardwares, the huntercoin experiment was able to achieve 35,000 controlled characters and also a market capitalization of $1 million.
The market capitalization grew to around $6.3 million in 2017, this among many shows how successful the platform is.
The success of the huntercoin experiment opened many doors for the XAYA platform and it received publications even in the blockchain journal 'ledger'.
The XAYA platform is powered now by the significant, efficient know-how garnered from the Namecoin as well as the successful Huntercoin experiment. This will ultimately provide enough tools and infrastructure for developers to build and execute projects on the gaming platform.
Developers can by the way of leverage, develop and issue their own gsme currency which can be traded and exchanged for the 'CHI' or other XAYA game coins or assets.

XAYA AIMS TO ULTIMATELY
Enable developers to create provably fair games in decentralised autonomous universes
¬>Build a blockchain-based gaming ecosystem ¬
Provide developers with tools for asset trading for new and existing games ¬ Provide a full-scale virtual asset trading platform

AMAZING ADVANTAGES AND FEATURES OF THE XAYA TECHNOLOGY
EASE IN DEVELOPMENT
One would think that the languages required for use by developers would be entirely new, but everything easy and no new language is present. Languages like javascript, python, NETcan be used.
No advanced blockchain knowledge is needed for development
HIGHLY SCALABLE
The infrastructure build of the xaya platform allows it to handle many transactions at a time, while also carrying the numerous gaming experience of users
It was designed from the ground with game channel technology for it to multi-task
HIGHLY SECURED
XAYA is highly secured with a POW miuning method. Also, with SHA-256d merged mining secured by Bitcoin miners, an attack is likely not feasible.
PROVABLY FLAIR
Everything is based on PoW. There is no cheating or manipulation in the system, if you prove you killed a dragon, then that is it and nothing less.
SELF TRADING
XAYA guarantees a very reliable and secure trading with zero fraud while trading in-game assets. Highly reliable.
NO SERVERS
Poor servers have always caused slow and frustrating gaming experience, these centralized servers can easily crash and are unreliable. Xaya allows users to run games seamlessly without any need for centralized severs

HOW XAYA ADDRESSES EXISTING MARKETS

GAMING
The gaming industry alone is a highly lucrative one which was estimated at $108.9 billion per annum. It had a 6.2% CAGR in 2016 or a 7.8% YoY in 2017 comparing with mobile gaming which had $35.3 billion with a 22% YoY growth.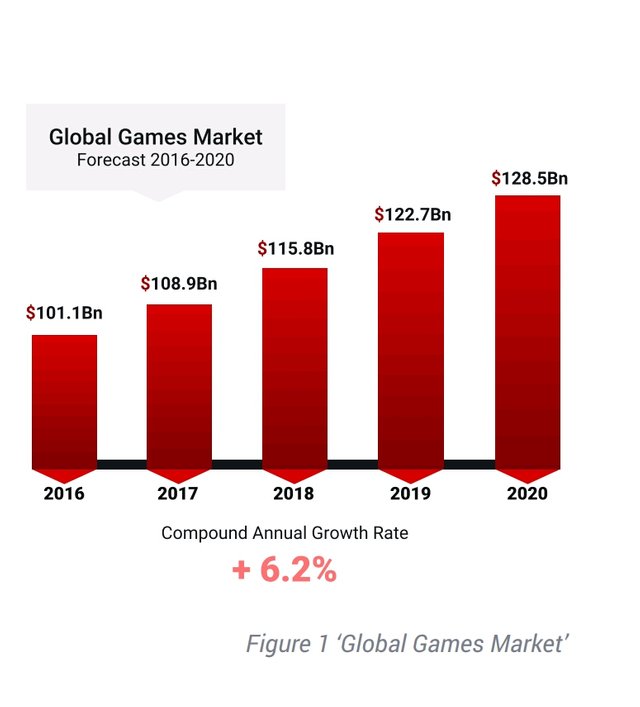 The lowering costs seen in computation have increased its accessibility to the larger human population, which further strengthens the economy.
Freemium models have emerged as a significant means of generating revenue. They allow players to play for free or pay in order to improve their performance within the game (e.g. 'levelling up', or acquiring 'power ups')Source
CRYPTOCURRENCY
The market capitalization of cryptocurrency is estimated at about $350b (2017), and the recent global adoption of crypto has contributed to this, though some challenges ranging from regulation and usability still exists. But, the hand on the wall has been pretty encouraging.
There are hundreds of cryptocurrencies in circulation. As demands for these currencies grow, so does its value. The penetration of cryptos keep growing by the day, and billions are spent in transactions everyday.
XAYA is not left out in this as it utilizes a token known as 'CHI'. Since XAYA is a gaming platform and a blockchain technology, many users would love to have fun as well as run transactiuons on it. As the demand for 'CHI' for usage, it will increase the demand and would resultantly result in increase in value for the token

MAJOR ASPECTS OF PROBLEM ENCOUNTERED AND SOLVED IN THE GAMING WORLD

DEVELOPERS
One of the problems I pointed earlier is poor time conceptualization and release, as well as cost of execution. Many developers fail to meet up with the ever growing desire of users due to many constraints highlighted initially.
But with XAYA, developers can now focus on real time development of games using the cost effective and enhanced tool of the xaya blockchain.
Xaya gives developers opportunity to participate in the blockchain activities by making it an open source platform, where they could leverage their skills and passion.

CHARACTERISTICS OF THE SOLUTION TO DEVELOPERS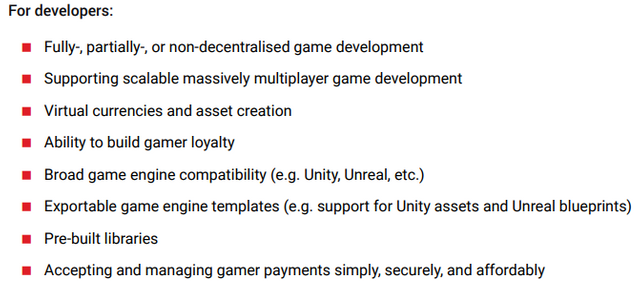 GAMERS
For gamers, there is an increasing desire for rich virtual gaming experiences in which virtual assest ownership is of great importance for status and recognition.
One good benefit of the autonomous user experience is that gamers get rewarded beyond passion enjoyment. These rewards can be traded for real world value or virtual items.
Xaya is not just for the fun but also for the rewards.

CHARACTERISTICS OF THE SOLUTION TO GAMERS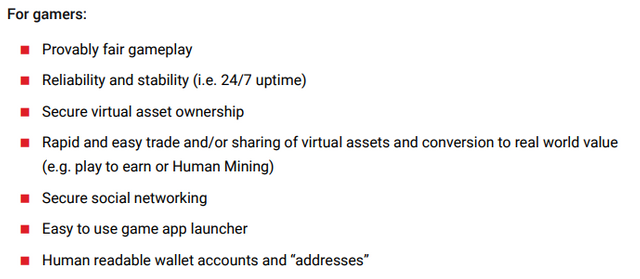 FOR SUPPORTERS
Access to large pool of existing gaming markets
Development of new game genre
High utility based crypto
Untapped gaming access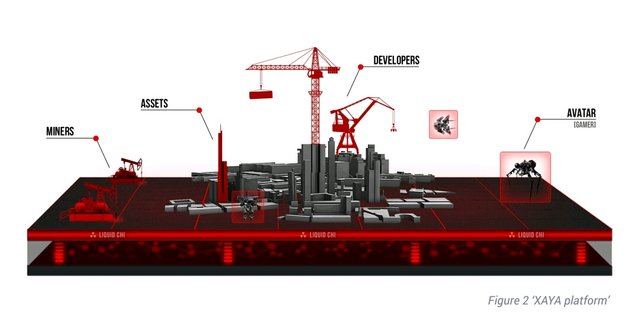 TECHNOLOGY BEHIND THE XAYA GAMING PLATFORM

XAYA's blockchain is secured built on the proof-of-work (PoW) algorithm. They include :
ATOMIC TRANSACTION
The atomic Transactions ensures that the trustless trading of game items, game-specific currencies and whole game accounts for CHI and when this happens, a new breath of success will be seen on the XAYA platform and an increase in demand for CHI. the atomic transaction was initially pioneered in Namecoin
GAME CHANNELS
There is a provision for payment channlels in Bitcoin which can be applied in gaming moves when multi-playing offline, this will resultantly aid in scaling XAYA to the global world. it can also be used for 'SHARDS' of a global game world so as to bring about unlimited real time gaming experience
EPHEMERAL TIMESTAMPS:
In situations of disputes in game channels, transactions are made on the main blockchain so as to resolve this issue. Xaya utilizes he mix of time-stamp abilities of the blockchain, amortised mining incentives etc. to ensure occurring transactions cannot be lost for honest users.

TECHNICALITIES OF THE XAYA PLATFORM
The implementation of game accounts and tradable in-game items will ensure that ownership is securely tracked on the blockchain, this shows that security is of utmost importance to xaya. This also works by transferring both the sold item and corresponding payment in CHI between two users in a trade.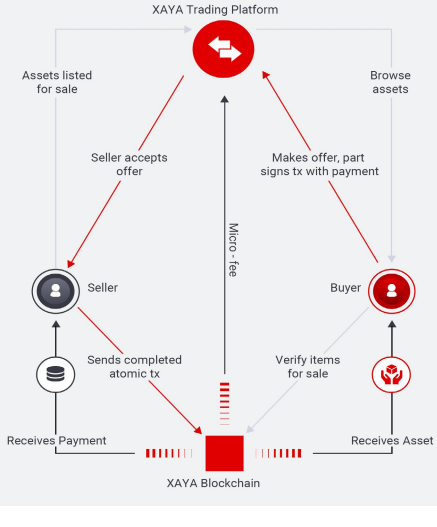 The transaction has to be signed by the two parties, the essence of signing by both parties is to ensure that fraud is avoided in cases of made payments without transferred items
A concept known as a global 'game state' has been used in game development and deployment and it was developed by Huntercoin.
Every crypto on a blockchain has a concept guilding its existence, the game state for xaya can just ne about global data that encodes and incorporate the whole game world.
Gamers can update the global state through transactions made on the XAYA blockchain or through offchain game channels. Time-stamping through XAYA's blockchain ensures that all participants in each game reach consensus on the shared game state in a decentralised and provably fair way.
Every blockchain technology is saddled with scalability issues, xaya devised means of solving scalability issues by inventing game channels
The working principle of the game channels is the ability of two players to perform turn based game trustlessly without having to record one another
The only moves recorded on a "private side chain". As long as both players agree on the outcome of the game, the resulting prize coins (or whatever else the game is about) can be distributed accordingly by a 2-of-2 multi-signature transaction. If the players disagree, then the data in the sidechain allows an honest player to prove to the public that she's in the right according to the game rules and thus still claim her reward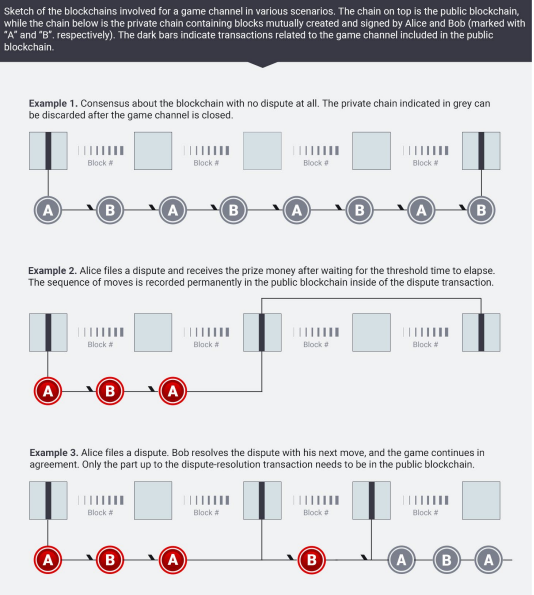 Another issue was still seen in the original game-channels where when a dispute is raised and solved, game continues as before. This removes the scalability gains and as such needs to be addressed. A player that can repeatedly disrupts games built on the XAYA platform and this can irritate honest players and disturb the flow of the game though it costs unncessadry fees. A method for resolving this exists, this is basically through the:
They have the following useful two properties: ¬
Nodes can send some data D to be timestamped at time T by the public P2P networkand blockchain. Due to a Merkle construction, this does not cost any blockchain space or transaction fees per timestamp. Miners still have an economic incentive to process these timestamps.

Later, and only if necessary due to a dispute, such a timestamp can be used to prove to the P2P network that another game participant could have known D at time T. This, in turn, can be used to prove that this participant did not act in a game channel according to the rules, and thus claim payout of the prize money. Only this act of actually using the timestamp requires a transaction on the blockchain and transaction fees, which are then offset by the prize money that is guaranteed to be paid out. In other words, the cost incurred by the dispute will always be paid by the defecting player in the end via awarding the game prize to the honest player.

STRATEGIC PARTNERS OF XAYA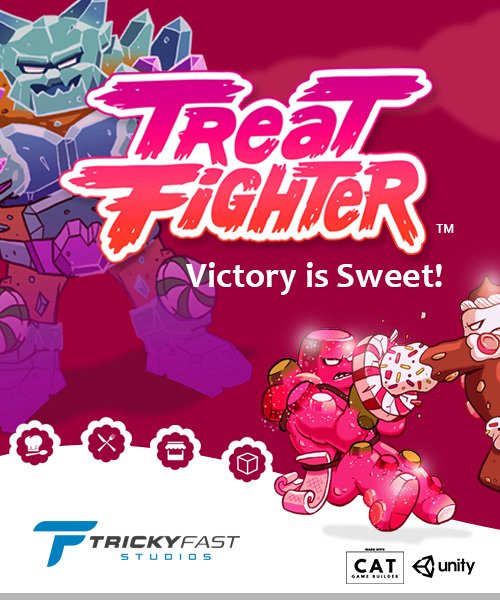 TREAT FIGHTERS
Treat fighters will be launched soon and set up in the world of canedoom.
It is a game I have great interest in, where fighters will battle with each others.. promises to be exciting.
Its partnership with XAYA will be wonderful as nodes will act as servers guaranteeing users a 100% uptime
SOCCCER MANAGER
Soccer is a sport that has wide coverage and is played both on the virtual and real world. the soccer manager is a popular game on the gaming industry, it is wonderful seeing their partnership with XAYA
Xaya will benefit from soccer manaer through the exposure to millions of olayers while it provides soccer manager with a full blockchain gaming experience
By joining in and playing Soccer Manager powered by the Xaya platform, players can come as close as possible to being a real soccer manager!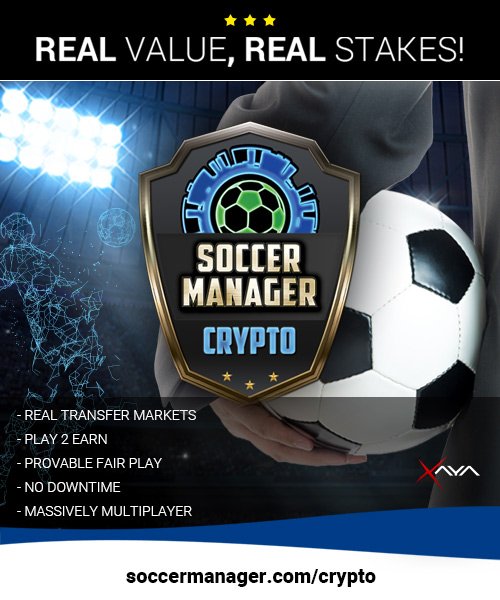 GAMES THAT CAN BE USED ON THE XAYABLOCKCHAIN:

Turn-based games such as UFO Enemy Unknown
Other genres, such as head-to-head games, social VR worlds, etc.
Collectible Card Games
Real-time strategy games (RTS)/multiplayer online battle arenas (MOBA) such as Heroes of storm

USE CASE 1: REWARD FOR PASSION
Kelechi has always been very passionate about games. Right from when he was a kid, he spent much of his time playing games. They said there is no greater joy than doing what you love most. He preferred playing games to any other hobby, at some point it became an addiction. But then, he grew weary because the points and achievements he acquired while playing these game never turned into real life value. A friend introduces him to XAYA, he embraced Xaya immediately and was rewarded while doing what he loves most.

USE CASE 2: IMPROVED GAMING BUSINESS
Emeka was is a developer with a highly reputed gaming development industry, as the lead developer, they had problems completing tasks on time, basically due to the fact that tools for swift completion aren't available. This greatly affected the reputation of the company. He was surfing the net and bumped into XAYA. After checking up features of the xaxy platform, he was impressed and this prompted the improvement of his company.

XAYA TOKEN
The token used in XAYA platform is CHI token and has high utility within the xaya platform. some of the features and uses include
Account transactions
Coin transactions
Account Creation
Renting of assets
CHI powered crowdsales
Game transactions

COIN DISTRIBUTION


CONCLUSION
This collaboration is the first of its kind and it is a success for both the gaming industry and the blockchain technology. Many gamers have been particularly frustrated from the fact that they could not get any sort of real time reward for the time and passion, with Xaya in place, everyone can be rewarded for their gaming experience.
Xaya ensures that gamers and developers feel valued and this will further strengthen the blockchain and gaming industry
Not only does it guarantee rewards, the security of these assets is also guaranteed. This shows that assets will be retained no matter what happens. Faulty servers in time past has gone with gamers data and points but it is so dead in the past as xaya has addressed such concerns
The gaming channels in xaya allows it to be very scalable and efficient in use, with this implementations, xaya is already the next big thing.
Xaya also partnered with excititing games like soccer managers, that has got millions of users. this will in turn market the xaya platform while bringing full blockchain experience to these companies, it's a synergistic mutual benefit scheme.
With the CHI token powering the system, everyone can be able to acquire this token which can be traded for other cryptocurrencies.
Xaya is the future and has already set the blockchain running in an awesome direction

MEET THE TEAM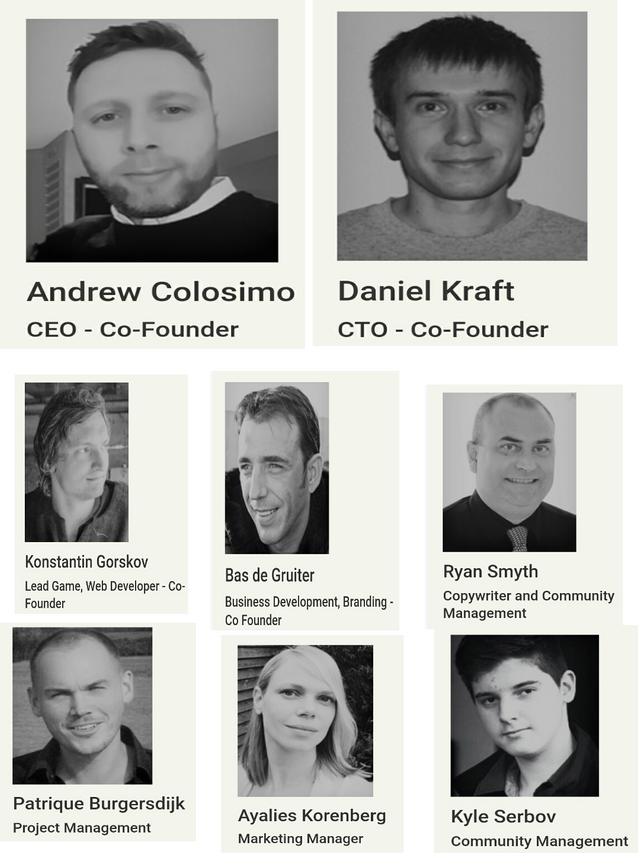 ROAD MAP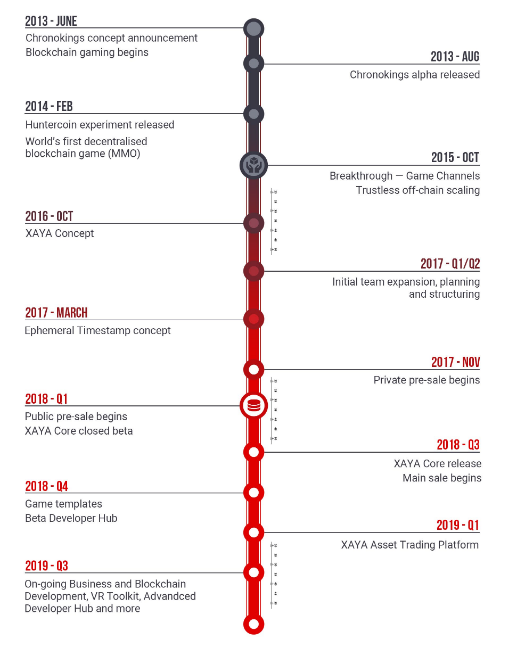 MY VIDEO REVIEW