HEX Scam Day 13 Don't Speculate
If you read or view the marketing coming from HEX (predominantly on telegram, twitter, youtube), you would presume its now listed on numerous exchanges and may feel like speculating by acquiring via AA or exchange trading. Here's why we recommend against that during the entire 351 days of distribution.
This boils down to a few reasons:
No "pumpamentals" built into the first year. Otherwise meaning, there was no incentives built into the contract and game theory to grow the price during distribution. Discussed in depth today in the Drunk on Crypto livestream with @mesquka and another dev [1]
Exchange order books thin enough almost anyone could empty either side with 1 or 2 BTC.
Turned out ETH deposits are not frozen and being used at will. No one can guarantee the integrity of the AA pool now that the funds have the possibility of being recycled
Only after the big redistribution of unclaimed tokens occurs will the market price have any real reason to grow. Depending of course on the resulting total supply! As of today the majority of minted HEX is staked, mostly as a result of the mandatory stake when claiming BTC amounts. Still thinking about what this composition may look like at day 351.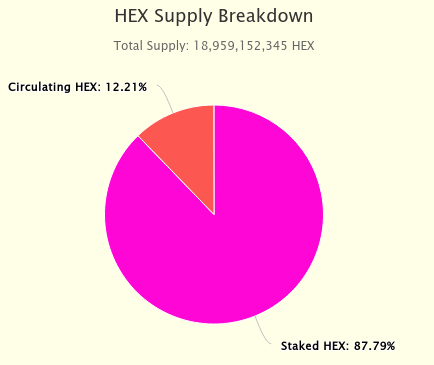 source: hexstat.com
Empirical View of Market Depth
| Market | | Total Ask (HEX) | Total Bid |
| --- | --- | --- | --- |
| bidesk.com | HEX/ETH | 27,728,619 | 32 ETH |
| etherdelta/forkdelta DEX | HEX/ETH | 222,677 | 3.32 ETH |
| bitcoin.com | HEX/ETH | 402,300 3,550,800 | 0.1 ETH |
| | HEX/BCH | 121,700 5,706,500 | 0.1 1 BCH |
EDIT: It appears the addition of the HEX pair on bitcoin.com was still pre-marketing and throughout the day had quite a bit of growth on the ask side and especially after a livestream with Richard Heart & @rogerkver [2].
This data was collected from the following sources:
Disclaimer: Anyone sending ETH to this contract is doing so at their own risk. Anyone spending ETH on transaction fees to claim is doing so at their own risk. If you found these posts interesting, please upvote and use the links below.