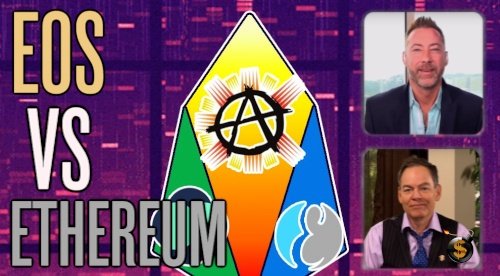 The next couple of years will be among the most defining in the short history of blockchain technology. We will see a battle unfold to determine which type of decentralized system is superior: one run by a super-intelligent AI or one regulated by the free market of We the People.
During a recent interview on RT's Keiser Report, I had the pleasure of unraveling the current crypto landscape with Max Keiser. We dove deep into the current Ethereum vs EOS debate.
Ethereum's Big Brother-esque supercomputer approach has worked admirably in managing the ecosystem.
But the big question is: what would happen if we---the living, breathing participants in the network---each played a role in protecting the blockchain?
This alternate methodology is exactly what EOS is seeking to create, and thanks to the genius work of developers like Dan Larimer, it's being actualized.
Dan's approaching this challenge firmly grounded in his voluntaryist, anarcho-capitalist ideals, preferring to let the market decide how the ecosystem flourishes. I wholly support this strategy and it's also what Liberty Block is all about.

I discuss all of this and more in my interview with Max, which you can watch here:
From decentralization comes freedom.
That's Liberty Block's motto and it's also my philosophy. Indeed, this is how we can achieve prosperity, independence, and peace on Earth.
But toxic coins almost killed the crypto market! In fact, many new investors got REKT in 2018.
Don't let "FiatCryptos" poison your wallet. Avoid paying for your own imprisonment, and discover how our 3-part 'Equity Antidote' protects you while building both liberty AND wealth. Learn more HERE.