Rubius. Cryptocurrency & Blockchain for everyone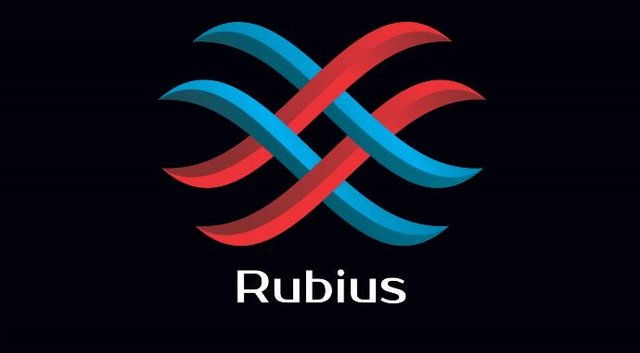 Introduction
Blockchain technology and cryptocurrency have become known to the whole world, but so far many large investors and world scale companies bypass it. This technology is so innovative that it can't be ignored and most likely in a couple of years cryptocurrencies will densely enter our world. This is happening now. Already, you can order coffee or buy, for example, home appliances for crypto... Yes, it is available only in certain places, but will eventually be everywhere. Millions of people around the world do not have access to electronic financial services, so they are forced to act in barter or monetary schemes, which, as is known, contributes to poverty, crime and corruption.
The Rubius project is trying to develop blockchain industry, making it accessible to any person on Earth, and not just for investors and traders.
Problems of the modern market
The two main functions of the banks are borrowing and collecting percents, but there is probably the most important, this is trust. The banking system depends entirely on trust, it leaves millions of people behind and limits economic development of the world. Cryptocurrency is able to solve all banking sector problems. No interest and loans are needed, there is no trust, just payments by peer-to-peer network. It's all so simple, but why does world not use this system? What prevents to provide a new generation banking system to all these people who do not have access to finance? First: the corrupt goverments of backward countries that do not benefit from an honest system. Second: there is no software that would help to do this, there is no real "people's" tool. There are a lot of projects, but basically all of their software is intended for an advanced user and not for an ordinary person who is far from cryptocurrency world.
Problem solution (Rubius vision)
Rubius Inc. is a blockchain software startup located in Tampa, Florida, USA. Rubius creates a very convenient and simple software, which every person can use. Completely designed for the consumer it will constantly improve. Thus, the project goal is provide access to financial services for everybody in the world. All project software will use a decentralized system such as Ethereum.
Rubius Ecosystem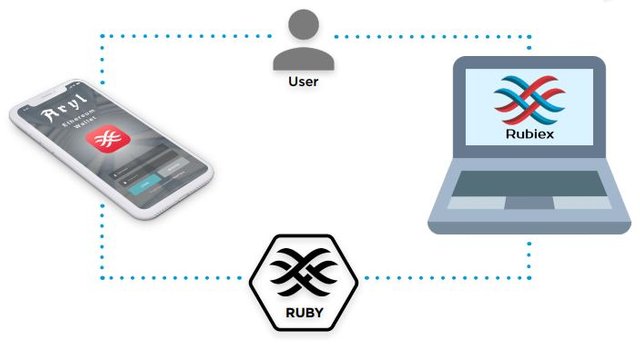 The ecosystem includes: Aryl (mobile application), Rubiex (cryptocurrency exchange), Rubius coins (project currency). As the project grows, system will include new proposed products. Ecosystem combines any computer or mobile devices into a single secure financial platform.
Aryl app
Aryl is both purse and payment platform based on the Ethereum. Aryl will simplify the acquisition and use of cryptocurrency, as well as make blockchain technology and cryptocurrency more accessible for a wide range of users. Millions of people all over the world don't want to use blockchain technology because of the applications incompleteness, everyone wants everything to be clear from the first time, that's why Aryl application will be understandable to everyone at once, so Rubius can attract a huge number of people! They will talk each other about an amazing application and it will spread everywhere. It takes time to reach the goal, but project does not stand still, it is constantly evolving. Aryl application will have such an intuitive interface that any user can use it immediately, without preparation. Trading on Rubiex exchange can be done directly from the Aryl application.
Aryl app main functions
Possibility of requesting, receiving and sending payments in fiat, Ethereum, or Ether and also simplifying transactions in traditional currency or any other cryptocurrency.
Connect with friends. On the main screen, you can see last actions of user's friends. A list of friends is collected from user's contacts, from his social networks by connecting to the account.
In-iMessage. Ability to send payments right during the conversation in iMessage. Don't be afraid that payment go to the wrong address (anything can happen), you select the recipient by the contact's name, not the purse address. Very comfortably.
Rubiex cryptocurrency exchange. You will be able to trade on project's exchange directly in the application Aryl. Users need to register in Rubiex, as well as KYC procedure.
Protection of user's funds from volatility with help of a special "Aryl's Shield". This shield keeps user's money in a safer cryptocurrency, switching to the preferred one when sending payments. After receiving the payment, received currency is automatically converted back to the "favorite" storage currency.
Rubiex Cryptocurrency exchange
Main cryptocurrencies will be placed, as well as many different altcoins. Quality and user-friendly project interface will help the user to trade. I want to note that after a while it's planned add to trading all types of tradable assets such as stocks, mutual funds, ETF, etc. This will be a huge Rubiex exchange advantage over other exchanges.
Rubius company plans to develop Merchant software to provide customer service, Rubius Smart Escrow (RSE) and Rubius Smart Loans (RSL) for cryptocurrency introduction into everyday life. Own social network can also see the world.
ICO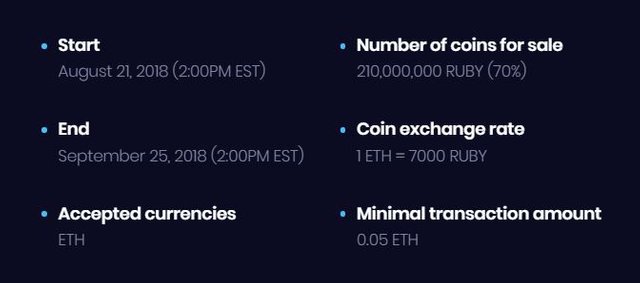 Coins Distribution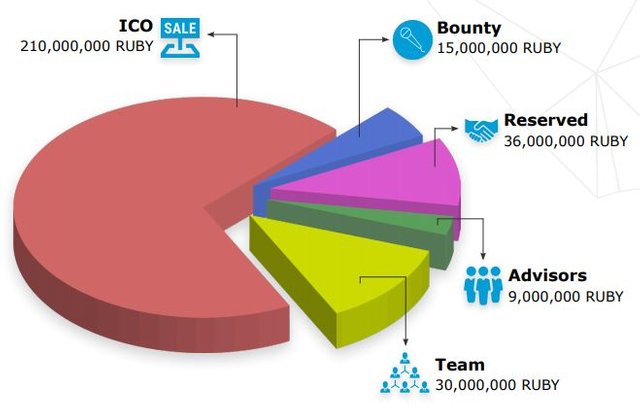 Use of Proceeds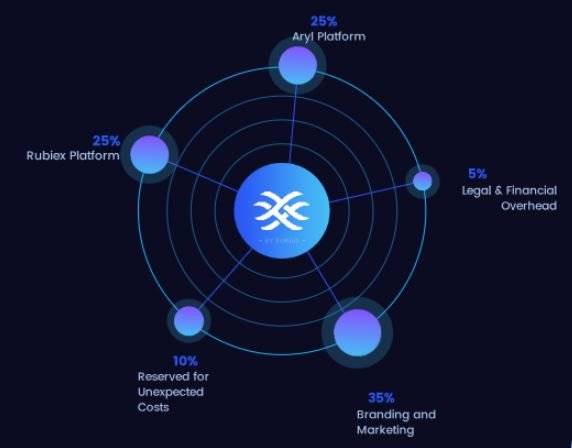 Roadmap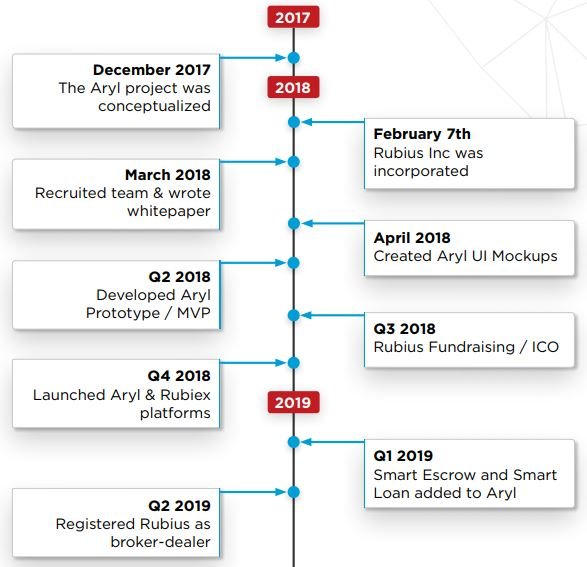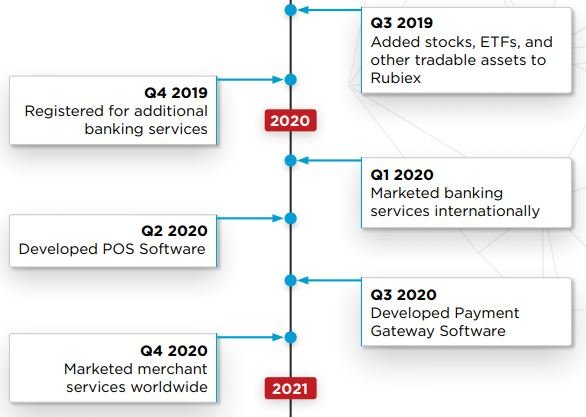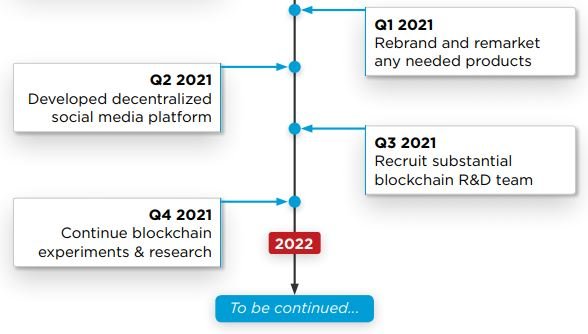 Project Team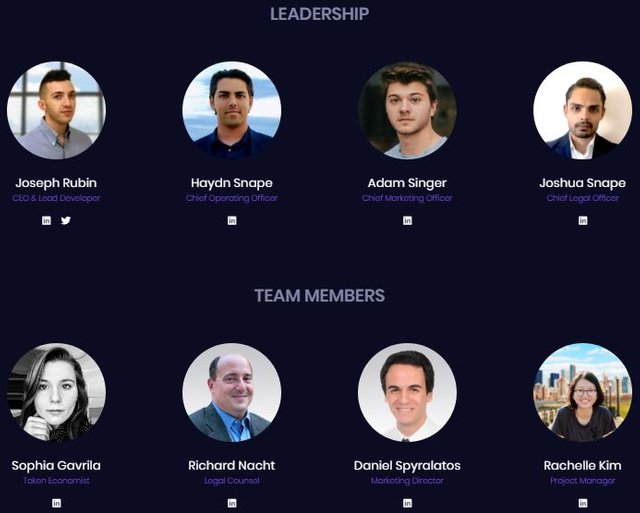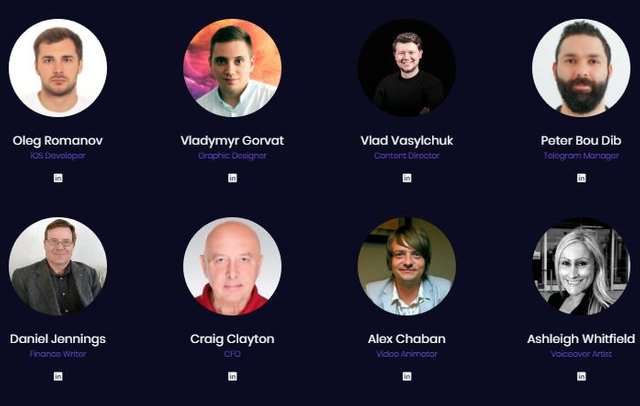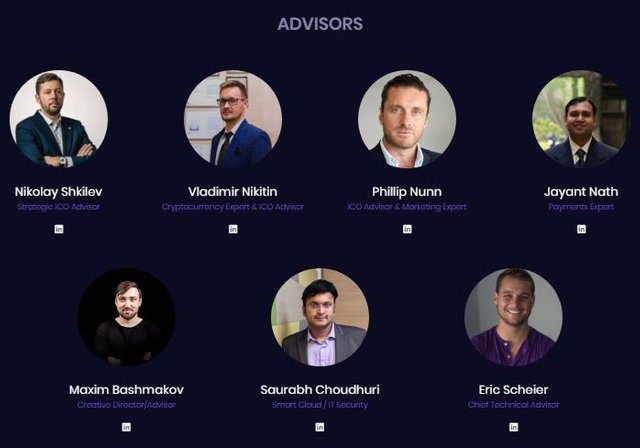 My conclusion
It seems to me that cryptocurrency and blockchain world is ready for revolution. By creating the first, truly user-friendly and comprehensible application, Rubius will enable millions of people around the world to have access to financial instruments. This will help both the financial system as a whole, and every person in particular. The more users around the world attract Rubius, the less corruption there will be. Rubius is not just another one-day ICO, it's a project that can make financial revolution.
Links
Website: https://rubius.io/
Whitepaper: https://rubius.io/rubius-whitepaper.pdf
Bitcointalk ANN thread: https://bitcointalk.org/index.php?topic=3254617.0;all
My bitcointalk profile: https://bitcointalk.org/index.php?action=profile;u=2162106
Author name: Dmitriy Stoyanov