NELUNS - revolutionary financial ecosystem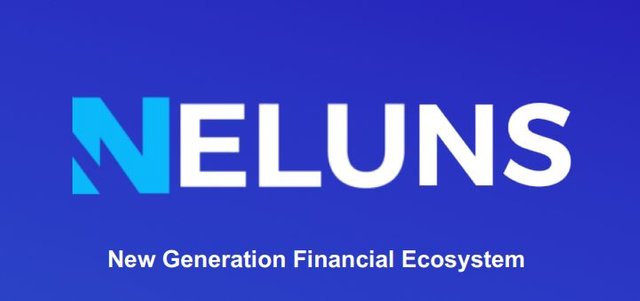 Introduction (cryptocurrency market problems)
The whole world has learned about cryptocurrency and blockchain technology, many persons become users of crypto-market, but overwhelming majority of companies and investors don't aspire to enter. Personally, I know a lot of people who have money, but they don't even want to listen anything about cryptocurrency. All of them say that this bubble will burst soon, but people don't understand that this is not a bubble, this is technology that changes our world today! ALL WANT TO KNOW RULES OF THIS GAME. The lack of clear rules and lack of system understanding discourage potential investors.
The main cryptocurrency market problems
Problems with exchange of cryptocurrencies.
Inability to use cryptocurrency in everyday life.
Negative influence of hacker attacks.
No trades insurance.
Withdrawal limit.
Problem of exchanging cryptocurrency for fiat.
To solve such problems, an integrated approach is needed, therefore, Neluns project is being created. Let's consider each part of it's ECOSYSTEM.

Neluns Bank
Bank is very multi-functional and has a huge advantage over other projects banks. It's LEGAL! There will be available functions for working with different currencies, from fiat to cryptocurrencies, including euro, dollars, GBP and others.
Let's look at the basic bank functions
Transactions with any types of currencies.
Access to IBAN.
Transactions with dollars, euros, GBP and othe currencies.
(P2P) Lending Platform
Escrow-protection
SWIFT & SEPA is available. (This is very important, consider each system)
With the help of SWIFT it is possible to transfer money abroad, SEPA is the harmonizer of payments made in euros across Europe. Coverage area of SEPA is 34 countries in Europe, and even some countries that are not European Union members.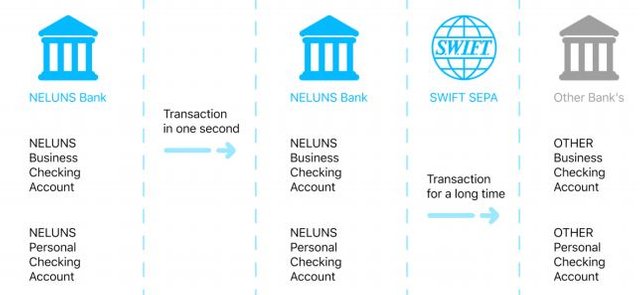 Mobile application for iOS and Android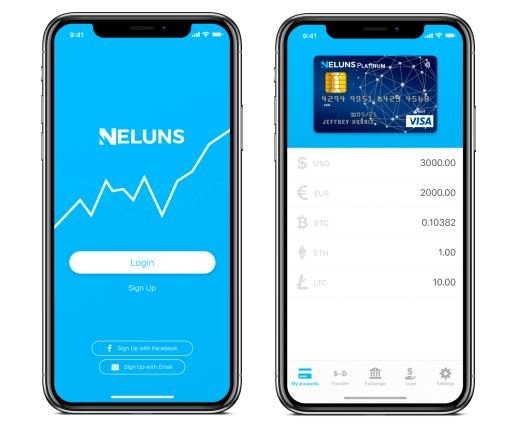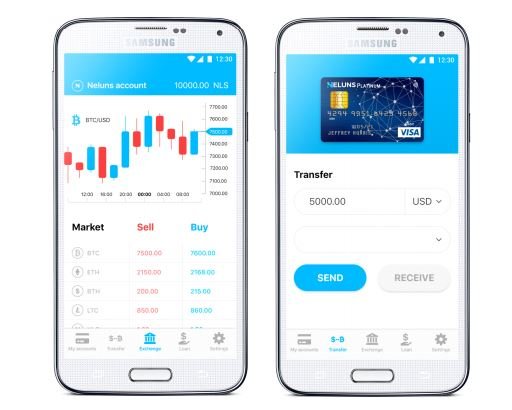 Neluns Debit Cards
Let's consider all 4 types of Neluns cards
1. Lite. 1st verification lvl (E-mail confirmation required). Amount of trades can not exceed 300$.
2. Silver. 2nd verification lvl (Social networks & mobile number confirmation required). Allowed: P2P lending platform, trading amounts up to 500$.
3. Gold. 3rd verification lvl (Mobile number & identity confirmation required). Allowed: all Neluns Bank services, there is no restriction on trade amounts.
4. Platinum. 3rd verification lvl, presence minimun of 5000$ on bank account. Allowed: Option of insurance. There is no restriction on trade amounts.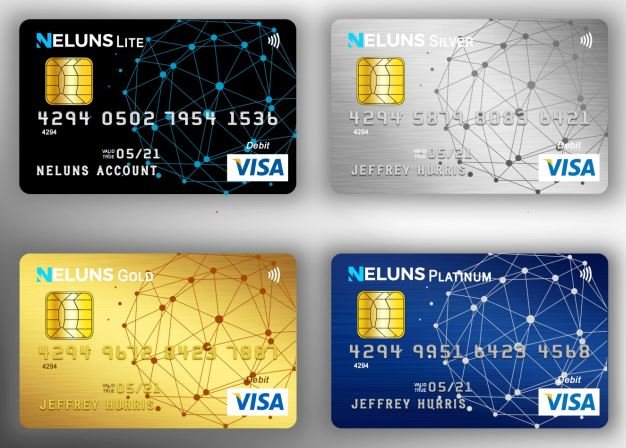 Trading with margin
Lite. 1:5
Silver. 1:10
Gold. 1:10
Platinum. 1:20
Escrow-protection
I think many people know that today there are a lot of scammers in the ICO market. They launch fake ICO without having a detailed action plan, collect money, and then disappear. In 2017, there were about 70% of such fake ICO, this year, maybe even more. Neluns Bank offers a conditional deposit service. Collected money automatically go to Neluns Bank account and then will be distributed among project creators as they moves along the roadmap. Each completed roadmap stage will be checked by specialists, so you can see how developers do their work. If they did not complete the task, funds are returned.
Neluns Exchange
When creating an exchange, specialists of Neluns try to eliminate all already existing exchanges shortcomings, so the final product should show itself with maximum efficiency. Many exchanges fail to compete, because all have the same problems (we have already talked about them). Neluns will be able to establish a new benchmark for exchange transactions. Exchange transactions will be completely legal. Many traders are constantly faced with output problems, because it takes a long time. On Neluns such errors will be excluded, and the transaction speed will increase many times! Exchange can protect against cyber attacks, improve performance at peak loads, have effective customer support services and API.
Neluns Insurance
Insurance is a system of relationships between insurers and insured persons, which allows to reduce property risks, insuring against possible adverse events. Neluns project is one of the few who provides insurance to its customers, it's all because the platform is created primarily for the client convenience! It has two types of insurance (full & partial). With full insurance user will be able to cover losses in the insured event. Partial insurance has a coverage limit for the insured event.
Full insurance repays 10% of the transaction amount, but may vary due to various factors. Repays of partial insurance varies from case to case. Insurance cases are: 1. Unforeseen during the transactions. 2. Financial guarantees. 3. Credit and deposit risks. 4. Investment risks.
ICO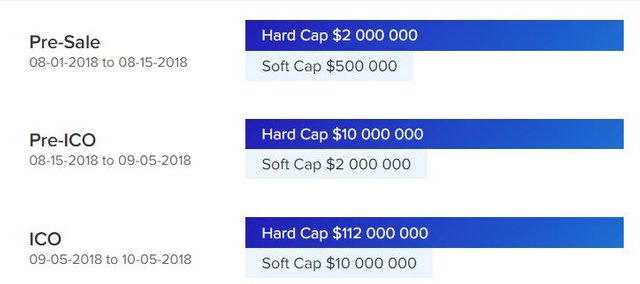 NLS token distributions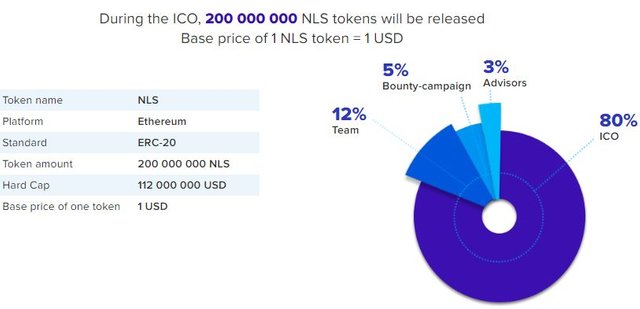 Roadmap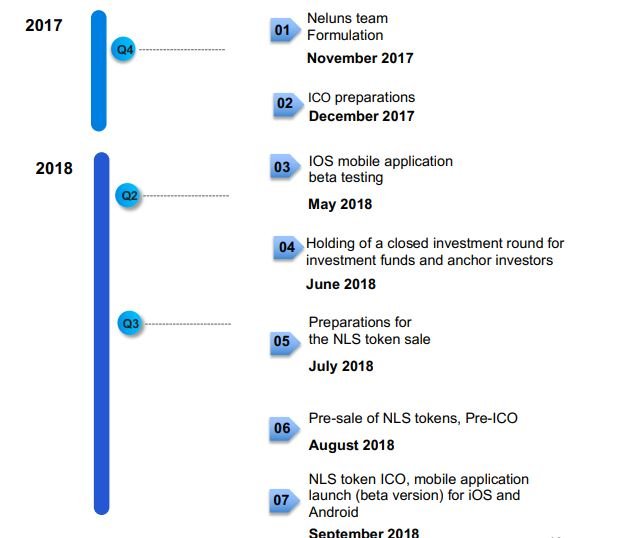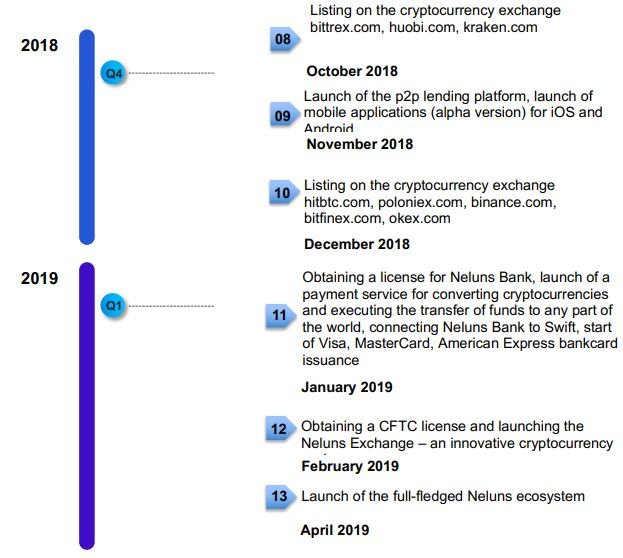 Project team

My conclusion
I have not yet met such global ecosystem as Neluns and I can say that this project amazed me. It's thought out to the last detail, everything is done, first of all for the client. Neluns opens new opportunities for any participant. Long-term investors will profit from deposits, fast transactions will save traders from time loss, (P2P) will enable many participants to receive loans. Neluns Insurance will protect any party, no one will feel thrown. I think Neluns can change financial system not only on some local scale, but also in the planetary one.
LInks
My bitcointalk profile: https://bitcointalk.org/index.php?action=profile;u=2162106
Author name: Dmitriy Stoyanov