Superior (SUP) Coin GUI Wallet Remote Host Configuration
I mine SUP coins (SUP mining uses the revamped monero7 algorithm). It is ASIC-resistant. In the process, I generate about 0.41mBTC per day with 2kH/s hashrate. That's not bad at all. Mining this way is still profitable.
With a web wallet, moving huge amount of coins to the exchange fails with several errors. One very common prompt is:   "Something unexpected occurred when submitting your transaction: invalid input".
This problem could be resolved by downloading the GUI wallet. Import your web wallet using the 25-word private key. However, as with any other coins, the GUI wallet will sync itself to the blockchain. In the process, it will download gigabytes of data. This is not a desirable behavior (which is why the web wallet always makes sense).
The Superior (SUP) coin GUI wallet has a remote node option. You can skip having to download gigabytes of blockchain historical block data to your computer and instead sync to a remote wallet. This is very handy! And KUDOS to the SUP coin developers for this tool.
You can see the screenshot of the remote node configuration below.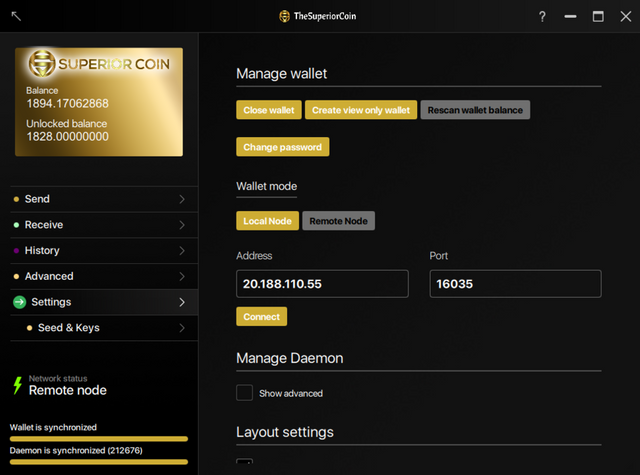 To configure, go to Settings on the GUI wallet. Input 20.188.110.55 for the Address, and 16035 for the Port, respectively. Lastly, hit the Connect button, and wait for the Wallet to sync.
Sync will be seconds rather than minutes (even hours). After this, sending big chunks of coins to the exchange is error-free. Hope this helps SUP coin miners move their treasures around.
Thanks @sydesjokes for assisting me in getting this setup.
You can, likewise, jumpstart your SUP coin journey with 400+ SUP if you register in Kryptonia. Performing several tasks posted there will earn you more SUP coins.
SUP currently trades at 0.00000017 BTC. I have traded it as high as 0.00000035 BTC.


If you like this post, you know what to do.
Support:
Bitcoin (BTC) - 3Kyjg1Wj1PNGN3KhiRprxYvvQpdjC5kT3k
Etherium (ETH) - 0x5F168F895C63ccC5FbEf921047bc2b63f6780c3F
SmartCash - SbgqBUuGBVaaFERmc5zPn8XStxXe7vE1SL