Signed Listing Agreement #7 on DEPO Platform – Krosscoin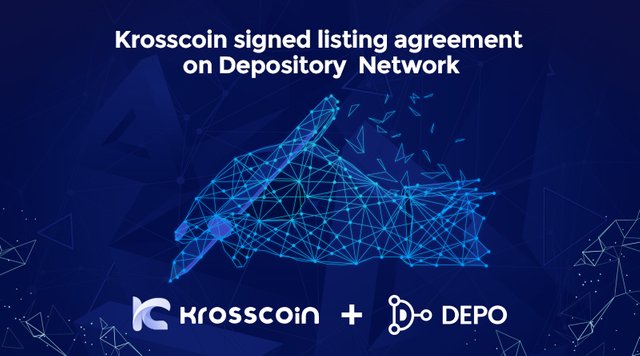 August 22nd, 2018
Depository Network signed 7th listing agreement for DEPO platform with Krosscoin. Krosscoin builds innovative apps that have a large customer base potential.
How?
Krosscoin allows app developers to make interesting and highly functional apps, and lets the end-consumer pay for only the functions accessed, when they access or use it.
"Our first apps utilizing the Krosscoin Platform is the patent pending Pipdroid app family. Pipdroid apps lets forex and crypto traders launch and manage trading bots right from their smartphones. Imagine being able to access and launch bots to both forex broker platforms and crypto exchanges, right from your hand held device, anywhere you are!!. Join us as we revolutionize one industry after the other with our amazing applications."
Up to now, automated trading requires maintaining complex technical infrastructure, monthly recurring costs, plus large initial up front bot program cost. Pipdroid reduces costs significantly and offers easy, state-of-the art mobile trading at your fingertips.
By providing a large list of all types of blockchain assets on the Depository Network Ecosystem, we enable numerous benefits for lenders, borrowers and unlock the true potential of the blockchain assets.
Why should projects join DEPO platform?
Depository Netwrok is a safe, decentralized service for banks and other money-lending institutions, allowing them to accept tokens, crypto currencies, blockchain bonds and shares as loan collateral.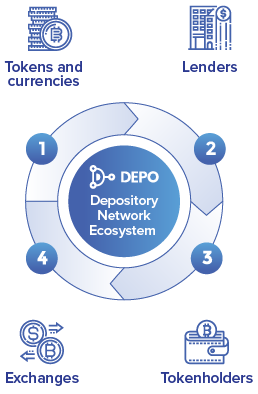 If you are a blockchain project owner and you want your tokens to be accepted by lenders as collateral, you should join the Depository Network ecosystem.
The benefits:
On the list offered to all kinds of lenders worldwide.
Tokens can be used as a guarantee for loans.
Additional value for tokenholders.
In order to start procedure projects need to fill in the application form at: https://depository.network/depo-listing/