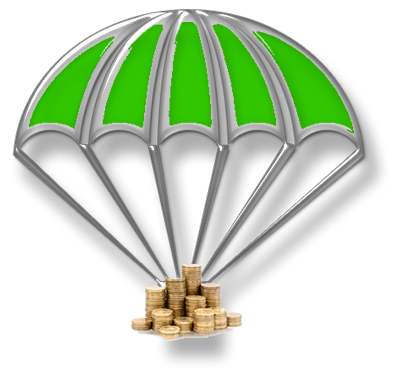 Back in the 19th century, before airplanes, armies used hot-air balloons to drop leaflets onto the enemy positions with messages that would hopefully demoralize the troops into giving up the fight.
Paris defies the enemy. The whole of France rallies. Death to the invaders. Foolish people, shall we always throttle one another for the pleasure and proudness of Kings? Glory and conquest are crimes; defeat brings hate and desire for vengeance. Only one war is just and holy; that of independence
~ source: http://www.psywarrior.com/dissemination.htm
After the airplane began getting regular use, leaflets continued to be used to against the enemy with even more effect due to the range of the airplanes and their ability to get further into enemy territory with the messages. The advances in the airplane in war also allowed for airlifts of troops and supplies, bringing the war to the enemy at unexpected locations by avoiding rough terrain. The method of delivering the leaflets even changed over time, allowing them to be dropped as bombs from planes with even more effect "propaganda targeting" of enemy combatants.
~ source: Wikipedia
After World War II ended, airlifts and leaflets had a different role. Instead of being used to frighten the enemy of an impending destruction, they were used to support those who were trapped due to occupation. From June 26, 1948 through September 30, 1949, the US Air Force, the British Royal Air Force, The Royal Canadian Air Force, the French Air Force, the Royal Australian Air Force, the Royal New Zealand Air Force and the South African Air Force did airlifts of food and supplies during what was called The Berlin Airlift.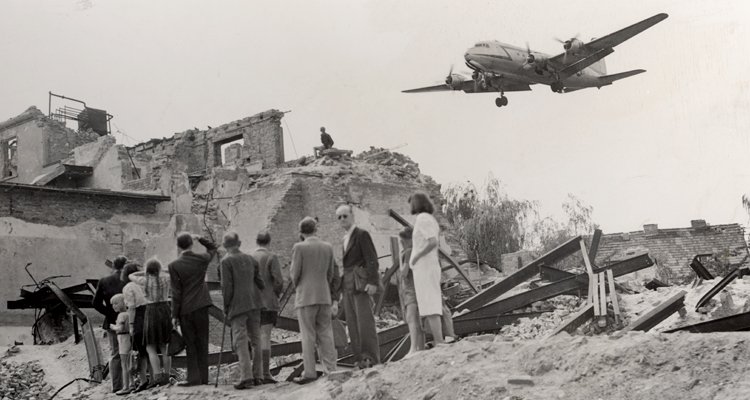 ~ source: http://www.historynet.com/berlin-airlift-operation-vittles.htm
Even today, the military uses leaflets and airlifts more for helping and good than for intimidation and scare tactics. And this brings us to Cryptocurrency Airdrops.
Airdrops are like the leaflets as in they are used to inform people, but in this case, it is to inform them about a particular cryptocurrency and not with paper. This is not to be confused with Apples, AirDrop service that allows you to send content back and forth from your Apple devices. A​ ​cryptocurrency Airdrop​ ​is​ ​when​ ​a​ ​blockchain project distribute​s free​ ​tokens or​ ​coins to​ ​the​ cryptocurrency ​community in hopes that it will spark interest or put the cryptocurrency in a good light.
When someone does an Airdrop, they are offering free coins in exchange for you doing a particular activity. Sometimes, that activity is holding another cryptocurrency during a period of time as proof of stake and then you will get the new free coin based on that activity. This method is similar to a coin Hard Fork that produces another coin for those who own the first coin.
Another possible activity could be as simple as displaying a referral link so that others find out about a coin and you get rewarded for each person that finds the new coin. However, the key part for these types of activity is that the group doing the drop has your information so that they can send you more information about the coin or other activities they are involved in.
The Airdrops range in value from just a few dollars to hundreds of dollars in cryptocurrency. While that might not sound like a lot, just remember that BitCoin at one point was worth USD$0.003 and now it is worth enough to buy you plenty of pizzas. So, even if you do only get a few free coins, they are free and, unless they completely drop to zero, you can get a few bucks out of them in the short-term or maybe even more bucks in the long-term.

How do I find out about Airdrops?
You could spend your time searching the web for announcements about Airdrops or you can find a service that will let you know when Airdrops will happen.
Airdrop Alert is one of those services and it is easy to use. Here is a quick video on the AirDrop YouTube Channel that shows how easy it is to sign-up for the alert system.
The process is as simple as subscribing to their email list, getting the updates and looking at the Airdrops for ones that interest you. Beyond getting the email alerts from Airdrop Alert, you can also follow them on Twitter and Facebook. Also, they are on Telegram for those who use that service. This is helpful when you don't want to scan through your email for the message or if maybe your email services spambox sucked up the message.
As the video points out, you can see the Past, Active and Upcoming Airdrops. Seeing the Past Airdrops gives you an idea of what you can get as the Active and Upcoming Airdrops show you what you should get ready for or try to get into now.
The color coding in each column distinguishes the difference between Airdrops from Airdrop Alert or from another group. Airdrop Alert even has some exclusive Airdrops for their newsletter subscribers. In the past, this could just be as simple as being subscribed and getting an email alert that you have free coins. How easy is that?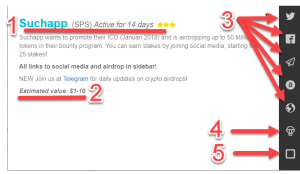 Once you click on an Airdrop, you are provided with all the information you need to know before joining the Airdrop;
The Estimated value of the Airdrop based on either the ICO price of the coin/token or based on similar Airdrops from the past.
The social media links for the group doing the Airdrop
The link directly to the Airdrop page for getting started doing the Airdrop
A checkbox stating that you have done the Airdrop. When you click this, the parachute icon disappears.
You can do as many Airdrops as you like, because the only limitations are what the Airdrop requires for you to do and as mentioned, that could be as little as signing up for a mailing list or buying another coin during a certain time period. Of course, in order to cash in on your Airdrop, you need to have an account on an exchange. Not all exchanges work, so make sure you choose from the list below. Some Airdrops might require you to do activity on a certain exchange.
Because each Airdrop is different, it is suggested that creating a Bitcointalk forum account will help with the process, because you can talk to other people in the cryptocurrency community for help on Airdrops.
As with all investments, there are risks. Airdrop Alert tries to keep the scams away and even offers a Bounty to those who find others trying to hurt the Airdrop system by doing scams and misinformation. You should always keep your wallet information secure and read all the information about the Airdrop, so that you know what you are getting into before you sign up.
---
Let the positive energy sing!

More Power to the Minnows!!


Trading on Bittrex and Binance
HODLin'
Verge(XVG) -- Cordana(ADA) -- Ripple(XRP) -- Digibyte(DGB)