I joined bounty of Enigma Catalyst ICO and became one of 'Enigmarines', you can join us! Official Enigma account will comment under my post to confirm that this is legit. I'm only helping them because my Steemit account is strong.
Join bounties:
GENERAL
BITCOINTALK
SOCIAL-NEW!

---

Token Sale: August 21, 2017
---
An Introduction to Enigma Catalyst
Catalyst is a platform for crypto-focused traders, data curators, and investors.
It is a platform that empowers anyone to build their own crypto hedge fund and participate in the coming Renaissance of the financial ecosystem. Our vision is to enable developers to build winning investment strategies, a strong track record and attract investment from community investors. Catalyst is a playground where developers, quants, and experienced traders can easily build, simulate, and eventually live trade cryptocurrencies using sophisticated programmatic strategies. Regular investors can then invest directly in winning strategies through our system. With this, we're hoping to make smart-investing in this new emerging asset class accessible to everyone.
CLICK HERE TO READ OUR WHITEPAPER
---
The Catalyst Protocol
Catalyst is also a protocol to bridge existing and future exchanges into a single, decentralized system that is fast, scalable and most importantly — keeps users in control of their funds. Our goal is to disrupt the technology driving exchanges (and crypto-trading in general) in much the same way that the Lightning/Raiden networks are set to disrupt payments. This is a necessary step, as current centralized exchanges have a history of halting payments and worse — losing assets under their custody. Similarly, recently introduced decentralized on-chain exchange protocols lack the low-latency characteristics to support any practical trading infrastructure — let alone a high frequency one.
WHO WE ARE
We are a team of MIT graduates, advised by professionals with decades of experience in the finance, technology, and trading industries.
TEAM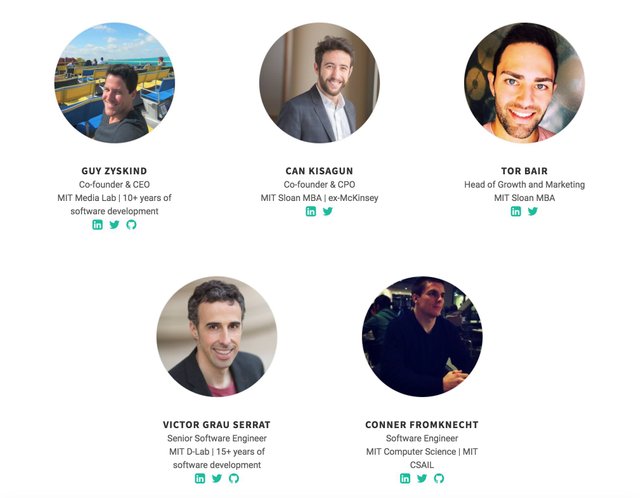 ADVISORS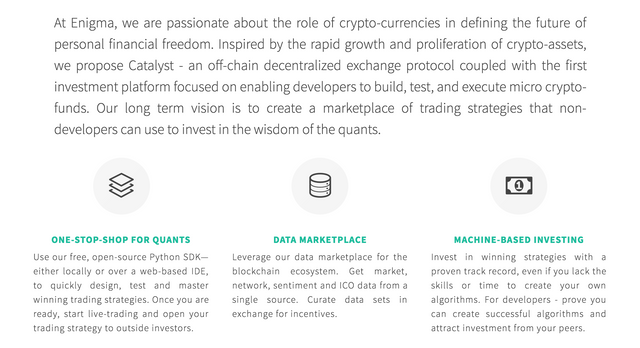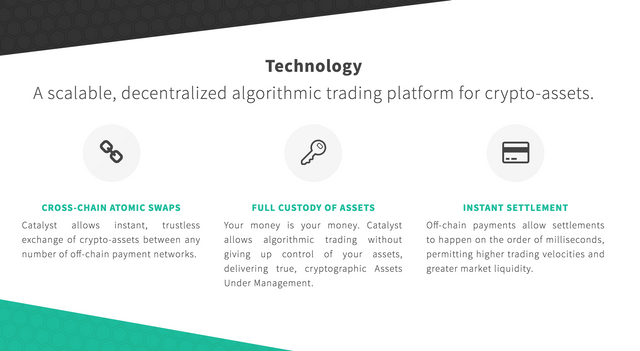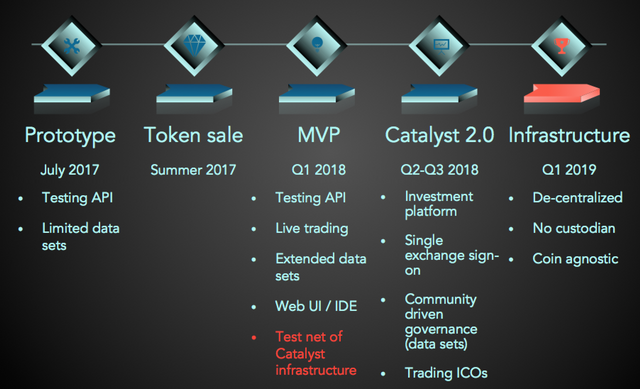 ---
The ECAT Token - Catalyst's native token
We believe that to be successful, native tokens should have real utility — you should never create a token just because you can, and you should not invest in any token whose purpose you can't understand. It is important to us and to our community that ECAT serve a critical and transparent purpose for all stakeholders.
Most generally, Catalyst tokens are used to reward creation by and for the community (e.g. trading strategies, data sources) and are consumed when community members access premium services on the platform.
Right now we are focusing on the following token dynamics:
Primary: ECAT is used to access data sources on the de-centralized Enigma Catalyst Data Marketplace. Payment is on subscription level.
Secondary: ECAT tokens are used for incentives to grow and ensure stability of the network. ECAT tokens are used to create demand in the data marketplace: Reward tokens are provided to quants with winning strategies. This incentivizes more quants to come on the platform and consume data to refine their strategies and gain an edge
---
The ECAT Token Sale

Timing:
Our token sale will take place beginning on August 21. Please read more here: https://blog.enigma.co/announcing-enigma-catalysts-token-sale-9c699cd5c72a

Token Distribution:

We are creating a fixed supply of one hundred million (100M) tokens, to be allocated as follows:
50% to be made available in the initial token sale (to be used only for operations)
25% retained as incentives for the Catalyst community
25% retained by Enigma

Use of funds:
Funds raised through the token sale will be used as follows:
60% for product and technology development
15% for blockchain research
10% for operations
10% for marketing purposes
5% for legal and administrative costs

Mechanics of Sale:
Our primary goal for the sale is to have a wide distribution of ECAT tokens. After studying many successful token sales, we saw that having a wide distribution of tokens is key to a cohesive community and to the long term success of the project.
We are considering a tiered sale approach that was first introduced by our friends at Civic to make sure everyone who wants to contribute in our token sale gets a chance. Exact details on the tiers will be released closer to the token sale date. ECAT token sale will only accept Ether and participants will need to create an ERC-20 compliant wallet. MyEtherWallet (web wallet) and desktop wallets such as Parity, Mist can be used to receive ERC20 compliance ECAT tokens after the token sale. No lock-up period will be required for the tokens after the sale.

---
SOCIAL BOUNTY PROGRAM TO BE REANNOUNCED ASAP!

Please follow us on Twitter and join our Slack or Telegram to stay informed!

Please visit our website to learn more about the product!