INS Ecosystem (INS) Overview: Blockchain for the Grocery Supply Chain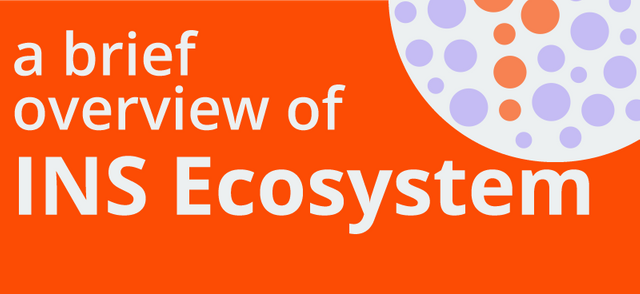 Here we will take a look at INS Ecosystem (INS). This is a popular project which seeks to apply Blockchain technology to the grocery supply chain. As always, this is not financial advice, I'm simply sharing a bit of information on a project that I personally have invested in as you can see on my cryptocurrency portfolio page.
INS Ecosystem Overview
INS Ecosystem is a platform built to give consumers the ability to easily purchase groceries directly from manufacturers. INS Ecosystem will accomplish this by utilizing Blockchain Technology. This service cuts out retailers and has the potential to improve the overall global grocery supply chain both directly and indirectly.
If successful, supply chain improvements would happen directly for consumers and manufacturers by removing the middleman and improving efficiency. The supply chain would also benefit from indirect improvements due to increase competition in the market space.
The target customer base for INS Ecosystem is online grocery shoppers. According to the INS Ecosystem white paper, this is a growing market and should reach $290 billion in 2020.
Problems Addressed by INS Ecosystem
Though there are clear advantages of having retailers as part of the grocery supply chain, it could be argued that these retailers have consolidated an unnecessary amount of power. Large retailers naturally have their own business interests in mind. Unfortunately, the interests of many large retailers may not be inline with those of the manufacturers or the consumers.
For example, retailers like Walmart are able to influence grocery manufacturers to supply them with products at lower rates and terms of delivery that are difficult to meet for the manufacture. These practices would be more acceptable if the majority of cost savings were passed on to the consumer, but often they are not.
Many times the capital that retailers save by using their leverage to extract better prices from manufactures is not passed on to the consumer. INS Ecosystem seeks to address some of the inefficiencies in the retail grocery supply chain such as:
The problem of grocery retailer food waste is large and growing. Often retailers throw away food that is still consumable to make way for another delivery. This is done many times to keep shelves as full as possible in between deliveries.

Grocery retailers have turned to charities to help reduce food waste. Though this is a noteworthy effort on the retailer's part, there is
growing evidence that these programs are not doing enough
.
Retailers Have Too Much Power Over the Market
Due to the consolidation of retail power that has occurred over the years, there are a few retailers that have acquire large amounts of market share. Though there is nothing inherently wrong with this, these retailers are often publicly traded companies.
This means that their primary focus is on increasing their shareholders returns. Without market pressure, manufactures are not incentivised to reduce prices for consumers or increase efficiency. The ever increasing market share that companies like Walmart enjoy ensures that competition remains at a minimum.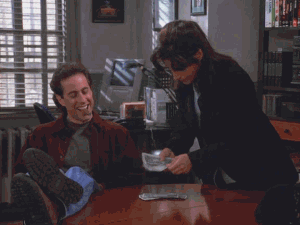 This naturally occurs when there is a consolidation of retail power as we have seen. INS Ecosystem could disrupt the grocery industry and provide the competition needed in order to influence retailers to improve their practices.

INS Token Utility
Consumers and manufacturers will be encouraged to use the INS token when making purchases within the INS Ecosystem. The plan is to charge consumers virtually 0% fees when purchasing using INS tokens. They are also planning to allow manufacturers to provide rewards to consumers that use the INS token.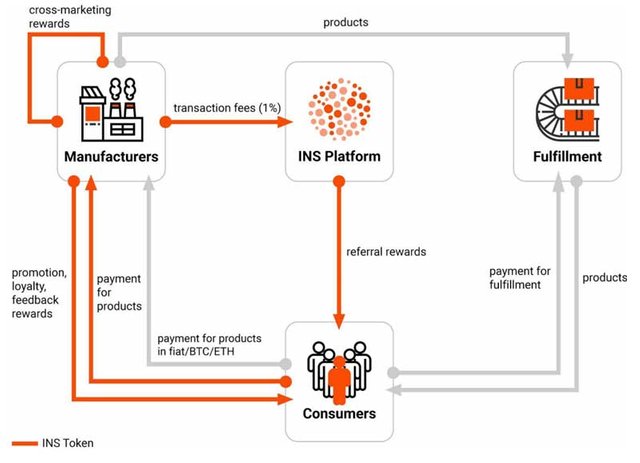 The total token supply of INS, according to coinmarketcap.com, is 50,000,000 INS. If the INS Ecosystem is able to tap into the global grocery market and incentives users to pay using the native token, this could theoretically have a positive effect on INS token usage.
Of course any information on future token usage is extremely speculative and should be taken as such. Anyone that has been in the cryptocurrency market for sometime knows how volatile it is and that nothing in crypto is guaranteed. I can't stress enough the importance of doing your own research. I can recommend a good chronic and talk to you about crypto, but I can't tell you which cryptos to invest in.
What Do You Think of INS Ecosystem?
Are you looking forward to cutting out the middleman and possibly paying less for groceries? Or do you prefer the experience of going to a brick and mortar store to make your purchase? Share your thoughts in the comments below.
---
💬 Talk to me here:
Twitter - https://twitter.com/DavidHayCrypto
Facebook - https://www.facebook.com/davidhay.org/
Reddit - https://www.reddit.com/r/DavidHay
---
🔥 Upcoming Conferences (March 24th Los Angeles):
http://nac3.io
---
💳 Buy bitcoin,ethereum and altcoins here (Visa & Mastercard Accepted):
http://www.davidhay.org/bitcoin
---
👕 Cryptocurrency Swag & Comical T-Shirts:
http://bit.ly/2yt0e9l
---
⚡️ Favorite Tools:
Desktop Wallet - http://exodus.io
IPhone Wallet - http://blockchain.info
Hardware Wallet - http://Trezor.io
Coin Research - https://coincheckup.com/
Mine Crypto With Your Computer - http://bit.ly/2vwse9l
Accept Crytpo on Your Website - http://bit.ly/2A17fkR
Bitcoin Blockchain Explorer - https://blockexplorer.com/