A lot has been happening over at Storjcoin and none of it is inspiring.
Bookchin Leaves
Gordon Hall, who goes by the alias of bookchin, left the Storj team a few weeks ago. He was the lead engineer and "maintainer of the core library" for the Storj Project.
Developers and leadership leave teams all the time, so this isn't news in of itself, but the way bookchin left was noteworthy. He started a reddit thread to explain his absence in the community chat, but in the OP left a quick note saying he did not hold any Storj or SJCX (the token before Storj moved to Ethereum platform) tokens. He then left cryptic comments about disagreements with leadership, particularly the then CTO/CEO Shawn Wilkinson.
When pressed for further clarification he refused to comment as he didn't want to damage Storj's value or hurt people who he still trusts that work there. Reddit users were mad, and some took him to task:
You have an ethical responsibility to various stakeholders and you have failed multiple sets at different stages based on what you laid out in your posts. Here, in just your exit and how you did it, you did what was emotionally satisfying to you. You did so at the expense of the project, the token holders who have given you money and to whom you represented that you were and would be a part of this project (hence you created an ethical responsibility to them), and the Storj users and fans.
It was unprofessional and demonstrated no grace nor any maturity. I don't begrudge anyone the right to stop working where they don't want to work. But to do it like this is a joke and to make it public and self-serving is the same. And you're already asking for money to do a similar project and fund your expenses in doing so, which makes this all the more unseemly. If I did know you, I would have told you to delete this thread, delete your letter, tell everybody so long and thanks and move on.
Not only did bookchin leave the team, but he forked his work on Storj over to Orc and began working there.
Others left the team as well.
Following bookchin was:
James Prestwich, former COO/CFO
Ryan Foran
Nathan Ginnever
Predictably the price has fallen fast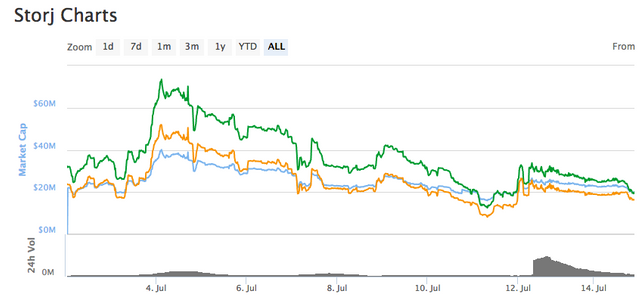 All of crypto has been dropping for the past few weeks, but because of the news, Storj's price has dropped at a quicker rate than the rest of the total market cap.
Storj Press Release
Two days ago Storj finally dropped a press release, mentioning changes in management.
Shawn has shifted from CTO/CEO to Chief Strategy Officer.
Philip Hutchins moves to CTO
The board (4 members total) will act as CEO until the CEO position is filled, which Storj is actively recruiting for.
Like other niches, the decentralized file storage area of crypto is an extremely crowded space with many competitors
Storj
Siacoin
MaidSafeCoin
BurstCoin
FileCoin
Storj had a 30 million dollar ICO less than 2 months ago and has been in complete disarray since. And when it has many competitors already and some on the horizon, it doesn't take much for the entire team to fall apart and go elsewhere. Hopefully they get their act together soon.
As someone who invested 3 bitcoins in the Storj ICO in May, this is worrying.
I considered making a BitTrex account just to sell the coins, but I decided against it because I tested out the product and it's very smooth and easy to set up compared to the competitors.
I still have faith in this project and they still have a working team with developers there so I'll hold on for a while longer, particularly because the value has already dropped a lot so the worst may be over.
What are your guys thoughts on the situation? Any other investors out there planning on holding or selling?
---
My name is Ryan Daut and I'd love to have you as a follower. Click here to go to my page, then click
in the upper right corner if you would like to see my blogs and articles regularly.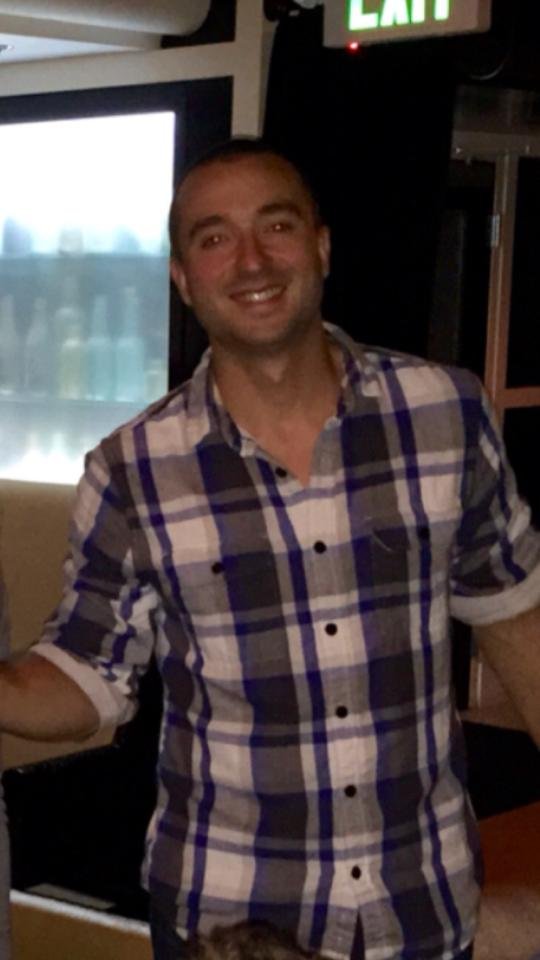 I am a professional gambler, and my interests include poker, fantasy sports, football, basketball, MMA, health and fitness, rock climbing, mathematics, astrophysics, cryptocurrency, and computer gaming.