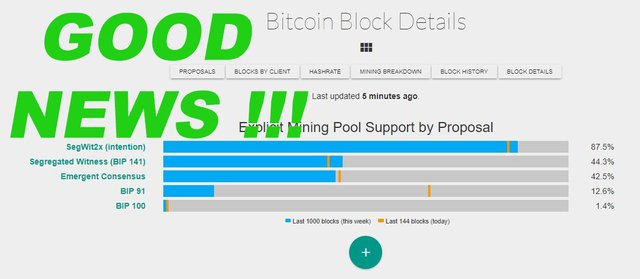 Published:2017-07-18 15:30 GMT
Due to the Up Coming Chaos of SegWig2x or BIT148 Discussions, Confusions and Fear the whole Crypto Currency Market Collapsing Badly. From UP 115 Billions+ to Down as low as 65 Billions. Which is Very Good for Long Term Investors. Because It has completed a Long Term Correction of Wave one. This Correction can continue till First August.
---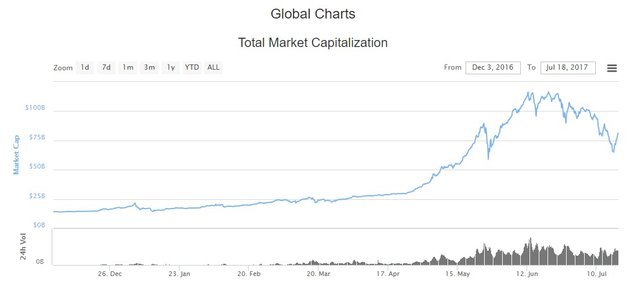 As the First Chart Shows The Agreement Between, BIG Miners, Developers, Investors to Use the SegWig2x with the 80% of acceptance is already achieved. So, Crypto Currencies started performing Well Now. But Basic Elliott Wave Principal Says, There should be either A-B-C Correction or 1-2-3-4-5-a-b-c Corrections. So, There is Still Some more correction left to achieve. or Let's Say, there are still Some more days left for First August.
---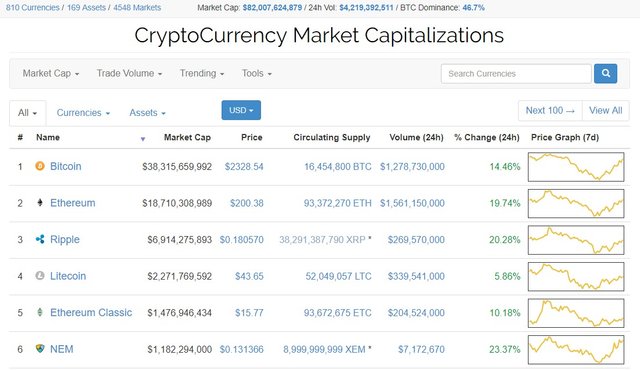 The Market Sentiment or Let's Say Mass Market Psychology is Being Positive for Some Days and That is being reflected in this Chart. Where all the TOP 10 Crypto Currencies are UP by More than 10% in Average. Which is Good for Day Traders and Short term traders as well. But Still the Major Uncertainty Period is yet to Come. So, if you are Investing or Trading then Caution is the Most important word to consider. Because, the Fear & Greed factors are yet to be triggered. Because, Market is the Other name of Crowd Psychology. So, We cannot Control the Market. But we can Control Our Strategies and Funds. Happy Investing...!!!
---

Please UPVOTE & Comment This POST !!!
So that, I CAN UPVOTE Your Comments
Follow ME @cWorldV99 for UpComing POSTS...
!!! GOOD LUCK & HAPPY STEEMING !!!!
---