RedCab Decentralized Transportation Solution
About RedCab
RedCab LLC was founded by mid of 2016 to reinvent the peer-to-peer transportation solutions by solving a real problem through understanding the root causes of riders' and drivers' actual needs and deliver an innovative solution governed by customer experience, transparency, and efficiency.
RedCab LLC gives the chance for everybody to freelance as integrated service providers working on peer-to-peer scale, while taxi companies operate as an aggregated professional service provider.
Our business model is designed to deliver 100% of the benefits to users versus 100% earnings to drivers and taxi companies through decentralizing the whole process.
The performance matrix and rewards program for drivers is designed to ensure that every single ride gets the highest quality from a customer experience standpoint, while a psychological factor is subtly implemented to govern the customer satisfaction part, and processes are in place to ensure the safety of both parties.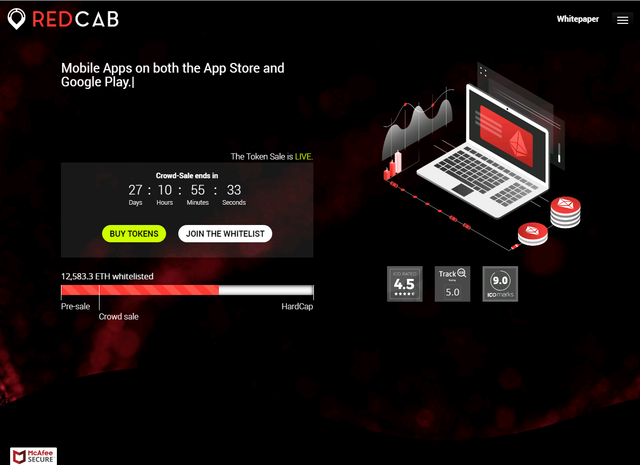 The goal of the RedCab "Token Sale" is to convert our business model into a decentralized ecosystem that allows access to global markets with a transparent approach, reduce expenses of transportation for end users saving more than $60B made through middlemen businesses, and to develop our infrastructure to address the growing international demand on transportation services around the world through developing a powerful scalable tool.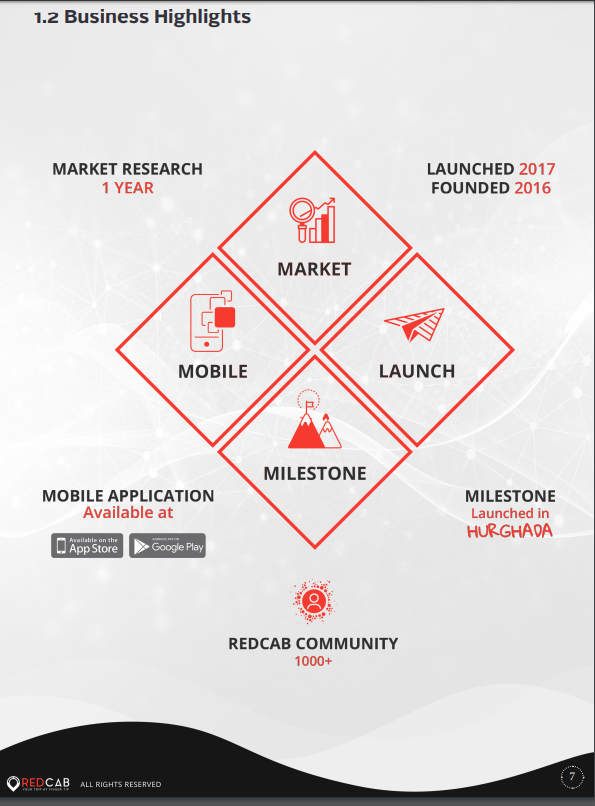 How RedCab Solution works?
RedCab is a decentralizing the transportation solution for individuals by utilizing Blockchain technologies for cost efficient and secure transactions. On the other hand, saving billions of dollars from transportation commission to be rewarded back to the ecosystem ensuring sustainability and business continuity through cutting edge technology, performance management and customer loyalty. Our business model is designed to ensure smooth market penetration through lean and reliable processes, and our scoring and reward program ensures loyal and productive community. With the variation in fare calculation from one country to another and even from one city to another, RedCab LLC has managed to keep the tool flexible to amend the best pricing formula without surge price or high cost fare in holidays or bad weather.
Why RedCab?
Many start-ups have been rising in the market recently to solve the transportation issue. Most of them are successful as a business, but none of them have succeeded without a social collateral damage. Despite the fact that technology has bridged the gap for transportation needs and has successfully solved some problems in the past 10 years, this left us with multiple copycat business models without any iteration or innovation. Customers are not only searching for a trendy service, but looking for a true reliable service with sustainable quality and safety, that offers all transportation options and services with a low competitive price, and because customers hate to be abused; so on a rainy day, or a day with heavy traffic; "high rates" fare is not a good move. From another side, the main pillar in the transportation industry are the drivers. Based on a recent survey conducted on drivers working as part time for one of the major car hailing services App, 91% of the population have joined the hailing service Apps to increase their income and 87% to work flexible shifts ². Our business model guarantees 20% increase in the income of drivers with a clear strategy to capitalize on the network dominance where the time of the people who chose to partner with us and drive is managed more efficiently. This will lead to a sustainable cost advantage. Therefore, increasing the demand, which will allow the average RedCab driver in a city to complete more rides in a given hour, and consequently lowering the cost on the user, and the process loops again.
RedCab Token Details and ICO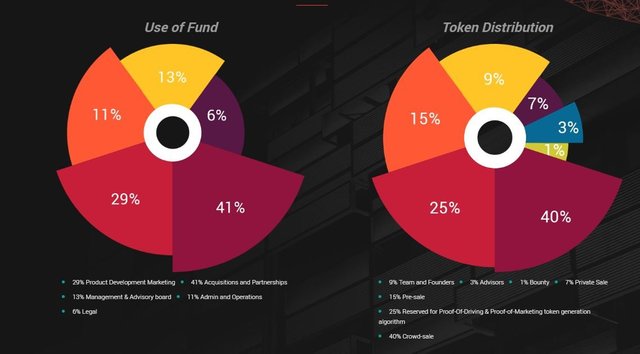 The token arrangement will start on June initial, 2018 00:00 GMT and will end on August fifteenth, 2018 23:59 GMT or if the tokens reach hardcap before the end date.
Tokens Distribution
-Gathering and Founders — 9%
-Direction — 3%
-Wealth — 1%
-Private Sale — 7%
-Presale — 15%
-Held for Proof-Of-Driving and Proof-of-Marketing token age — 25%
-Gathering bargain — 40%
Pre-Sale:
Starts first June 2018 at 00:00 GMT and terminations on 21st June 2018 at 23:59 GMT with energetic riser monetary authorities getting a 15% Bonus till administered aggregate is sold out or organize closes.
Essential Crowd-Sale:
Starts on 22nd June at 00:00 GMT and completes on fifteenth August 2018 at 23:59 GMT.
Token Maximum Supply: 100,000,000 REDC
• Accepted Currency for Token Sale: Ethereum
• Token Name: REDC
• Token Type: ERC20
• Soft Cap: 2143 ETH
• Exchange: 1 ETH = 2333 REDC
• Hard Cap: 24529 ETH
• Min Purchase: 0.1 ETH = 233.3 REDC
REDC will be recorded on exchanges that are overseen and have affirmation of stores, including the Korean, Japanese and other all around saw genuine exchanges.
For more info:
Telegram: https://t.me/RedCab_ICO
LinkedIn: https://www.linkedin.com/company/redcab
Twitter: https://twitter.com/redcab_llc
Medium: https://medium.com/redcab
Facebook: https://facebook.com/redcabeg
Reddit: https://www.reddit.com/u/Redcab_io
BCT Username: Boyong02
Profile Link: https://bitcointalk.org/index.php?action=profile;u=1023366