Qravity Previews
Qravity is a platform for production and distribution of digital entertainment. It offers creatives from all over the world a unique opportunity to form decentralized teams, work on projects they feel passionate about, and earn royalties for helping complete those projects.
Qravity is a decentralized content production and distribution platform where creators own and profit from their work.
Qravity provides a space for creative visionaries to collectively develop original monetizable digital content, including movies, music, games, e-books, and applications. The platform uses virtual tokens on the Ethereum blockchain to track digital content creation, distribute project stakes among team members, and bring Qravity-produced content finalized on Qravity directly to market. Blockchain technology makes the platform's transactions transparent in terms of revenue, product distribution, and profit sharing. Generally speaking, Qravity improves collaboration and eliminates obstacles as producers and creators conceive, develop, and distribute unique content that consumers crave.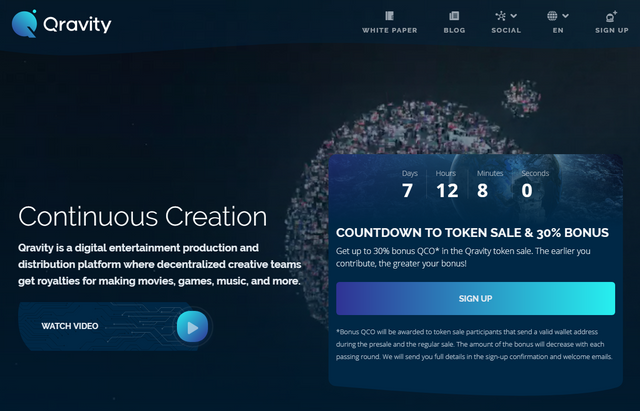 Why Qravity?
One of the main ideas behind Qravity is that creators should own, and profit from, their work. To accomplish this, the platform provides an online space for collaboration and flexible project management. This eliminates the obstacles indie creators often face when trying to conceive, develop, monetize, and distribute unique content, including, but not limited to financial issues, lack of experience and exposure, difficulties finding the right team members, and struggles getting the deserved recognition.
Qravity also has its own currency token, as well as a system of smart contracts based on the Ethereum blockchain that the platform uses to track the process of content creation, distribute royalties among team members, and Qravity-produced content directly to market.
Just like the projects it will soon host and distribute, Qravity itself has been under development for a long time. Thanks to our first-rate team of software engineers and designers, we're nearly ready to launch our game-changing platform. In doing so, we're aiming to transform the way the world creates, distributes, and consumes digital entertainment in a way that returns control and profits to the hands of the independent producers and creatives.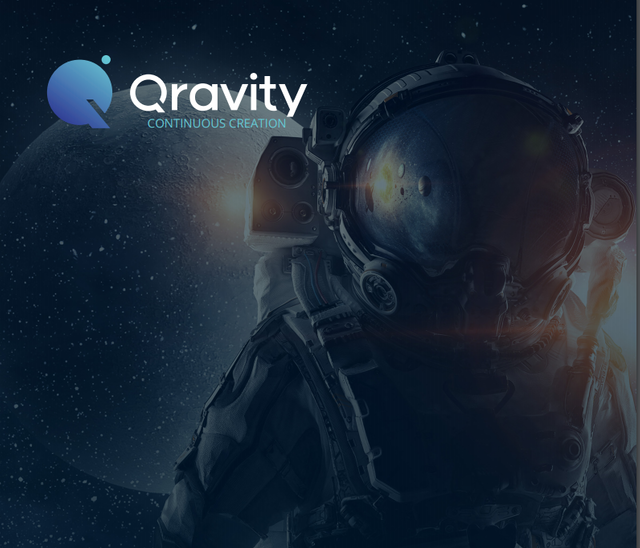 Smart Contracts
Qravity smart contracts contain several components, including QCO, QPT, and account, project, and task data. In order to continually improve the platform through upgrades and feature additions, the smart contracts must be partially upgradable. To maintain the integrity of the token, the QCO token will not be upgradeable.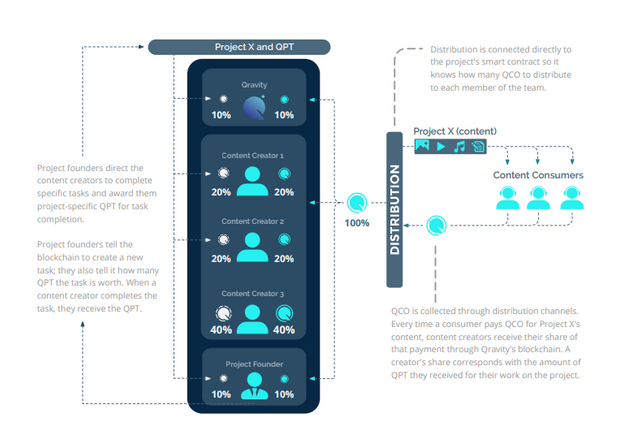 Token Information
Token Name & Symbol: Qravity ( QCO )
Token Decimal: 18
Total supply: 1,000,000,000
Used Blockchain: Ethereum (ERC20)
Initial token price: 0.0002 ETH
Hard cap: 35,000 ETH
Token Distribution
Token sale — 50%
Team members & advisors — 22%
Reserve — 14%
QCO Boost — 10%
OTC token purchases — 2%
Community rewards — 2%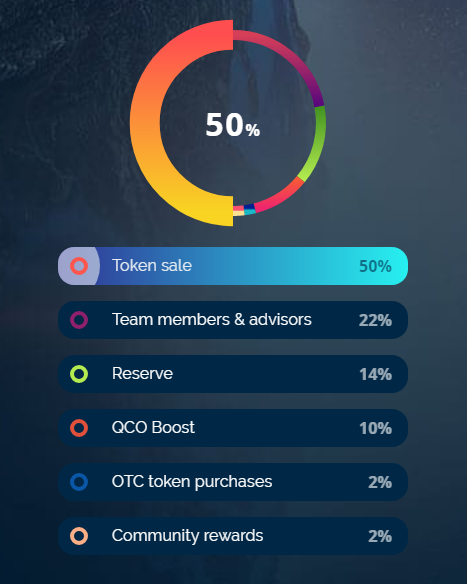 Fund Allocations
Marketing Qravity projects — 37%
Marketing Qravity platform — 19%
Operations, global offices, & CS — 18%
Ongoing platform development — 14%
Community events, workshops — 9%
Legal & financial counsel — 3%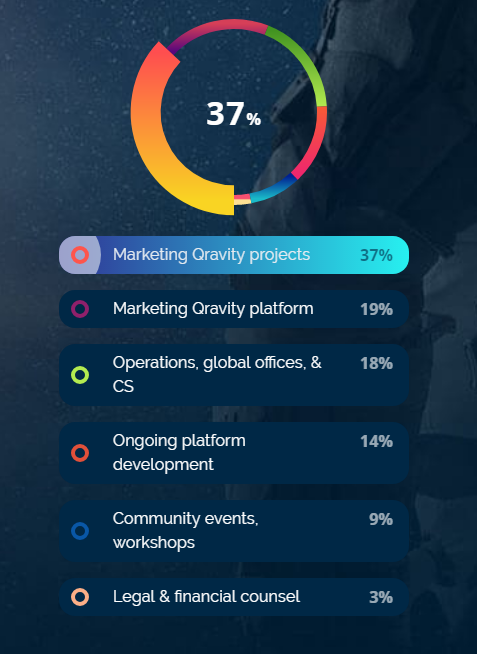 Sources:
Website: https://qravity.com
Whitepaper: https://goo.gl/BHW9qk
Author: Boyong02
Profile Link: https://bitcointalk.org/index.php?action=profile;u=1023366