MyCryptoBank
What is MyCryptoBank?
It is an online bank allowing any client registered in the electronic bank system to make a full range of bank operations, additional operations with cryptocurrency (payment processing, debit cards, credits and cheap investment products, use of cryptoassets as credit security and many others) based on Blockchain technology without visit of department. So, MyCryptoBank provides services of client's remote access to accounts, products and bank services in order to make banking operations.
MyCryptoBank offers its clients a multifunctional platform of banking service, which represents a hybrid system combining digital and traditional currencies. The use of digital currencies makes operations faster and cheaper, while traditional currencies guarantee practically all-round acceptance and validity. One account combination allows clients simultaneously using advantages of both types of currencies.

MyCryptoBank is intended to solve this problem. It will become the first bank for cryptocommunity, allowing clients to receive and send funds in cryptocurrencies and fiat money and also exchange between cryptocurrencies and fiat money inside the bank. With MyCryptoBank it will be possible to create deposits, receive loans and credits. The bank will create an infrastructure which will allow setting acquiring and merchants for goods payment for companies and online services. Clients will be able to receive bank cards and with the help of it they will take available funds through any ATM in the world and also pay in shops, restaurants etc. For client convenience, the bank plans to install ATM and crypto ATM, assisting in making operations on cryptocurrency purchase and cash receipt with minimum fees. In the usual sense, it will be typical bank with the whole range of services but loyal to cryptocurrencies and cryptocommunity.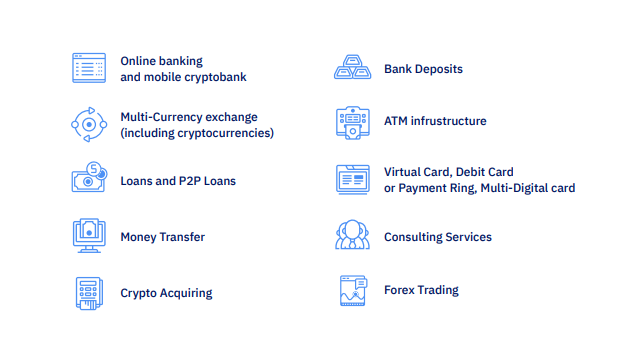 Team Experience
MyCryptoBank project is performed by the professional experienced team in the financial sphere.
MyCryptoBank includes Viplat, organized in 2006 as a complex manufacturer of self-service provisioning. The main direction of company capacity is a manufacturing of payment terminals and software development. Now, this company has 5000 terminals in RF and plans to begin installing crypto-terminals all over the world where it's possible according to legislation. Over the years the company could take place among first manufacturers and suppliers of self-service terminals since 2010 the company regularly participates in tender procedures for its supply for different state institutions. Work with foreign suppliers of electronic components helped to achieve high quality and reliability of equipment, that's the main criteria of successful work in 24/7 mode.
Partners and company loyal customers: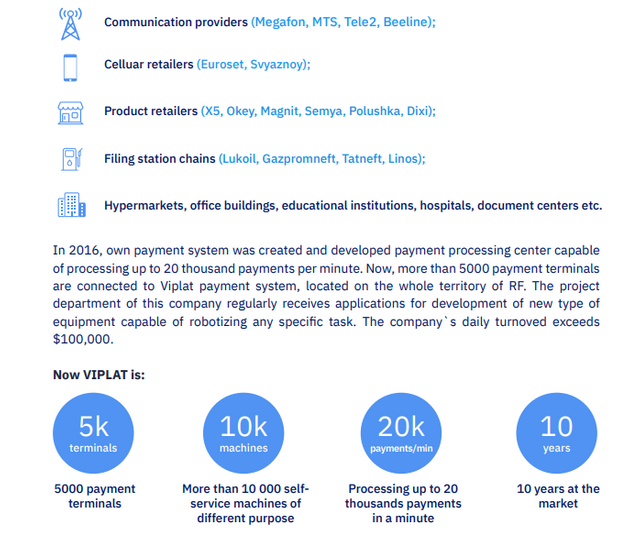 MyCryptoBank Main Services
Main service, available for all clients of MyCryptoBank:
Wallet (mobile cryptobank)

Bank card and Payment Rings

Exchange of cryptocurrency/ cryptocurrency, cryptocurrency /fiat

Money transfer all over the world

Financing and loans P2P

Cryptocurrency acquiring

Crypto-ATM and cryptomachines

Deposit percents

Forex Trade

Consulting and legal services, including taxes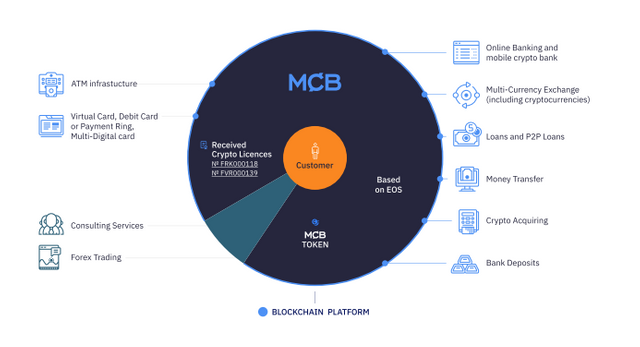 ICO Details:
THE PLANNED DATE OF THE ICO IS Q3 2018. A ROUND OF PRE-ICO WILL BE HELD ON JULY 16 — AUGUST 16.
Amount of finance, involved in ICO, depends on the costs of financial institutions licenses acquisition, support of bank management and retention of efficient capital volume. Depending on the assets raised, the project services will enlarge as per the roadmap Soft Cap and make 3 million dollars, the project Hard Cap will make 100 million dollars, raised during the below stages: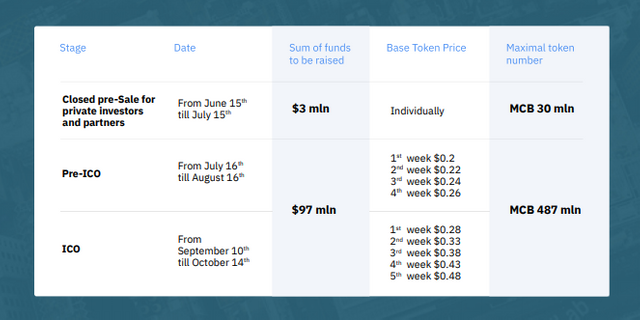 Token Distributions: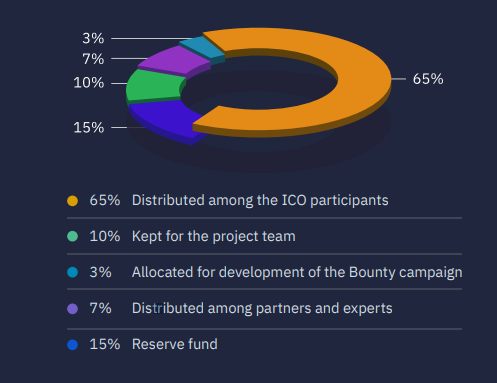 Funds Distributions: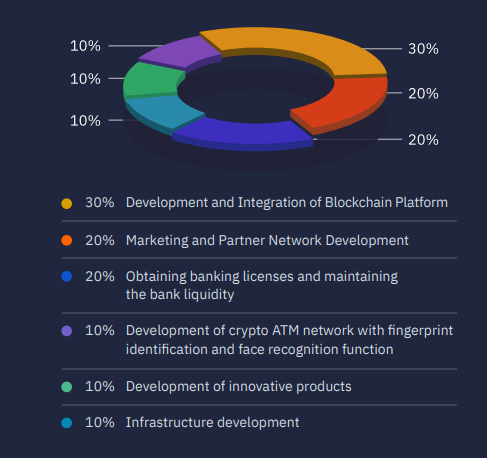 More Information:
WEBSITE | https://mycryptobank.io/
WHITEPAPER | https://mycryptobank.io/docs/MyCryptoBank-white-paper.pdf
TWITTER | https://twitter.com/MyCryptoBank
FACEBOOK | https://web.facebook.com/Mycryptobank?_rdc=1&_rdr
TELEGRAM | https://t.me/MyCryptoBank
REDDIT | https://www.reddit.com/user/MyCryptoBank
LINKEDIN | https://www.linkedin.com/company/my-cryptobank/
INSTAGRAM| https://www.instagram.com/mycryptobank/
MEDIUM | https://medium.com/@news_87035
YOUTUBE | https://www.youtube.com/channel/UCEWn4UUSAX1xLQHKXkaBbuQ
Author: Boyong02
Profile Link: https://bitcointalk.org/index.php?action=profile;u=1023366
Disclaimer
This is not a investment advice and should not be use as a basis for your investment decision, Always excercise your own due diligence.