HEROIC Cyberlytics™ The brain behind Predictive Network Security
HEROIC Cyberlytics™ is an analytics engine used to predict and prevent cyber attacks before they happen. Our Cyberlytics engine analyzes tremendous amounts of complex threat data from all over the world to create powerful insights that are used to automatically protect your technology, your data, and ultimately you.

Advanced Personal Protection
Utilizing artificial intelligence and machine learning, HEROIC Guardian™ protects consumers and employees by discovering and preventing malicious cyber attacks as well as monitoring and remediating personal information that has been leaked to the dark web.
Current Solutions are Ineffective
Cybersecurity is an ever-growing topic of concern. As technology continues to advance, malicious cyber threats and attacks grow at an unprecedented pace. Unfortunately, today's security solutions and products are outdated, reactive, and completely inadequate when protecting us from the dangers that face our smart home devices, self-driving cars, or the technology that we place within our bodies. Small incremental updates to an antiquated paradigm won't fix the problem. It's more important now than ever for individuals to protect themselves and their private information with a solution that takes a holistic approach to cybersecurity.

Advanced Enterprise Protection
EPIC (Enterprise Protection of Information and Credentials) helps organizations discover, remediate and prevent critical vulnerabilities that stem from third-party data breaches involving stolen and leaked employee and vendor login credentials found on the dark web.
How It Works
In 2016, over 3.3 billion records including email addresses, usernames and passwords from 1,700+ data breaches were leaked onto the dark web. Once made public, hackers and other parties can obtain and use those records to brute force their way into organizations' systems and networks to carry out targeted attacks. EPIC discovers vulnerabilities and prevents attacks by obtaining the same leaked databases from the dark web and notifying organizations if their employee or customer data has been compromised. This gives security professionals an opportunity to fix stolen logins before they are used against them.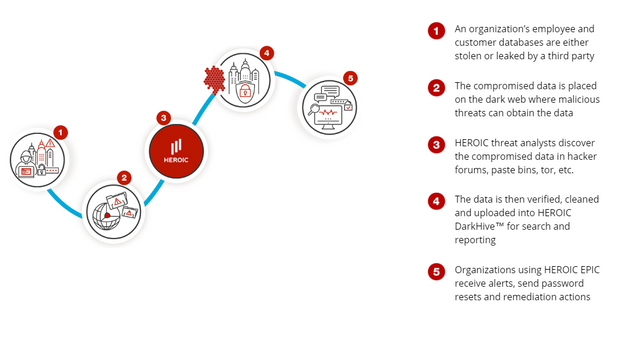 Token Details
There will be a hard cap of $41 Million raised during the token sale. This nationally sets the value at roughly $0.1125 per HRO token. The final value of each token will be determined by the Sale. Pre-sale contributions may be made in Bitcoin ( BTC ), ETHEREUM ( ETH ) or other approved cryptocurrency and fiat currency.
Total Tokens Created: 1,000,000,000
Token Sale Hard Cap: $41,000,000

Token Distribution:
Token Sale + Bonuses — 50%
Ecosystem Incentives — 25%
HEROIC Growth Fund — 25%
Fund Allocation:
Development — 42%
Operations — 22%
Marketing — 18%
HEROIC Team — 10%
HEROIC partners — 5%
Legal — 3%
Token Information
Token Name & Symbol: HEROIC token (symbol: HRO)
Used Blockchain: Ethereum (ERC20)
Pre-Sale Token Price: 1 HRO = $0.09 USD
Public ICO Token Price: 1 HRO = $0.1125 USD
Total Tokens: 1 Billion
Hard Cap: $41,000,000
Soft Cap: $2,500,000
Pre-Sale
Starts at April 17th @ 7:00AM MST — June 14th @ 11:59PM MST
Scheduled Public ICO Date: June 15th @ 7:00AM MST — July 15th @ 11:59PM MST
Sources:
Website: https://tokensale.heroic.com/
Whitepaper: https://tokensale.heroic.com/wp-content/uploads/2018/02/HEROIC_White_Paper_V1.pdf
Github: https://github.com/HeroicCybersecurity/
Youtube: https://www.youtube.com/c/HEROICCybersecurity
Authored by: Boyong02
BCT Profile: https://bitcointalk.org/index.php?action=profile;u=1023366