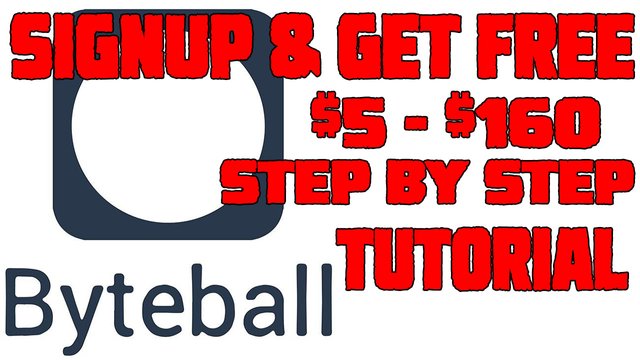 So for few days i was seeing this recent airdrop of byteball where they are offering $5-$160 for steemit user just to register on their wallet.
When i saw first i was like hmmmmm this is an another phishing kinds of thing but after i saw this over an over and people are providing proff and few high reputations user of steemit are also in to it than i was little kiked on my mind. Than i start to learn about it and join their platform and they really give the money they told.
hmmmm now i was sure about this byteball guys are not phishing me arround and they give what told me. So today i will give you guys full step by step tutorial about it and how to withdraw it on a popular exchange. So lets start it.
First lets know a bit about Byteball
Byteball is a completely new cryptocurrency with totally new consensus algorithm DAG (Directed acyclic graph). To know more about DAG algorithm you may read all about it on Wikipedia.
Rewards for Steem users
Byteball will pay you based on your Steem reputation score and for referring other users. The stronger your reputation the higher the reward.
The attestation rewards are as follows:
Steem reputation above 30: you get a $5 reward
Steem reputation above 40: you get a $10 reward
Steem reputation above 50: you get a $40 reward
Steem reputation above 60: you get a $80 reward
Steem reputation above 70: you get a $160 reward
All rewards are paid in Bytes and may be subject to changes particularly for the lower reputation scores.
Your reward is split 50/50 between cash and a smart contract, much like rewards are split on Steem between Steem Blockchain Dollars and STEEM.
This means that 50% of the reward is spendable immediately after attestation. The other 50% is paid to a smart contract that can be unlocked after one year. Once this time period is reached you will be able to withdraw the remaining 50% of the reward.
Signup Process
First Click This Link : SIGNUP BYTEBALL
You will be taken to byteball official page.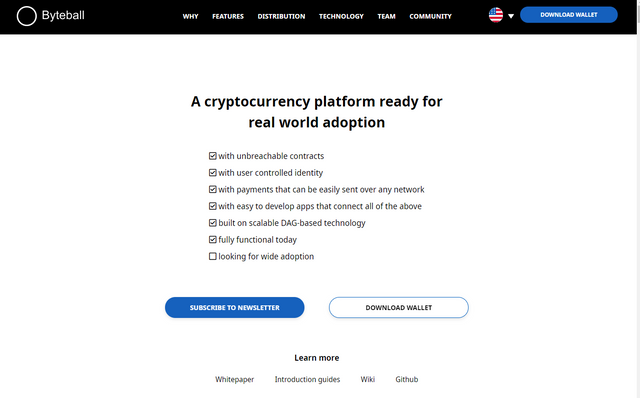 Now click on download wallet and download any of the wallet you like. I will be showing android app steps for this tutorial.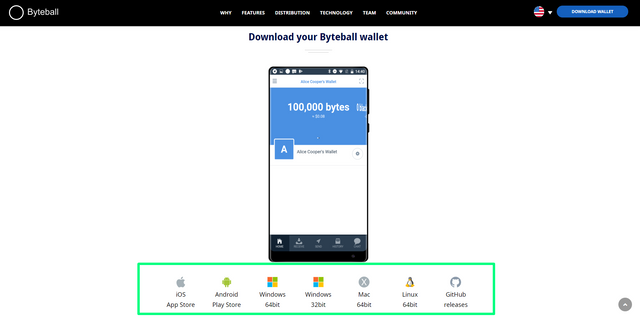 Install the byteball android app or what you like and open it. just give a random device name if the app want's. after that you will see a page like this image below.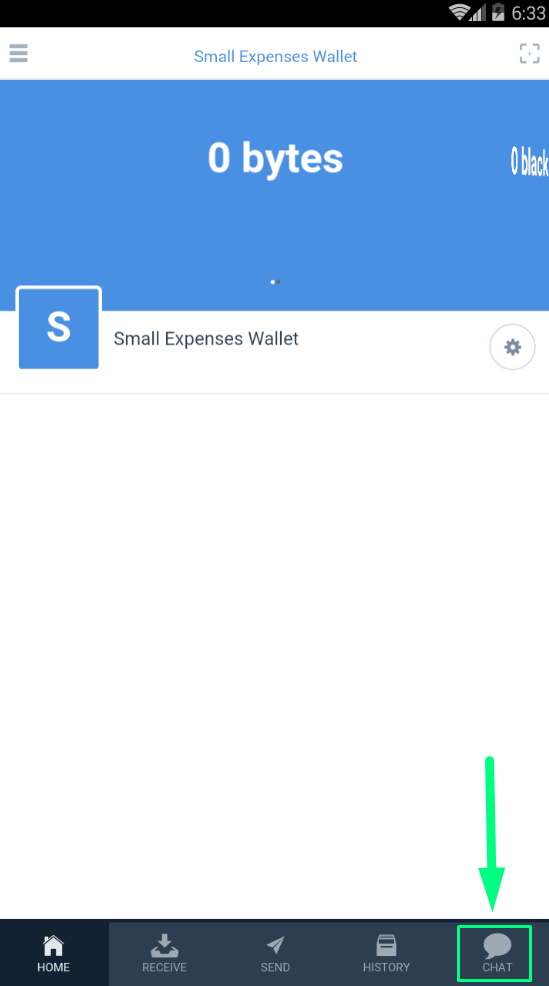 Click the Chat menu and you will see a menu on upper named Bot Store. now go to the bot store.
Now on the Bot Store you have to go to Steem attestation bot see the image below.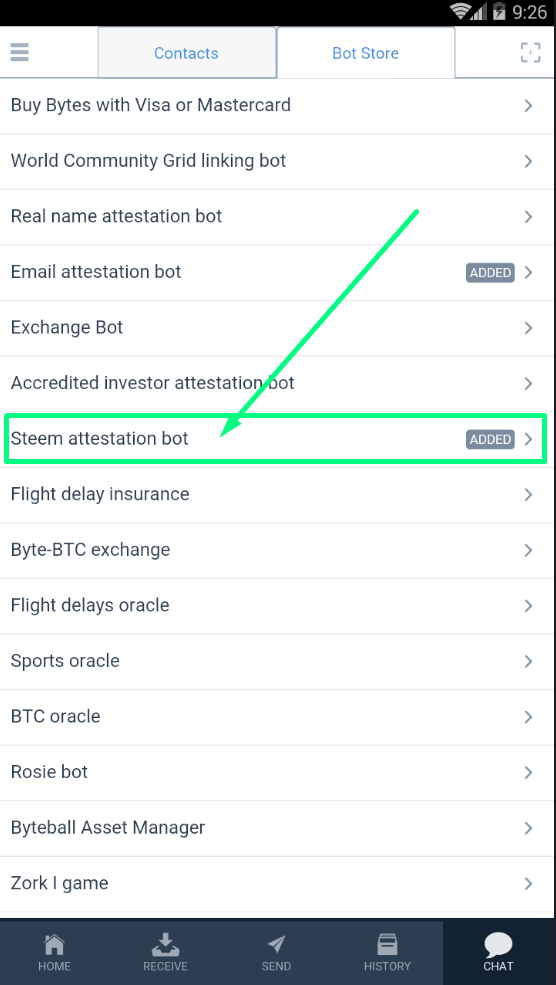 Now you have to attestate your steem account on byteball. You will see some info is showing on your screen and the reward they give you on which level reputation. Press the 3 dots on low and you will see 3 option showing, Now You have to press the **Insert my address(Small Expenses Wallet).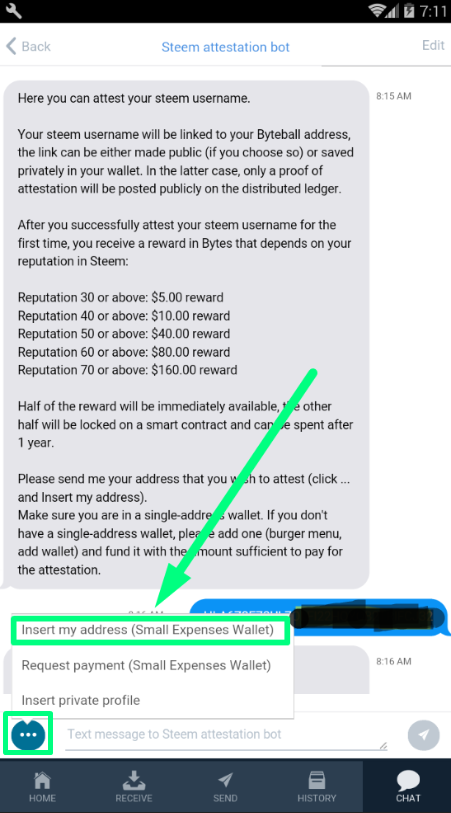 it will add your address on the text area, Now press on the send button.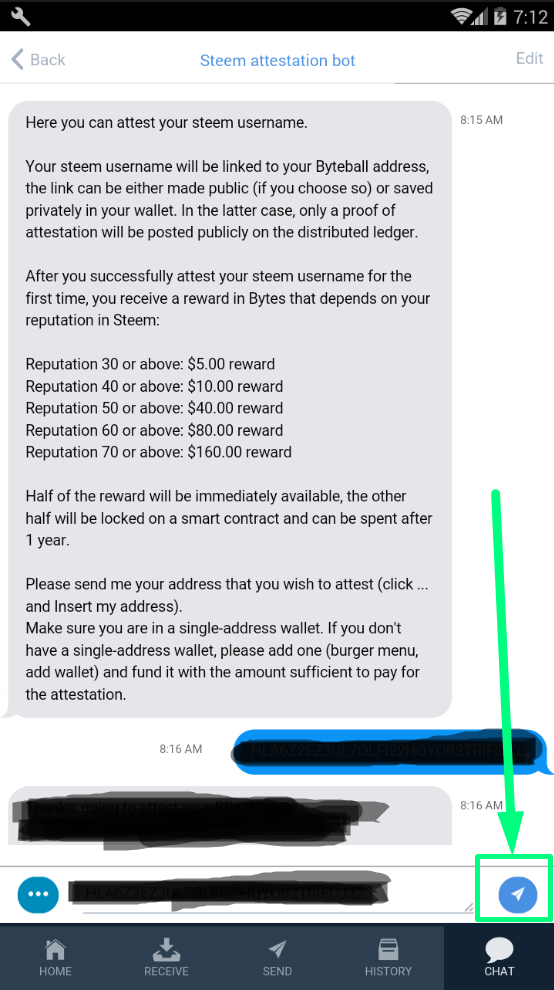 After you pressing the send button you will have to attest your steemit account to the byteball. You will see a link that will take you to steemconnect app, Now press it and you will be redirected to a page where you have to connect your steemit account.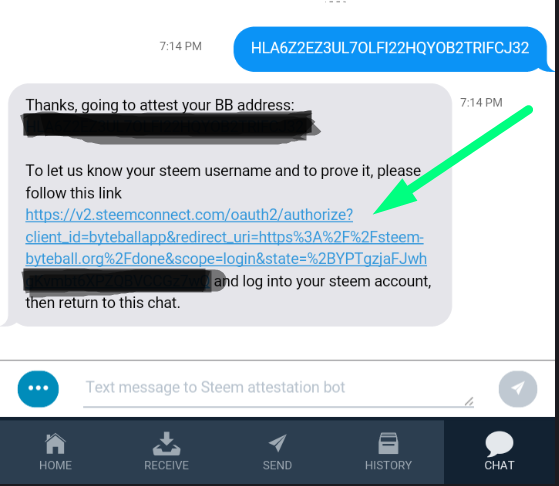 Now you can see they will take you to connect steemit account, Now just press CONTINUE.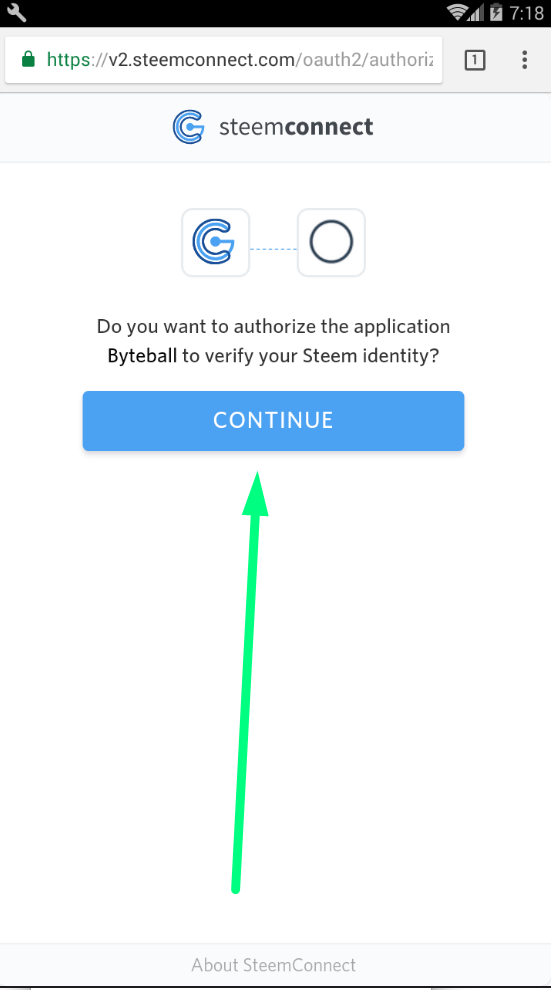 Now sign in using your steemit usermane and password. don't worry it's safe i have test it my self.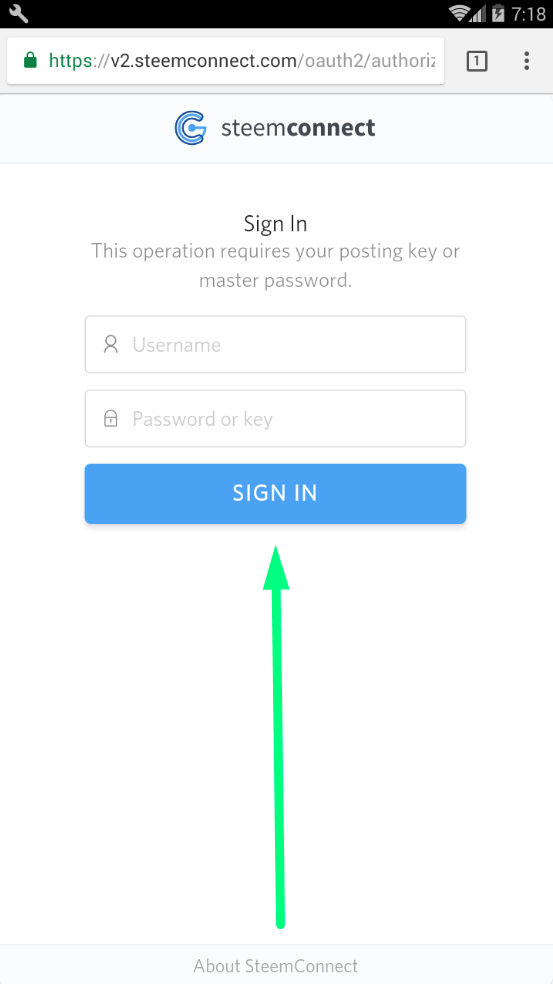 After sign in you will have to get back to your byteball app and first you have to press any of the options private or public For now i am pressing private. After prassing private you sill see another link just press it.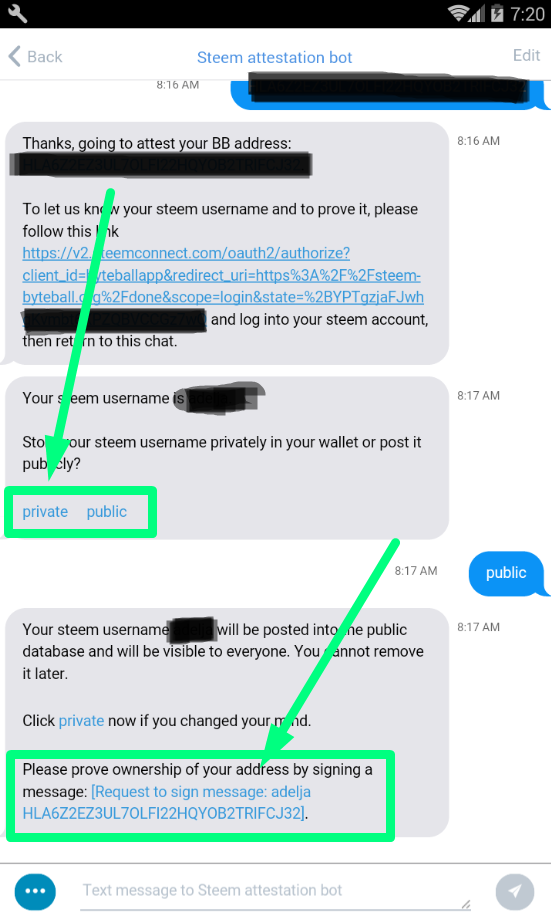 Now you will see a window with message and signing address just press the SIGN button.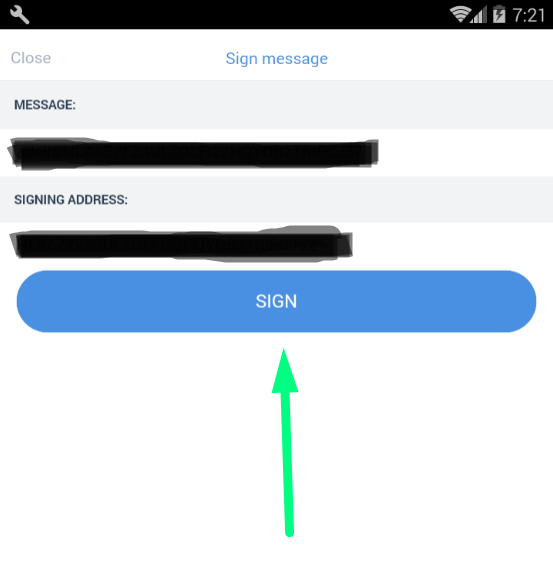 Next you will see some codes on text area just press the send button.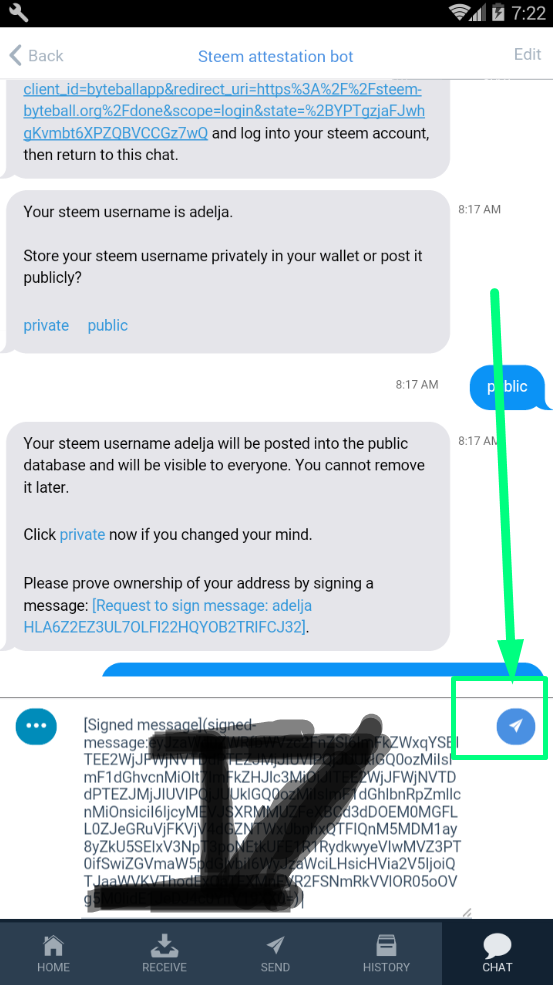 Now we are done, You will see you are attested and byteball has give you welcome bonus according to your reputation.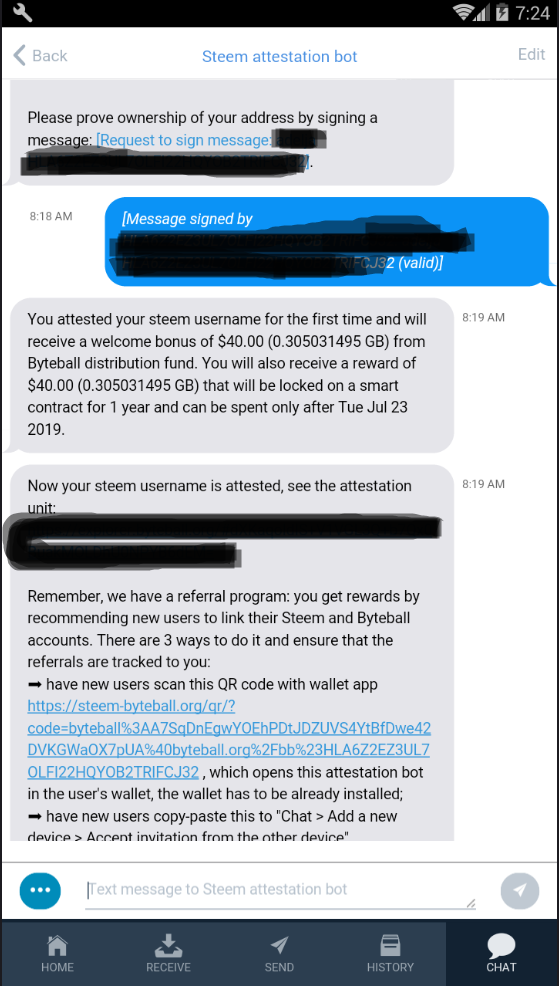 After 5-15 min you will see balance on your HOME on the app.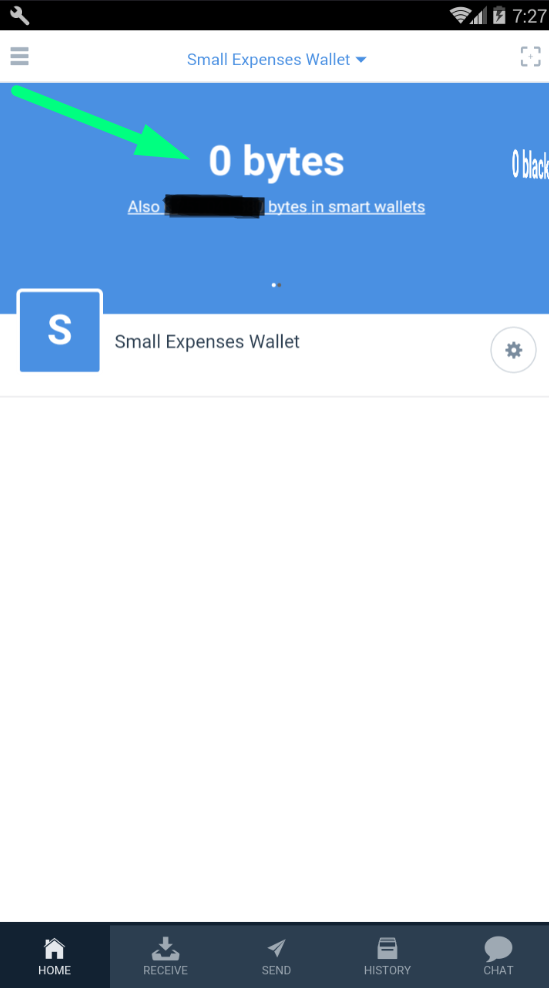 Congrats to all who got their bonus money now let's solve the main mistery how to withdraw the money to a exchanger?
Withdraw Byteball Bonus Money
Most people ask one thing how i withdraw the byteball points, Now we will go to the Bittrex Exchanger and search for gbyte and now you have to get the deposit address of gbyte. Now click on the deposit button.

After clicking the deposit button you will see a new window will come with gbyte Address. Just copy it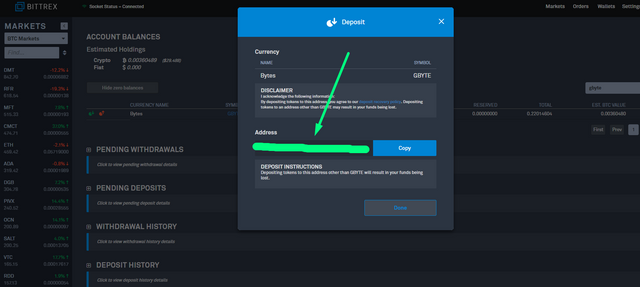 Now go back to your byteball app and press SEND on the bottom menu.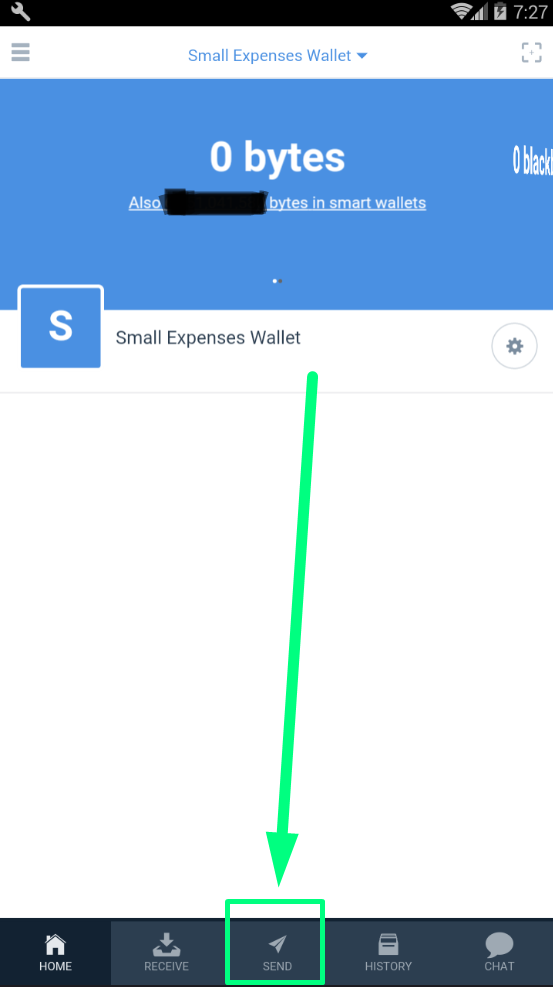 You will see a page where you can send your bonus bytes to any address you want, Now just past the bittrex gbyte address here on the Byteball address or email and send any amount or send all. Last press the SEND button.
After 5-15 min you will see on your bittrex exchange you got your gbyte transfer to your wallet.

Now you have the freedom to do what you want with your byteball money on bittrex.
This step by step tutorial really takes lot's of time so please share and comment.