The Flappening - Litecoin vs. Bitcoin Cash - When Will it Happen?
Two days ago, Charlie Lee (SatoshiLite) predicted that 'The Flappening' will happen in 2018. Basically saying that Litecoin will take over Bitcoin Cash in total marketcap.
I personally think Charlie might be right. Litecoin shows quite some innovation and recently introduced LitePay. Bitcoin Cash on the other hand seems to lose momentum. Bitcoin's transaction fees are now comparable with those of Bitcoin Cash and the mempool is empty.
Segwit and the Lightning Network adoption on Bitcoin will result in even lower fees and Roger Ver's argument about Bitcoin having insane transaction fees compared to Bitcoin Cash does not apply any longer.
Some realtime comparisons between Litecoin and Bitcoin Cash on Flappening.watch: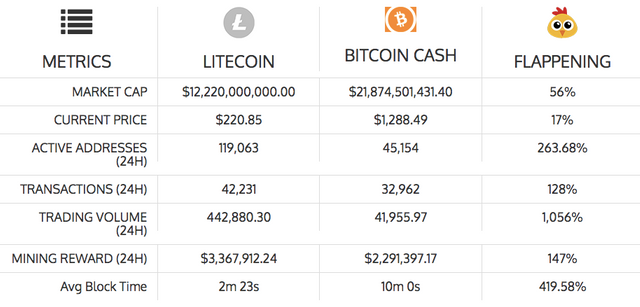 Source
Charlie's tweet including the current marketcaps of Litecoin and Bitcoin Cash over time: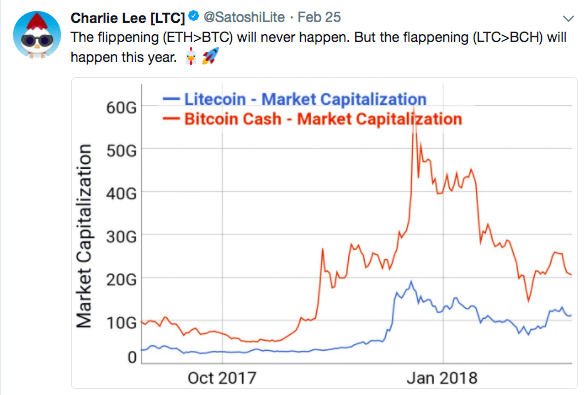 So what do you guys think? Will the Flappening happen? If so, when do you think it will happen?
---
---> 👍🏼 Follow me for regular updates on my cryptocurrency portfolio, crypto related articles and inspiring articles about personal time & life management.
---> 👍🏼 Resteems and upvotes are appreciated ;-)
---
Disclaimer: I am not a financial advisor, trader or developer. I am just a blockchain & cryptocurrencies enthusiast. Make sure you do your own research, draw your own conclusions and do not invest any money that you cannot afford to lose.