Earn PRE Tokens By Using Presearch Decentralized Search Engine
Hello, fellow Steemains!
You can earn PRE tokens just by using Presearch decentralized search engine.
At the moment one PRE token is traded at the price of $0.052392, or over a 28% price increase for the last 24 hours, according to CoinMarketCap:


So, how it works: Presearch is an open, decentralized search engine that rewards its members with Presearch Tokens for their usage, contribution to, and promotion of the platform.



For example, for each search you win 0,25 PRE token or 1 PRE token for 4 searches. So, you can earn up to 8 PRE tokens a day (or a bit over $0,40 at the current price of PRE) if you make 32 searches a day. Isn't it very simple?
---
So, why use other search engines that don't reward your activities when you can use Presearch and make some extra money every day?
How to start? You have just to register with Presearch.org by using only your e-mail! Remember only e-mail! No KYC! So, it is a very simple process: just a few seconds. In your account on the site of Presearch.org will be integrated your wallet, in which you will collect you tokens.
---
You may say you are used to Google! That's fine! In your account in Presearch you can choose Google (or even any other search engine):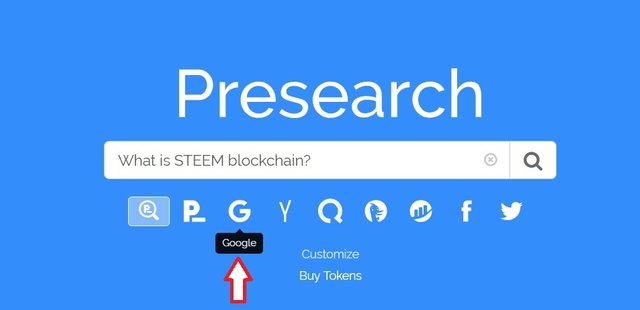 So, it means that in the search field you can type your search and click on the Google icon and then Google will handle you search and a Google window will open. But, you will win your 0,25 PRE. Isn't it awesome? You can just use Presearch as an interface to Google, or your beloved search engine.
---
The last thing I want to mention ... You can earn up to 8 PRE tokens a day. No more. At the moment this is the limit. And, also, you will be able to start withdrawing your tokens when you reach the 1000 Tokens threshold:



So, it means you have to use the Presearch search engine for at least 125 days (approximately 4 months) in order to become eligible for withdrawing your PRE tokens to an exchange and for selling them.
---
Fellows, I have calculated that for 1 year (365 days) I can collect up to 2920 PRE Tokens (8 tokens a day). 2920 PRE tokens at current price of $0,052 is $151,84 for one year!
For example, living in Moscow, Russia at the moment for $155 I can buy a 4 day trip to Cyprus (everything is included: flights, transfers, hotels, insurance, etc.) :



So, it means that just for using Presearch Search Engine I can pay for my trip to Cyprus!
---
Please, if you register with Presarch.org use my referral link: https://www.presearch.org/signup?rid=579310
You will not lose anything, but I will get 25 PRE tokens! I'll be very grateful to you for signing up via my referral link. Btw, I've included my referral link almost everywhere above in the text.
Should you need any assistance in the registration process or if you have some questions relating to Presearch, just ask in the comments, or contact me!
---
You can follow Presearch on Steemit: @teampresearch
Enjoy Presearch search engine!