First of all i love POS coins. It is like passive income, you get coins for doing nothing :P.
POS is not like POW coins, you receive coins when you help the network with you're node/open wallet.
The more coins how greater the reward (and less time between rewards).
To run POS coins you need to have you're wallet 24/7 open on a PC. I was running the wallets on Windows 10 with a desktop computer.
Note: not all POS coins are like that. You also have coins like Neo where you can claim you're rewards and don't have to run a wallet 24/7.
The PC i was running was not that "green" type machine with its old i7 processor. It also made noise.
POS coins say that they are a lot greener than a POW because there are no miners to help the network or less than POW only coins.
But running a desktop PC 24/7 is also not that green.
I had a Raspberry Pi 1B lying around and i tough: maybe i can run a wallet on this device.
It is a small PC with no fans and a very low power consumption.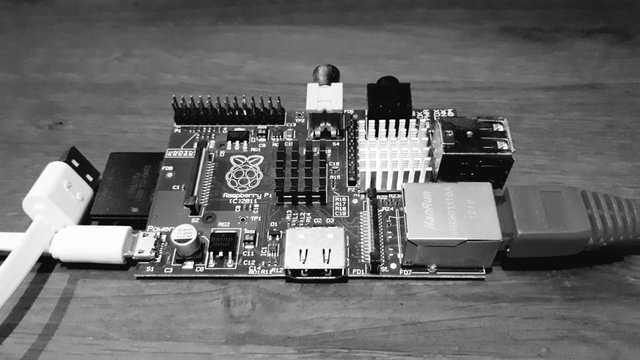 My first Raspberry Pi 1 Model A with a 700MHz and 256MB RAM
The Raspberry Pi 1 Model A is not that powerful and has only 256MB of ram. Than i got a Raspberry Pi 3B. It is a lot faster with 4 cores instead of 1 and 1GB of ram.
I searched on the internet for wallets that can run on a Raspberry Pi.
All the POS coins i owned have a Raspberry Pi wallet so i was a lucky guy!
Now when i see a good POS coin i always search for a Raspberry Pi staking wallet.
When you are using a graphical interface OS and a graphical interface wallet (QT) you can only run 1 wallet on a Raspberry Pi because the limited RAM (512MB on a Zero and 1GB on a Pi3).
So i bought more Pi's and installed them all with their own wallet.
Here is the list i am running at the moment:
| Coin | OS | Hardware | Wallet | Notes |
| --- | --- | --- | --- | --- |
| NavCoin | Raspbian | Raspberry Pi 3B | NavCoin core | NavPi img |
| ReddCoin | Lubuntu | Raspberry Pi 3B | ReddCoin core | With USB SSD for swap and blockchain |
| Stratis | Raspbian | PI Zero (non WiFi) | Stratis QT | With USB WiFi dongle |
| Neblio | Raspbian | PI Zero (non WiFi) | Neblio QT | With USB WiFi dongle |
In the next posts i will show my hardware setups and software installs from all above.
Witch coin do you like the most?