Coinigy is KING
What is Coinigy?
Coinigy is a trading platform for cryptocurrencies. you can do your technical analysis on this platform with a wide variety of tools due to the fact that they use the plugin from Tradingview.
So what makes it special?
Next to a charting platform it's also a platform with features such as a news wire that pops up with news about cryptocurrencies from websites such as The Merkle and many others. it also has a feature that is my #1 feature of the platform and that is the input of APIs from your favourite exchange such as Poloniex or Bittrex right into Coinigy. You can also see your history of trades due to this API because it makes a green arrow for your buys and a red arrow for your sells. You can always request for new features to be added as well, they always listen to the people.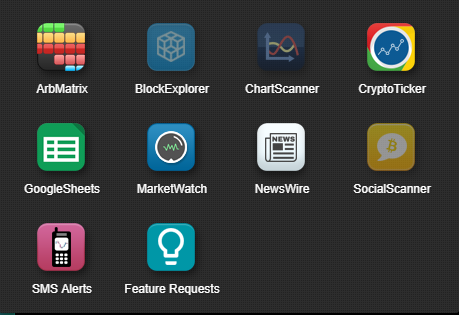 How is the support of Coinigy?
I've had problems several times for example with the execution of a trade so I went on twitter and simply asked them what's up with the error in question I was having and always had a response fairly quickly. Also all my problems Coinigy couldn't really help because Poloniex was getting flooded with people and it couldn't handle the volume of people so the API was overloaded with requests to put buy and sell orders.
So how does the API work then?
The API is so you can execute your trades from the coinigy platform by putting up Buy and Sell orders by simply clicking on your bitcoin value and then of course you can type in the amount you want to trade with. You will certainly make no mistake by typing in some crazy high price for a coin that is still low because you messed up with a zero.
So is this API safe?
Yes the API is safe due to the fact that for example on Poloniex you can put it so your API key is not allowed to withdraw. On top of that on Coinigy they have 2FA protection just like on Poloniex and Bittrex. an API consists out of an API Key and a Secret Key.

How to get started on Coinigy?
By simply going to the following URL:
Non-referral link: https://www.coinigy.com/
Referral link: https://www.coinigy.com/?r=a8db0235