Samaritan Coin (SMR) : A Decentralized Blockchain Based Cryptocurrency Project For Peer to Peer Transactions As Well As Creating A Lending Platform !!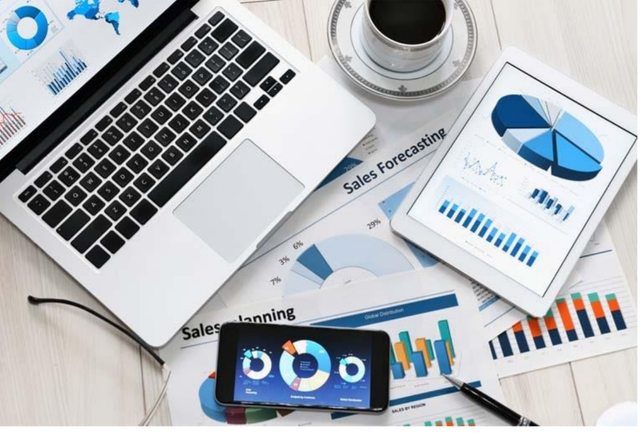 With the inception of cryptocurrencies, many ambitious projects came into existence. Some are really great and some are just average. But most of the ambitious projects are focused on solving some real life needs and that's why those type of projects gains the popularity and fame among investors. 
Bitcoin indeed is a versatile cryptocurrency but with all these speculations as well as overload blockchain, it has become inefficient. People need something which can process transactions within seconds and with a low fees. Bitcoin charges a great sum of money for a faster transaction approval. 
Alongside, a new type of crypto project came recently which deals in lending. There are many projects already set-up which deals with this type of core model but most of these projects are kind of work-in-progress and some don't even have a roadmap to begin with. People need something which can provide great value as well as good investment. 
A new crypto project named Samaritan Coin came into existence which provides a reliable medium of transactions as well as a lending platform. 
Samaritan (SMR) Project Overview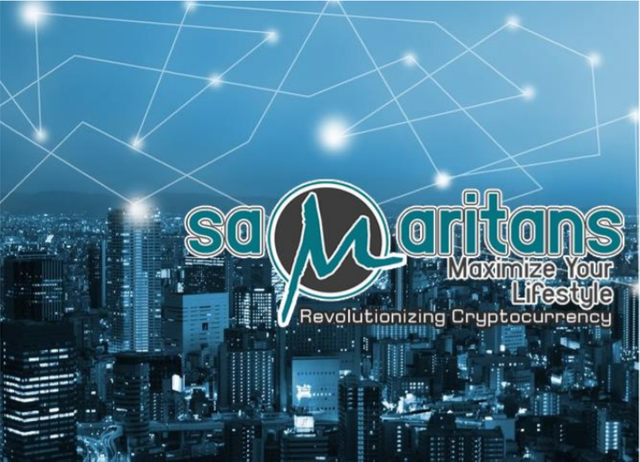 Samaritans Coin (SMR) puts the power in users hands, enabling 'person-toperson' transactions without middlemen such as banks or credit cards. There is no five day processing wait, your account can't be frozen, and the digital coins can be sent virtually instantly with zero or low fees to wherever you want. 
People all over the world in regions without proper banking systems want to use crypto currency: We let them do that. Samaritans is the first platform to feature Samaritans Coin (SMR), which is used to buy Prepaid Phone Air Time Top Up, Concert & Flight Tickets, Hotel Voucher and Online Shopping Gift Cards. 
SMR Coin Statistics
Coin Algorithm Scrypt (PoW/PoS) Coin Abbreviation : SMR 
Maximum Coin Supply : 59873400 
Coin base maturity : 50 blocks 
Total PoW block : 108000 
Starting block reward : 200 SMR 
Rewarding halving every 108000 blocks (every 140 days) 
Block Spacing : 2 minutes 
Minimum Stake Age : 15 Days 
Maximum Stake Age : 30 Days 
After #108000, full switch to PoS Premine : 20 Mils Coin, 10 Mils for ICO & 10 Mils for Developers, Marketing, Pros, Bounties, Ops 
Samaritan Coin (SMR) Lending Plans
According to this blog
Short Terms Program
Short Terms will be provided by our ASIC, GPU Mining Farm Duration 6 Weeks.
Minimum Investment USD $100 
Installments at 4.5% per day in business day 
Installments at 1% per day in weekend 
Hourly basis payout  
Total Payout is 147% 
Instant Withdrawal 
 Duration 9 Weeks 
Minimum Investment USD $100 
Installments at 3.6% per day in business day 
Installments at 1% per day in weekend 
Hourly basis payout 
Total Payout is 180% 
Instant Withdrawal 
Long Term Programs
Long terms will using our special trading bot software which will guarantee the profit for users investment.
Samaritan Coin (SMR) ICO Sale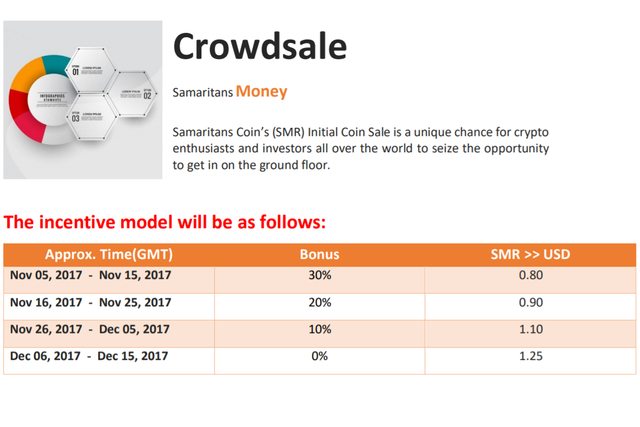 SMR coin is having a ICO crowd sale starting on 5th November 2017 and it will be live till 15th December 2017. The ICO crowd sale will definitely allow people to get on this boat early and reap the benefits later. SMR ICO crowd sale also offers some discounts for different phases within this crowd sale month. It will be as follows:
Nov 05, 2017 - Nov 15, 2017 :30%  SMR Token Price: 0.80 
Nov 16, 2017 - Nov 25, 2017 :20% SMR Token Price: 0.90 
Nov 26, 2017 - Dec 05, 2017: 10% SMR Token Price: 1.10 
Dec 06, 2017 - Dec 15, 2017: 0% SMR Token Price: 1.25 
Project looks fine but it is quite new and their website still in upgradation mode. So, visit their website and social channels to get to know more about the project.
Note: This article is only for information purpose. Use your own diligence before making investment in any crypto project.
Thank you.
Image 1, ,2 ,3 ,4
Follow Us On Discord and Become a part of ADSactly.