Update on all the projects I have reviewed to date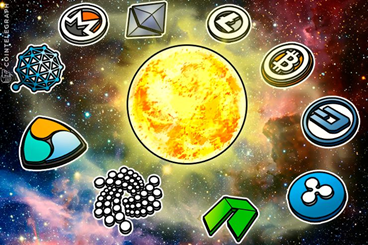 Introduction
Hey Guys/Gals,
I have not had much time to write any more reviews lately, as I am pretty busy at the moment. I do plan to get back to it when I can though. So, in the meantime, I just wanted to update you all on the projects I have written about so far on Steemit, which I will share with my readers not on Steemit also. The market has been so bad that it has affected a lot of these token sales.
On a separate note, I also wish to disclose that I entered some of my articles into bounty programmes to gain payment for them, I do not see anything wrong with doing this on a personal note. I believe people who put the time and effort into writing good quality content should try to get paid for it if there is an avenue open for it. I would urge you all to do the same but to disclose it, please be wary of people writing content and not disclosing that it is for bounty purposes (I know the irony, but those who read my work can see I don't really shill stuff). It is something which I should disclose on my articles going forward, and something which I overlooked.
What I want to do here is to provide an update on where the projects I have spoken about are now. I will also link my previous articles for those of you interested in learning about these projects more. I would urge you all to read them but not consider them investment advice. Now is as good of a time as any to be researching and planning your next move in this market; research will be your key. As always, I urge you all to never follow investment advice; these are just projects which caught my attention during my own research.
Quarkchain
This was my first article on Steemit. I actually never received a bounty for this and never invested in the end, but I still like the project a lot. I still think it is an amazing project, however, its value has fallen sharply with the entire market, trading at about 0.04USD now I believe. I do think great things are in store for it.
Link to article: https://bit.ly/2rkGP86
Local Coin Swap
This project fascinated me when I learned about it 1st. I did a lot of research into it before contributing to the sale. I then submitted my article to the bounty (my 1st bounty) to see how it all worked. I ended up making a few hundred bucks worth of LCS which I did end up selling most of as I was bullish on another project at the time. I do still hold a bag of these. It is a great platform, owned by the community and is one which gets my vote of confidence. Hopefully, they survive this crypto winter, they do seem to be struggling with low volume at the moment- about 91k USD per day at present which is not great for an exchange.
Link to article: https://bit.ly/2zFNMFv
Open Collectors Network
This project really excited me back in the day, and still does. It is a platform for dealing with non-fungible tokens (Tokens of unique value). I believe the crypto space will cater to these eventually as this is how the real world works. Unfortunately, it seems this project has gone very quiet and the website has been deleted, the TG is quite and I can find no updates from the team; a victim of the bad market it would seem. Hopefully, the team rekindles this project someday when the market turns good., if not a competitor will fill this area. Check out the article if you want to learn more about how tokens like this work via "tokenization".
Link to article: https://bit.ly/2SuVObn
Seele
This was a project which I missed the boat on initially, there was a lot of FUD surrounding it in the early days. I had a chance to join a pool on this and turned it down, which proved to be a bad choice as this did very well on listing.
I then became very interested in it after reading their whitepaper and learning about their neural consensus algorithm. I ended up writing a couple of articles on it to better understand the project (as is my method). I still consider this some of my best work- as it was my attempt at writing technical reviews, I think I did quite well. I submitted one or two to a bounty programme, I did not make any money from this, as the tokens were never sent to bounty participants until the token was already declining in value. I hold a grand total of 3k tokens valued at a whopping 20 dollars by today's standards. Still, in the long run, I am hopeful for this project.
The team provides regular updates and things seem to be progressing, albeit through turbulent and difficult times. Some people seem annoyed by their lack of exchange listings (high profile), however, I think there is no need at present. This is a long-term hold for me.
Link to article 1: https://bit.ly/2JYZja9
Link to article 2: https://bit.ly/2tAqLQq
Link to article 3: https://bit.ly/2Mst7bL
Link to article 4: https://bit.ly/2UaSbZF
Sparkster
This is a remarkable project in my opinion. I created an article for this and joined their bounty programme, which gave me access to their token sale. I did not end up participating in the end as I had already invested through a pool, this was just a project I was very bullish about and wanted to contribute to. If you can remember Ian Balina rated this as an all-star ICO months ago.
This project successfully conducted its token sale, and then the team took the wise decision to delay listing until the market picked up. It is nice to see a team protecting investors. I believe a lot of investors here are happy with this as it was pretty hard to get an allocation for in the sale. The team provides regular updates, they state that the "Main Net" will be released by the end of Dec 2018 and the "Code" by early Dec 2018. The team will not be unlocking investors tokens until confidence returns to the market and all bounty tokens will be distributed a month into trading (once listing occurs). The team also claim to have 2 exchanges lined up, however, this will not occur until confidence returns to the market.
I see this project doing very well. Check out my summary below and my second article on how to do their "proof of love campaign", which is still ongoing.
Link to article 1: https://bit.ly/2KOv4jc
Link to article 2: https://bit.ly/2DZ3Hlh
Nexty
I really like this project because their vision is to help e-commerce and technology start-ups to raise funds. They envisage a world where anybody could pay for anything, with no fees. I wrote 3 articles about how this platform works, which is very good to help readers understand blockchain/consensus mechanisms etc. Even if you don't like the project, I would suggest reading them to get a better understanding of how blockchain works.
I submitted these short articles to their content bounty and make a few hundred bucks in Nexty tokens. I really like this project so I still hold a lot of them. The price has fallen drastically like most other projects. However, they still have a lot of volume on the exchanges (300k per day) and are valued around 9 million USD at present. Their community seems pretty active also and the team seems to be pretty active.
Link to article 1: https://bit.ly/2JTht97
Link to article 2: https://bit.ly/2lg9XKH
Link to article 3: https://bit.ly/2MyUqlA
Usechain
This was another very interesting project which caught my attention during my research. It was the use of a "Mirror Identity Blockchain Ecosystem" (Usechain, 2018) which made me interested in this. Its all explained in my article below.
I wrote this piece as I needed to understand the project before investing, I later found a bounty programme and submitted this article- Which I made nothing worth mentioning here. I still hold all tokens and it would cost me more to sell them than they are worth. This is a long-term hold for me. They seem pretty active; the sale was a success and all bounties paid out. The test net is live and the team is pretty active. One thing I do not know is the value of the project (Not on CMC) but they have a decent volume of 300k per day mostly due to the fact they are on Kucoin. It is just another project struggling due to market conditions but I feel will do well in the long run.
Link to article: https://bit.ly/2BQ4dAr
Media Protocol
I really like Media Protocol, they are attempting to create a direct economy (2-way dimensional flow) between publishers and consumers for the exchange of data, for which both parties can benefit. (Mediaprotocol,2018). This is good, in an industry which seems to favor publishers. I wrote about this project as I just really like the idea of content creators gaining more rewards for their work, this is real decentralisation. You can even download their "Crypto Catnip" dApp and try it for yourself.
This project is very active in their social circles, there are regular AMAs and the team seems pretty active. However, their sale is struggling, they are still in Private sale mode and awaiting the return of a favourable market for their main sale. You can register for pre-sale also. Unfortunately, platforms like this have struggled the most as people have become less interested in ICO's in general, and overall prefer infrastructure projects. I submitted this article below to their bounty programme, which is still in progress I believe. I do think this will be a great platform in the future. Check out my article below on them.
Link to article: https://bit.ly/2BQOwsT
Cryptassist
This is a project which I liked at the beginning and now I am unsure about. I like the vision for the project "being a 1 stop destination for cryptocurrency" (Cryptassist, 2018). This was a rocky road for this project, they did manage to conduct a sale and the team suggests they will list on an exchange this month (which I applaud). I did submit this article to their bounty programme, however, I do not reckon it will be worth much once this eventually lists. I have a feeling listing will take a while with this one now. The community does seem quite active though which is a good sign. Overall, I am moderately optimistic about this in the long run, however, many other platforms similar to this exist which makes it very risky to back.
Link to article: https://bit.ly/2E0WD7B
Orvium
This is one of my favourite platforms. I spent a long time researching for these 2 articles. Orvium aims to establish themselves as the "leading publication platform for the research community" (Orvium.io, 2018). This is one of the greatest use-cases of blockchain technology I can find.
What I really like about this project is how passionate the team are to delivering this. The date of their Pre-sale or Main sale has not been announced yet, but you can pre-register. Amazix are managing this bounty programme (which I contributed to). I found out after this that Amazix vet projects pretty well before taking them on, and it became a good idea to look at projects they work with. One of the ways I use to weed out the crap. I see big things for this platform in the future once the bear goes to sleep. It is wise to delay the Sales until then. Check out these 2 in-depth articles below which cover a general overview and a more technical look:
Link to article 1: https://bit.ly/2BPNsFK
Link to article 2: https://bit.ly/2QdYP2M
Kubitx
This was a project I covered briefly as I was helping a friend produce an article for. Kubitx, (2018) state that they will be the most robust and advanced crypto trading platform out there. I found it an interesting read. Overall it is a good platform concept, developed by an African team and aims to simplify trading which is always a plus, however it must be noted there are many exchange projects and you need to tread carefully with them.
The public sale of this project is ongoing and planned to end the 19th of December. The team/community are very active on social media, and I believe they are testing their OTC hybrid wallet already, which will facilitate cheap and swift cross-border remittances and is due to be released by the end of the year, according to the team. I hope they reach their goal and bring this platform on-line which already has a great MVP- it seems like a great platform I have to say.
Link to article: https://bit.ly/2rkH5UU
Open Enterprise Logistics (OEL)
This project is all about solving the inefficiency in the enterprise logistics supply chain. What they envisage is an ecosystem which centers around blockchain technology; and cater for all supply chains, starting with transport, according to OEL, (2018)
I really like this project, but they are another victim of the market conditions. The team has stated that "Public Sale of OPN Tokens by the OEL Foundation Will Be Rescheduled to 2019", which is not a surprise. I did also submit to their bounty which has since ended, for those of you who did this too, this has finished and stakes have been assigned, they will re-start the next bounty programme in line with the rescheduled TGE in 2019. The team remains committed to developing this platform, but until financial support comes from their sale, they can't do much. Things will be pretty quiet on this front until then I assume.
Link to article: https://bit.ly/2QCzBus
MOBU
MOBU is also another really impressive project in my opinion. It is my opinion that most "cryptocurrencies" will fall under the umbrella of securities, the SEC will demand regulation. This is why I was impressed with MOBU, they will conform to all regulatory requirements. MOBU, (2018) state that they will be the project at hand to cater for tokenization, once regulation is approved of course.
To date, MOBU has raised over 3 million dollars, enough to ensure it has met its soft cap. They are aiming for a hard cap of 9.5 million USD once their token sale starts around the start of February 2019 with the aim of listing their "security token" by May 2019. This is yet another example of a project holding off on its token sale due to the state of the market. Please check out my article below:
Link to article: https://bit.ly/2DXlEAu
ClinTex CTI
ClinTex is a project which I am very bullish on, it is a true example of a project which has a great use-case. ClinTex, (2018) have stated that they have delayed their token sale until Q2 2019. They state that this will enable them to develop the CTi platform "to be more production- ready for real-world use". According to their reasoning, this will help them to develop the platform to meet all regulatory and pharma industry standards. This decision is also most likely down to the terrible market conditions, so this is a good decision. This will do well in a good market I believe, check out my article if you want to learn more about it.
Link to article: https://bit.ly/2QBNitA
Raincheck
Raincheck is yet another ambitious project to link online-offline commerce and loyalty programmes. According to Raincheck, (2018) the main sale is now scheduled for Q2 2019. This is down to the market conditions. The pre-sale is, however, ongoing, which is subject to a massive 30% bonus.
Link to article: https://bit.ly/2KRFxuc
Iconiq Holding (Lab)
What I like about this project is that they will bring professional asset management into this space. This team seem to be very active and committed to this project They were recently named "a top 100 most innovative German start-up", according to IconiqLab, (2018). The sale has been a success and they are listing their ICNQ token on GBX Digital Asset Exchange mid-December 2018. I submitted my piece to their bounty via Amazix and it was a pleasure to do so. I really do see great things for this platform in the long run, as you will see from my article below.
Link to article: https://bit.ly/2rj7mmi
Monet Network
I really like this project because they aim to bring "mobile ad hoc blockchains" (Monet network, 2018) to this space, check out my articles below to find out more. I really do think this will do well as it offers a unique platform and will help attract the masses to blockchain eventually.
The team is very active, carrying out AMAs and making progress. they also had a pretty cool bounty which I submitted my work to.
The team state that the EVM-lite and the wallet are ready, and the "babble" consensus, which is brilliant in my opinion, is still being worked on. I believe their ICO is not planned until well into 2019- The team has not announced anything so it is good to see there are focused on delivering the platform before then.
Link to article 1: https://bit.ly/2xIQKXO
Link to article 2: https://bit.ly/2UfF5dG
Swipe
Swipe deals with the area of monetising apps for developers. It's a pretty cool project. This project is still in their private sale stage and yet to announce any more details on the Main sale. Most likely holding off into the new year due to the market.
Link to article: https://bit.ly/2QCoeCE
CDRX
CDRX, (2018) states that they will allow for what is called "Crypto Depository Receipts" (CDRs) which are "securitised tokens issued on a blockchain that holds a class of shares". This is a very ambitious project and one which I see doing very well indeed. They are currently in their Crowd sale which is due to end by December 22nd, 2018. Furthermore, CDRX state that they will be opening a test version of its digital asset exchange, to a small number of public users for evaluation from December 2018. This team is pretty active and I am hoping they do well.
Check out my article below.
Link to article: https://bit.ly/2Sr3KKt
JUR
What I love about JUR is that its "Decentralised Contract Dispute Resolution" (Jur, 2018) on the blockchain. We will need this in a decentralised world. Details of the Public pre-sale and Crowd sale have not been announced yet but are open to registration. The team is pretty active on social media and I see this doing well in a positive market. You can find out more in my article below.
Link to article: https://bit.ly/2PlrA8N
Smart Valor
This was one of my most recent articles so there is not much additional information to add other than what is mentioned in my article below. What I really like about Smart Valor is their vision, they aim to give everybody equal access to digital assets and tokenized real-world assets (Smart Valor, 2018). The team plans to start their token sale on Dec 27th, 2018 so I hope the market is doing well then. I believe this will do extremely well in 2019.
Link to article: https://bit.ly/2rm8Egi
Bidooh
This is another recent article of mine. This is quite an interesting project, concerned with the advertising industry, re-kindling the billboard advertising industry and driving smart technology-all explained in the article below. This sale is actually ongoing now and is due to end by December 6th. I think this will do very well in the long run. They have already surpassed their soft cap by raising over 24,000 ETH to date, they are however a long way off their hard cap, so I would assume it will not be reached in the next couple of days. A platform like this would do well in a bull market, however, it is a victim of the conditions present today. Check out my article below on them:
Link to article: https://bit.ly/2FUhlbQ
Conclusion
Overall I am optimistic about the majority of these projects. I hope people will see how much time and effort goes into compiling these articles. I have found a way to try earn something from writing about good projects, and understand that many of my articles may never earn me anything due to the state of the market and the problems teams are facing with sales today.
My only advice is to never take advice from anybody. I always state this in my articles, people should never invest anything until they do their own due diligence, and keep in mind a lot of people write for money. I try to stick to the stuff I like and not get caught up writing about any old project for the sake of it. Be wary out there, don't throw away money, I will be the first to admit that everything I have written about here is risky to invest in, as with any project in this crazy market. I would prefer if people just simply read my work, rather than the bases of making investment decisions (never do this).
Who knows which way the market will go, I personally see us going lower, which may put further pressure on these projects. These are, however, mostly projects which I will be following closely into 2019.
Additional Reading
References