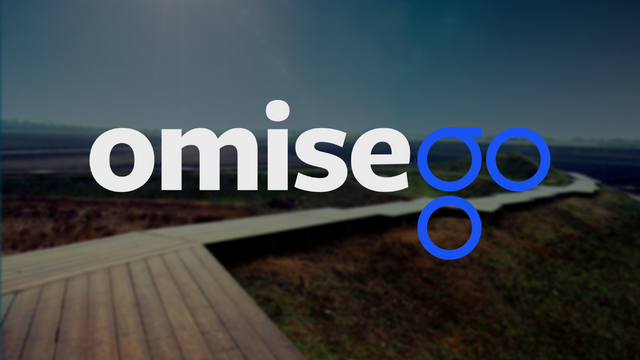 Coin of the Week: OmiseGo [OMG]   
OmiseGo is a decentralized exchange, payment gateway, and a white label digital wallet. Its main objective is to create a way to transact any asset from anywhere in the world in real time with low fees, without any governing bodies. Basically, OmiseGo is positioning itself to become the ultimate solution for anyone trying to do anything related to finances. OmiseGo was created in 2017 by its parent company, Omise. 
Omise is a venture-backed online payment gateway founded in 2013. Omise is accepted by over 10,000 merchants in the Asia-Pacific region. While OMG was created by Omise, it is not controlled by the company. It is completely owned by its users and tokenholders, who do all the verifying and decision-making within the network.   
While current traditional payment solutions work, they all have some fundamental vulnerabilities, with the most obvious one being that all of them are centralized. This means that there is one central authoritative body that essentially has control over the whole system. The entire network could be sabotaged by hackers who manage to get past their lines of defence. 
Another issue with current payment solutions is coordination. Payment solution providers are not eager to collaborate with their competitors, and in this space it is every man for himself. This creates many different gateways where payments are being processed, but when it comes to taking funds from one payment gateway to another, our current systems impose high fees and slow transaction times.   
OMG is creating a payments network integrated with a decentralized exchange (DEX), where users can transact with any type of asset, whether fiat currencies, cryptocurrencies, or even alternative currencies including AirMiles or gift cards.The DEX will be held up by its user base, and the P2P setting will allow transactions to take place in near instant time and without significant fees. 
OmiseGo is also launching a white label digital wallet, meaning that it can be utilized by other companies looking to deploy payment solutions to their services. 
OmiseGo is a Proof-of-Stake ERC-20 token. It is the first cryptocurrency built on top of Ethereum's Plasma network, which allows speeds up to 1,000,000 transactions per second (compared to regular Ethereum's 15 transactions per second) and can run as a child chain on other blockchains as well.  
Interesting facts: 
OmiseGo is one of two projects that Vitalik Buterin officially advises. OMG is also supported by Ethereum's Dr. Gavin Wood, Joseph Poon, the co-author of the Lightning network and Plasma network, and Roger Ver. 
OMG's slogan is "Unbank the Banked". Instead of talking about banking the unbanked, OmiseGo is focusing on taking the inefficiencies out of the traditional banking system by providing a far superior system. It will help people in third-world countries who don't have access to financial institutions, but it is also focusing on removing the need to have a bank account in the first place. 
OmiseGo's founding members are recognized by Forbes as the up and coming "Fintech Rockstars".  
Omise provided a $100,000 USD grant in 2015 to Ethereum Foundation's Devgrants program. 
Omise has official partnerships with the government of Thailand, McDonald's and Alipay. After Thailand's Financial Ministry announced their masterplan to promote e-payments they rolled out Omise's FacePay, a solution that allows users to confirm payments with facial recognition. 
OMG had a really successful, but also quite unique, ICO. It quickly reached its hardcap at $25M, but what is interesting is that the ICO was very limited, although the demand for tokens was high. OMG had over $100M in pre-sale interest alone, but they opted for a more reasonable and responsible target. They capped the maximum amount of investment per person at 1 ETH. In comparison to other ambitious ICOs looking to raise over $100 million, it is refreshing to see such a potentially large project keeping their funding goals down-to-earth.     
Whitepaper: https://cdn.omise.co/omg/whitepaper.pdf  
Website: https://omisego.network/  
Coinmarketcap: https://coinmarketcap.com/currencies/omisego/