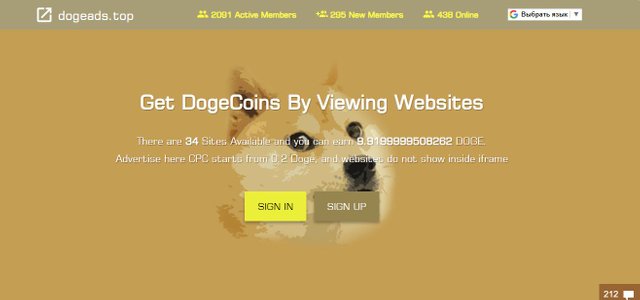 Dogeads.top is a website for earning Dogecoin cryptocurrency on viewing advertisements.
Users
Registered users earn Dogecoin by viewing advertiser's sites (Surf Page) and navigating through the link (Doge Link Ads). Under the affiliate program, you get 10% of the income of referral surfing and 7% of the purchase of referral advertising. The minimum withdrawal amount is 500 Doge to your wallet or FaucetHub address. You can send a message to any user of the site by its name.
Dogeads.top has a rating system. The higher the user's rating, the more he can earn, because advertisers can filter visitors in the surf by rating. For example, they can only show links for grants with a rating of 1 or higher.
Advertisers
Advertisers can advertise their projects with a pay of 0.2 Doge for one transition to their website. There is no purchase of a minimum number of views. Sites with framebreaker can be promoted. The minimum amount of recharge advertising: 500 Dogecoin.
Website: https://dogeads.top/?ref=olgadanova
---
Sponsored ( Powered by dclick )