The Diary of an Unmade Man Ep 32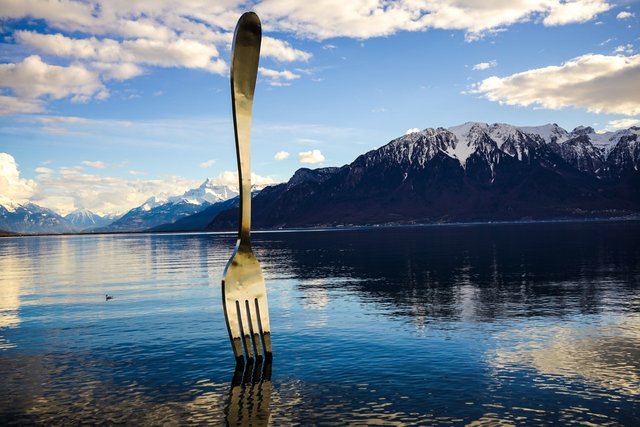 Episode 32 – What forking happened?
Howdy folks. 
Apologies I've been absent but I got completely tied up in real life! 14-hour days, working pretty much 12 days solid to get a project finished. Client have got to be happy right?!
But I'm back. Fresh off a little long weekender to Venezia (Venice), Italy. Oh boy, what a place to go, as if you thought Bitcoin was the only thing struggling to stay afloat! But Venice, well that's for next week. I've got a few things I want to talk about, and now is not the time. However, now is the time for a follow up from my last episode. 
The BCH hard fork – so, what forking happened?
Well, let me start by saying this. Not a great deal. As I mentioned previously I do not own any Bitcoin Cash. I'm not a speculative trader. I do not have the time to be sat down at my desktop looking through charts. I have learnt a little bit of TA along the way and I am sure I will push myself to learn more. But right now, is not the time.
With that being said, I was not in a position to try to speculate on the forking. 
The fork went ahead on November 15th. BCH became;

BCHABC – Bitcoin Cash ABC. Supported by Roger Ver, and founder of mining pool, Bitmain, Jihun Wu.
And…
BCHSV – Bitcoin Cash Satoshi's Vision. Supported by Satoshi Nakamoto claimant Craig Wright.
(If you want to learn more about hard forks, what Bitcoin Cash is or who Roger Ver, Jihun Wu or Craig Wright are, then you can check out last week's episode which has lots of information along with some really good links – ADD LINK HERE)
Well let's put it this way. 
The war continues!
What happened? – Nov 15
As November 15th rolled around, a lot of traders rolled up their sleeves. Rubbed their hands together in the turmoil and set to trying to make some profits from the volatility. 
To everyone else in the space, things seemed relatively quiet. The Bitcoin Cash communities bickered across Reddit and Twitter. But for anyone on the sidelines, watching from afar, like myself. It just seemed like a normal day in the office.
Most of the Bitcoin maximalist party, I imagine, were sat with Cuban cigars, eating steak, with a decent drop of red wine, celebrating watching the noisy neighbours tear each other apart. 
Far from a simplistic ending, the most incredible thing is seemingly neither party have gained anything substantial from this split. Both parties are enthralled in a 'hash-war' competing for overall power of the Bitcoin Cash blockchain.
Joseph Young a popular analyst and figure on Twitter shared this tweet: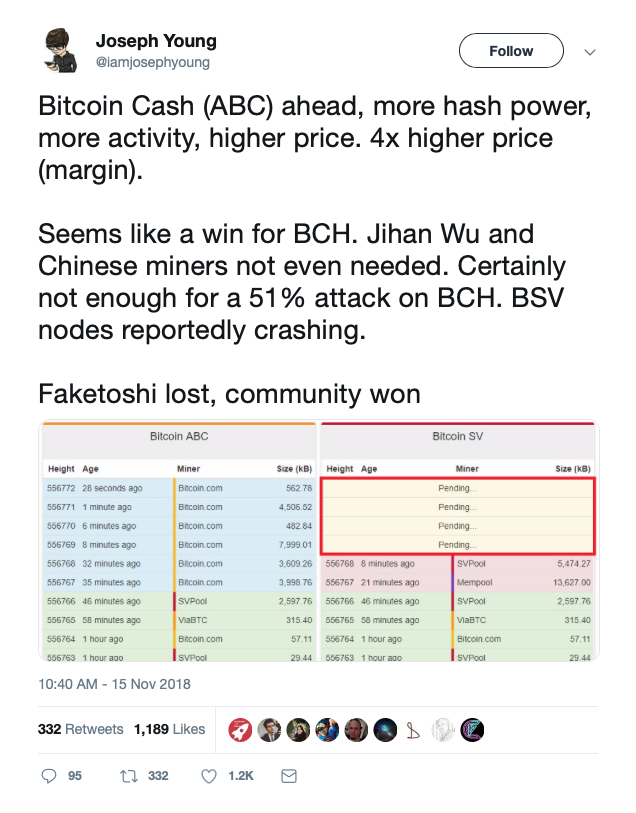 It shows how with the power of Jihun's mining pool, ABC got off to a fast start and was more than likely backed by a larger part of the community.
However, as I said, both parties were losing together. Figures from mining pools on either side emerged, showing both had lost an approximate value of $400,000, not including electricity.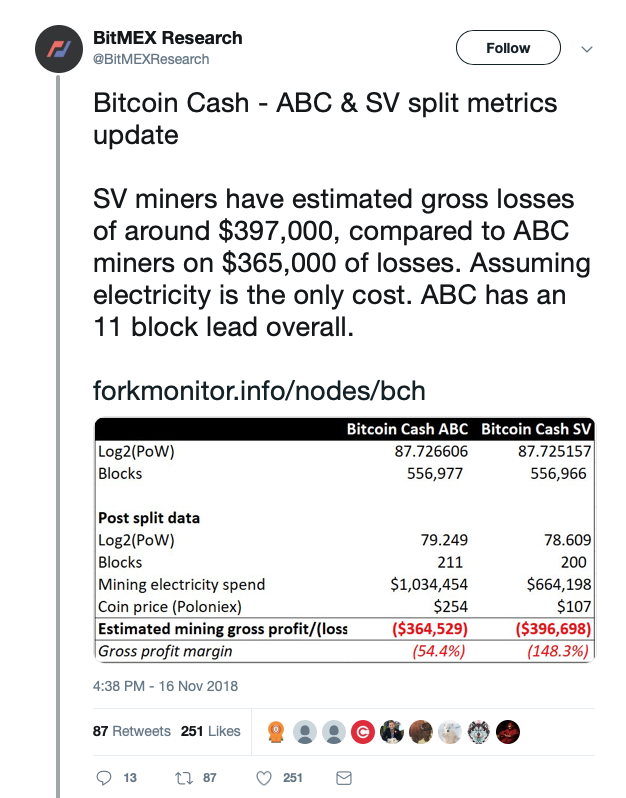 Someone, somewhere was having to front the bill for a nasty tech war. I just hope they know what they are doing!
The final figures for the damage are still a way off. One of the projects will more than likely turn to dust eventually, but this is a more up-to-date look at the potential costings. And it's frightening!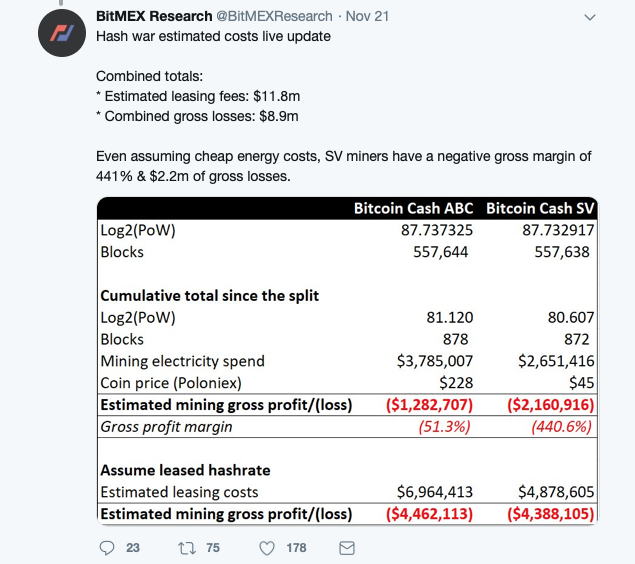 If these estimates are anywhere near true then that's a lot of dollar to be throwing away on a 'petty' dispute! 
To keep up to date even further you can follow BitMex Research on Twitter.
The aftermath -
Whilst I am happy I was sat watching from the stands, I am sure there are people out there who have and/or will be affected by the split. Crypto can be a nasty world, it still is The Wild West even if since during the small time I've been involved it has calmed slightly. 
Be aware, although the hard fork is now complete, a war will continue to wage on in the background for plenty of time to come. Do not get caught in the crossfire! DYOR.
There is a long way to go for the tech to really show its true colours. I years to come I am sure we will look back and chuckle at the small intricacies. Smile at the horn butting and alpha sizing thinking it was all child's play. But for now, it means a lot more. The space is still green. It's still trying to expand and grow. We don't need suited businessmen throwing their toys out of the pram and kicking up a stink because they didn't get their own way. But then again, that's democracy. That's the price you pay for allowing everyone the right to their own opinion, rightly or wrongly.
So until the time Bitcoin hits $100,000 next year (yeah, I wish!) we will just have to keep our heads down and watch why the crypto powers that be take digital chunks out of one another!
Thanks for reading and peace out.
_________________________________________________________________

If you want to learn more or get involved in one of the best and largest growing communities then stick around. CRYPTO101 is always expanding. Always looking to get people from everywhere involved. And the first place to do that is the Facebook page. Give it a try today, you never know how it might help!

I myself have received a lot of love and support from the awesome community there. You can find a lot of content on the CRYPTO101 Steemit blog page as well. Articles are being put there all the time! 
If you're on twitter, give me a shout @DaveDustpan. I tweet a lot of light-heartened rubbish, but I do share some knowledge and journey updates from time to time.
Finally, if you've got the time, please take a quick trip to Patreon, please have it in your heart to become a Rarris on Mars member and help keep the community going! I myself am a Patreon. I do this because my mistakes would have been a hell of a lot worse had CRYPTO101 not been there for me. Not only will you get exclusive content from Matthew Aaron and the team but hopefully it will make you feel all warm and fuzzy inside.
Thanks for reading folks and stay safe out there,
Dave x
T - @DaveDustpan