SWIPE: We can earn more on Apps, you too!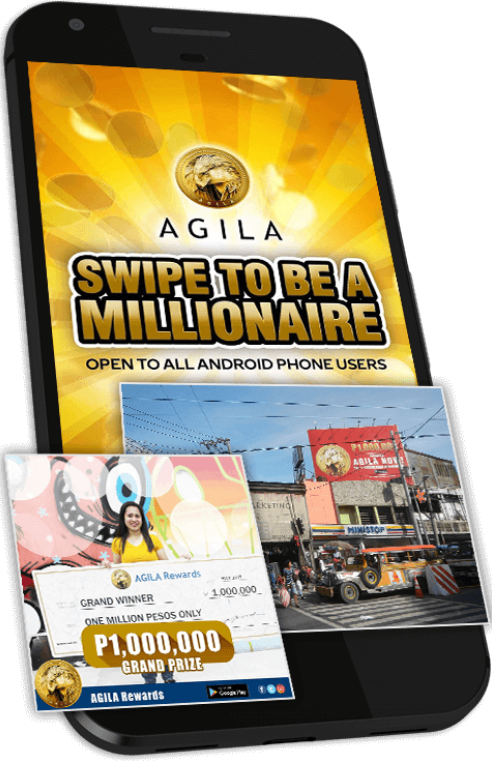 Who still does not have a smartphone and / or tablet? Who does not use mobile applications every day? Come on, admit it if it's true - and we will not laugh at you. Maximum, you will not be interested in reading this article. But seriously, apps have occupied an important niche in our lives for a long time. And today's project is dedicated to them: the SWIPE platform is created for developers who can receive an honest reward for their labours. But also for users of applications, and that's why: customer's data is simply sold without the knowledge or consent of users (data providers). In addition, up to 30% of information in users' accounts may be inaccurate or intentionally incorrect.

Best solution is the blockchain
Everyone who offers their products on the market, would like to protect them as much as possible from fraud and high commissions. But neither the black market nor the official exchanges can do it - only the format of blockchain allows it to be done. SWIPE Network will be just a right solution for a variety of problems with obtaining income from the results of intellectual work. More specifically, from the implementation of mobile applications.
The task of SWIPE is to create a direct and secure connection between developers and users, making this relationship profitable for each side.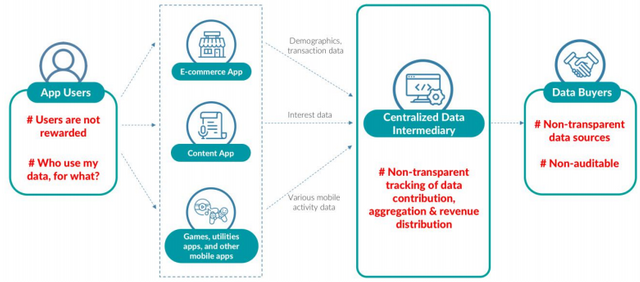 At the same time, data exchange on a decentralized platform will preserve anonymity. After all, any action will be carried out using smart contracts.
Technically, it looks like this ...
Meet SWIPE Brain: it is a data analyser that implements blockchain. Responsible for an honest and secure bilateral exchange. Rewards for the implementation of applications and also for the improvements introduced into the work of the platform will be distributed fairly between all participants.
As for developers, they can monitor any time, how are their products growing up into a range. SWIPE will offer a built-in SDK (software development kit) that can be integrated into any application. And the SWIPE Ads system will provide developers with actual control over what ads should be displayed in their applications, and there will be an ability to set up a system of reward for user by viewing ads.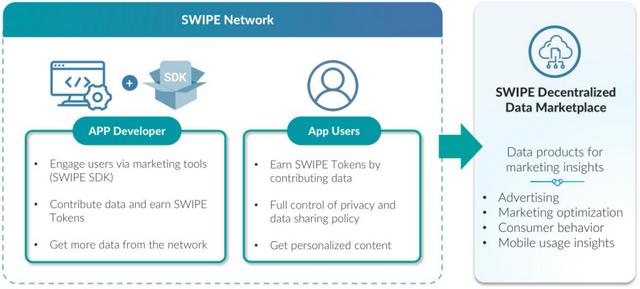 Users, in turn, see that the information is verified, and where it comes from. The payment tool will be the same Swipe token - all recalculations will be made in it, as well as payment of rewards.
Perks of this project
It is interesting for both developers and consumers of apps;
Smart-contracts - at the moment, it is almost the best way to monitor the reliability of incoming information and the anonymity of data;
All actions are transparent, can be considered by other participants, their confirmation is achieved by "pure democracy" – it means, by voting;
Confidentiality of data is ensured, while at the same time it is easy to track demand and find the target audience. This allows to save on the organization of an advertising campaign.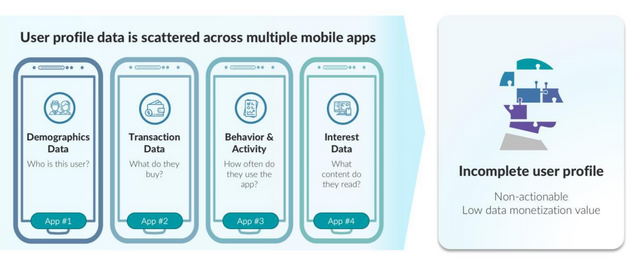 Tokens and ICO
Here I have to disappoint you a little. Because until this moment, and today is July 30th, it has not appeared information on the website about the dates and conditions of the ICO, there is also nothing about it on other sources, they just put the standard Coming Soon. However, it is already known that the SWIPE token is issued on the basis of the Etherium standard, in the amount of 100 million coins. Next, we will follow the ICO of the SWIPE project, for which I also recommend you to follow their Telegram channel.
About the team
There is also a little empty: on the site there are photos of team members posted, there are links to each profile in LinkedIn, but there is no detailed biography. However, if you read about everyone individually, here are the examples:
Lim Sun Want is the founder of the project, the leader. Since 2000 he has been working in the IT field, mostly in managerial positions;
Iyan Waer - co-founder of the project and COO, graduated from the university with a degree in management. He has experience in managing leading companies;
Kuay Chong Sean - co-founder and CSO, held high posts in Singapore in telecommunications;
Andrew Marchen - co-founder and CTO, previously worked for the NCS Group, you can Google about it.
And so on, the team members are profis, almost all of them are from Singapore, where the project itself comes from. Among the advisors, you can also meet interesting people, for example Thomas Graham, who has already participated in several ICO or Megain Widjaja who has more than 10 years of experience in various projects.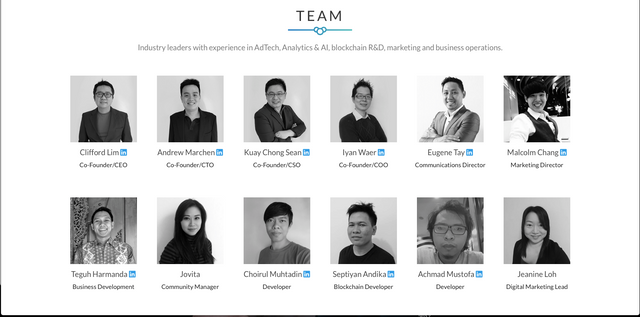 Conclusions
Until more information is available, it's too early to talk about the great future of the project. I would like to believe it will be great, because the team's plans are really enormous. In this area, they have to deal with several competitors, including Airbloc, Fysical and Datum. Perhaps, perhaps, perhaps…
Website * WhitePaper * Telegram * [Bounty]Bitcointalk * Twitter * Reddit * Profile