SIDERA: pay with a single wrist movement
Since mankind has known the exchange of money, this tool has gone through various stages of formation. From animal skins and circles of flattened iron to golden ingots and finally bills. With the advent of plastic cards, electronic money and crypto, finally, money has become intangible. It is enough to attach a card to the terminal - and the purchase is paid. And what if not a card, but a wrist band? With SIDERA technologies such a payment method will become real.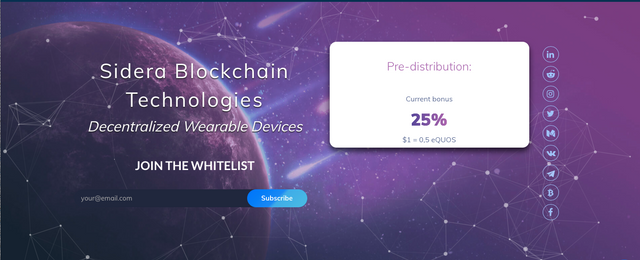 Decentralized Wearable Devices (DVD) of SIDERA
This is the name of technology promoted by the blockchain. Its implementation consists in the use of special bracelets or bands with a built-in electronic purse function. The technology of payment through touching the terminal is called "wrist-to-wrist", the signal from the band is transmitted via Bluetooth or Wi-Fi, whereby it does not need a router.
Features you need to know about
SIDERA presents the world's first SmartBit hardware wrist watch with OS BitSMART, which inherits the principles of blockchain technology (transparency, autonomy, decentralization of management);
If you are unlucky, and the purse is stolen, or you lose it, your funds will be protected. And you can restore them by accessing online;
The watch-wallet has many useful functions, for example, the "ghost" mode makes it inactive;
It can be used as a QR-code generator, as an informer about prices in the foreign exchange market. And, of course, like an ordinary wristwatch.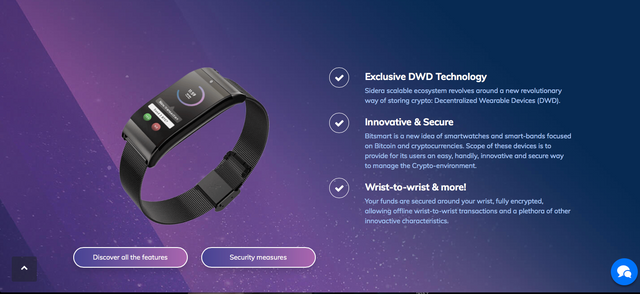 Particular attention during the development of IoT wearable SmartBit was paid to the security of the owner's funds. To access them normally the owner has to use his biometrics and a digital key with encryption, which is popular in military standards. For each operation, a unique key is created by the entropy wrist movement.
About SIDERA tokens and the CONTINUUM exchange
eQUOS - this name was assigned to the tokens with the ERC20 marker. They can be converted into USD, EUR, GBP or other usual currencies for payment via crypto-to-FIAT transactions. Information about payment will be displayed on the screen of the wristwatch instantly. The wallet supports eQUOS, BTC, ETH and many other crypto currencies. More about the features of the wearable wallet and its tokens can be found on the official site, a link to which I'll give at the end of the article.
Exchange and sale of any crypto currency, including eQUOS will be carried out on the decentralized and mobile CONTINUUM stock exchange. Instant operations can be performed simply by clicking on the wristwatch button. Using the CONTINUUM exchange gives you 100% anonymity and security.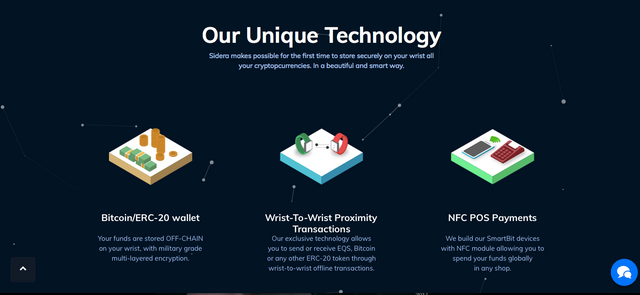 ICO project and details of it
No doubt, the project has a future. Which new stage will begin with the start of sales of the tokens, August 1, 2018, and will end on August 15, 2018. It is planned to reach soft cap 1, 500, 000 USD, while hard cap during pre sale stage makes 15, 000, 000 USD.
Total supply will be 51, 000, 000 EQUOS coins. Declared value: 1 USD = 0.5 EQUOS.
Bounty campaign and rewards
The SIDERA team announced a reward program for everyone who wants to participate in the project. Total compensation fund will depend on the results of the ICO. Even after the token sales phase is closed, tokens can be exchanged or purchased further with SIDERA SmartBit (band or watch).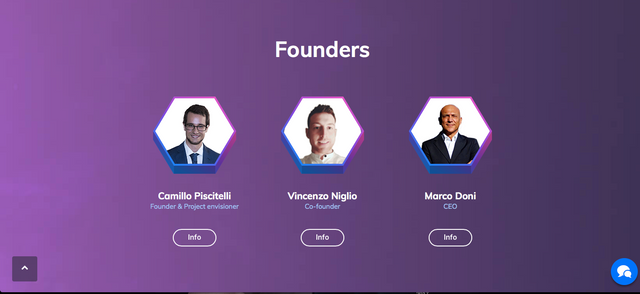 Bonuses during Pre Sale phase
From 100 to 1000 USD = 25%
From 1001 to 50 000 USD = 30%
From 50,000 USD = 35%
Distribution of bonuses during a four-week sales phase (September, 1 – September, 30) :
1st week: 20%
2nd week: 15%
3d Week: 10%
4th week: 5%
Conclusions
Decentralized Wearable Device, the main idea of SIDERA project should become a new revolution in the storage of crypto. For many of us, accustomed to wearing Smart Watch, the appearance of SmartBit watches with wearable cryptowallet will be painless and very handy. After all, you will feel more confident with the funds that are secured around your wrist, encrypted and available at any time, right? This is a huge advancement that will allow you to go beyond the crypto market in banking or healthcare sectors, and not only these ones.
Website * WhitePaper * Telegram * [ANN]Bitcointalk * Twitter * Reddit * Facebook * [Bounty]Bitcointalk * Profile