Winklevoss ETF Rejected | SEC Crusader | $XRP = Diamond???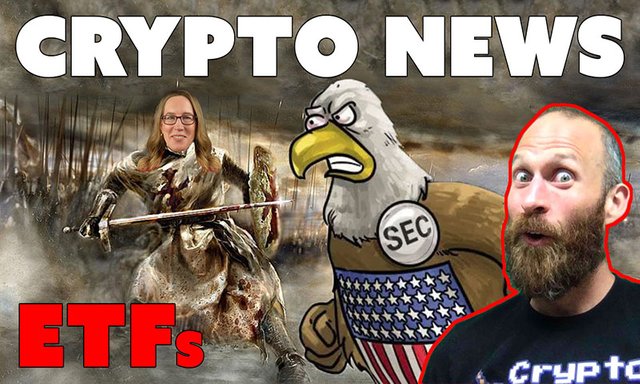 Cryptocurrency News Live Today: Winklevoss twins' Bitcoin ETF disapproval doesn't mean Bitcoin has no value, says SEC. The Winklevoss ETF was an appeal from a 2 year old application with a 1 year old denial. This has ZERO impact on the August 16th - Van Eck SolidX CBOE ETF. This is the SEC Commissioner who wants the ETF approved. She has only 1700 followers. Lets show her some love from the Crypto Community. Dissent of Commissioner Hester M. Peirce to Release No. 34-83723; File No. SR-BatsBZX-2016-30. Charlie Lee: BTC Is "Gold", LTC Is "Silver" And XRP Are "Diamonds". Ripple's CTO responds to Roger Ver's statement on XRP. Managing Partner of Crypto Hedge Fund Multicoin Capital: 'Ethereum Network Is One of the Most Amazing Things That Humanity Has Actually Ever Created'. The open, decentralized, blockchain-enabled Coral program will demonstrate additive manufacturing (3D printing) on the lunar surface and 3D-print homes for lunar settlers. Partner of Stellar Lumens, SatoshiPay takes 'giant leap' to go public on London Stock Exchange. Did not expect this kind of attitude from Charles Hoskinson, Cardano founder. 100 Million VTHO Airdrop for VET Holders. Bitcoin Can Reach $50,000 In 2018 Based On Three Factors, Says Investment Manager.
Swag: https://www.crypto-love.com/shop
Learn: https://www.crypto-love.com/academy
Trade: https://www.crypto-love.com/signalpro...
Support: https://www.crypto-love.com/patreon
Buy Bitcoin on Coinbase: https://www.crypto-love.com/coinbase
Buy Cryptos on Kucoin: https://www.crypto-love.com/kucoin
Buy Cryptos on Binance: https://www.crypto-love.com/binance
Meet Crypto Love at Coinvention in Philadelphia: https://coinvention.io/blockchain/cry...
Meet Crypto Love at World Crypto Con in Las Vegas: https://worldcryptocon.com/registrati... ($250 Off Code: LOVE250)
To appease money-hungry lawyers and irresponsible people, it should be known that I AM NOT A FINANCIAL ADVISOR and THIS IS NOT INVESTMENT ADVICE. I am merely educating and entertaining. What you do with your own money is your own responsibility. Seek the counsel of an intelligent financial advisor (good luck finding one) before investing yours or anyone else's money.
The information contained herein is for informational purposes only. Nothing herein shall be construed to be financial, legal, or tax advice. The content of this video is solely the opinions of the speaker who is not a licensed financial advisor or registered investment advisor. In limited circumstances the speaker has been compensated by a third party. Purchasing cryptocurrencies poses considerable risk of loss. The speaker does not guarantee any particular outcome. Past performance does not indicate future results. This is not an offer to sell securities. Never invest more than you can afford to lose. You should consult with your professional advisors before purchasing any cryptocurrencies.