Looking To Know More About Staking?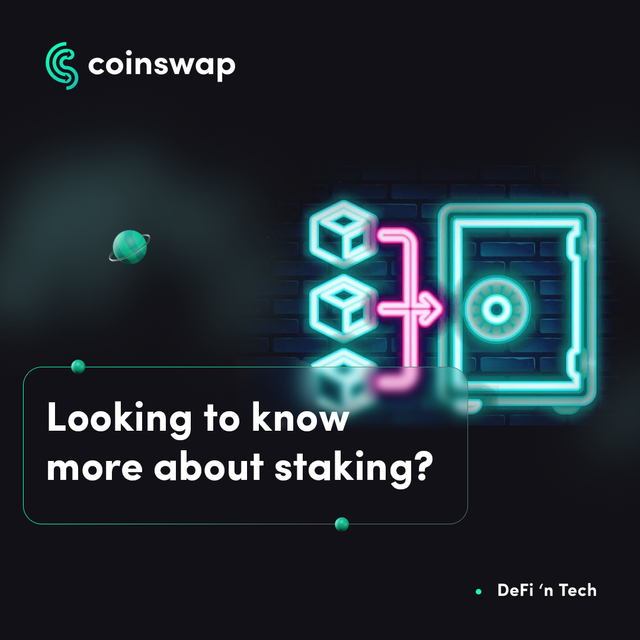 💵Are you here to know how to earn on cryptocurrency? To learn about staking and how to start earning passive income?
🔎Before starting your staking journey, learn first what staking is. Staking is the process in which crypto holders in a network earn rewards by locking their coins into cryptocurrency wallets to validate network transactions or supply liquidity to others. Note that it is essential to know that not all cryptocurrency support staking. Like if you are a Bitcoin holder, unfortunately, Bitcoin cannot be stake.
💰Staking has been getting traction in the crypto world because many users want to generate income with their crypto assets on DeFi platforms, with both centralized and decentralized platforms offering these services.
☝️But before you start staking, don't forget to DYOR all about staking, especially your chosen coins or tokens. Most networks have an asset minimum requirement for staking - there is a minimum amount of coins you need to invest in participating in staking that coin. When using a trusted exchange to stake your coins with one click, it is still essential to familiarise yourself with your favorite staking assets before you get started.
🚀The simplest way to begin crypto staking and earn passive income is by joining the Coinswap Space platform.
#CoinswapSpace #Staking #Farming #Earn #PassiveIncome #Income #Crypto #Investors #Traders #Investments #Trading #CryptoInvesting #MarketCap #CryptoTrading #CryptoWorld #CryptoTrader #CryptoTrade #CryptoTradingStrategies #Ventures #Fintech #AMM #DEX #DecentalizedFinance #Technology #Decentralization #Devolution #Bitcoin #Cryptocurrency #Ethereum #Blockchain #Cryptocurrencies #BlockchainTechnology #CryptoNews #Decentralized #Binance #Exchange #Finance #HODL