Buy and Exchange Cryptos on Our Platform!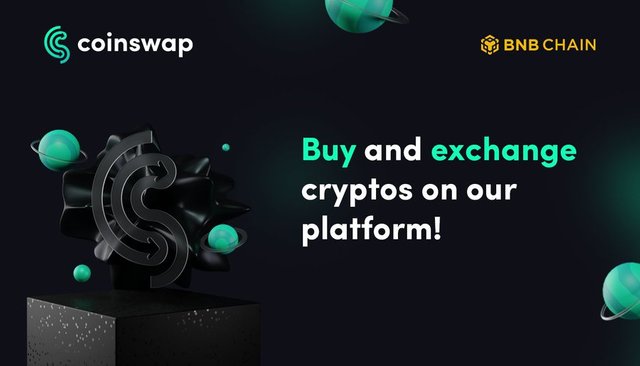 💻 Planning to buy and exchange crypto, but searching the internet makes you find several blockchain-based platforms. So, choosing the right platform is a little bit of a challenge.
🚀If you are still searching or deciding where to join, you may consider the Coinswap Space platform. Coinswap Space is a decentralized exchange that offers a suite of products powered by Binance Blockchain.
🪙You can easily make transactions, like exchanging cryptocurrency directly without third-party involvement. Buy crypto also made it easy by giving all users an option to use a credit card or debit card and connecting your wallet like Metamask.
📊Our platform is not only for buying and swapping assets, but we also have Yield Farming and Staking, which will give you extra earnings. Because our platform is built on BNB Chain, Coinswap Space utilizes smart routing that will provide users with the best return on their investment possible.
👨‍💼Start buying and exchanging crypto now on the Coinswap Space platform!
#CoinswapSpace #Cryptocurrency #DApp #Blockchain #DEX #Investment #NFT #YieldFarming #Decentralized #DeFi #AMM #Technology #Innovation #Future #Assets #Investing #Exchange #CryptoInvesting #PersonalFinance #Cashless #Wallet #Money #Fintech #Binance #BNBChain #Success #MarketCap #Money #CryptoNews #CryptoInvesting #Hustle #Adventure #Swap #Faming #Staking"