Did you know that with just one click you could access the most bullish and bearish crypto news of the week?
We've launched the Coin Stats app (http://coinstats.app) last year with the aim to have a single place to stay on top of the crypto market and your portfolio. We've been working hard during a whole year to make that happen, including delivering a new feature in News section.
Right now we aggregate news from over 40 trusted news sources. Last month, we introduced a feature for a user to be able to mark the news postings as "Bullish" or "Bearish" depending on how he or she thinks it will affect the market.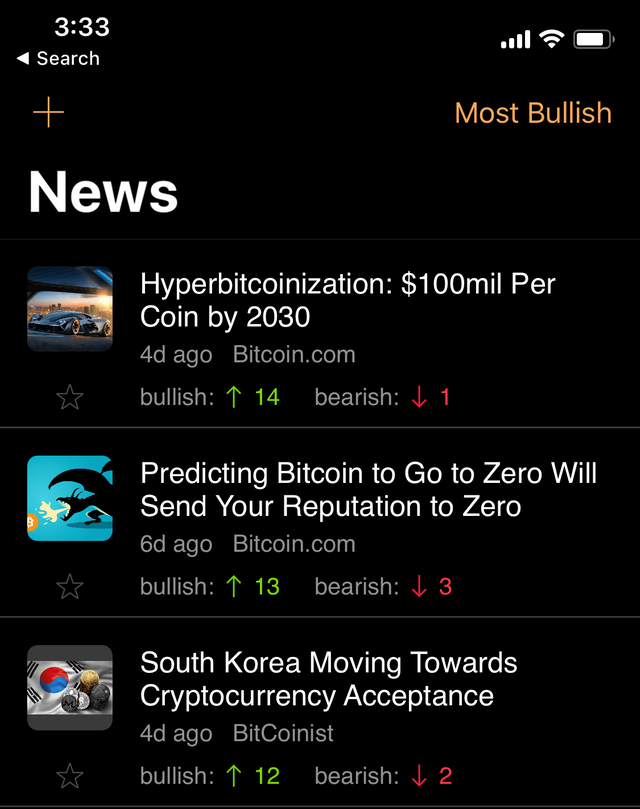 Additionally, you can easily filter out the most bullish and bearish news, to stay on top of the market with one quick glance if you don't have time to read all the daily news.
We really encourage all the Coin Stats users to start leaving their reactions with just a simple click, which will be a huge help for the community, as more data we have, more accurate it is. We're happy to hear your feedback on more features you'd like to see in News section and how we could improve it.
We all know that all financial markets including the crypto market is highly dependant on the latest updates and being able to easily follow the latest news with spending the minimal time would give any investor and a trader a huge competitive advantage.
Download Coin Stats app for iOS Android and Mac. http://coinstats.app