🚩Announcement CoinDAQ Terminal MPV (0.9.4)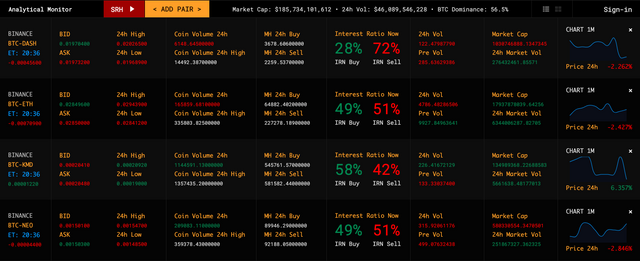 CoinDAQ Terminal - is the provider of analytical information on cryptocurrencies
CoinDAQ Terminal MVP 0.9.4
We are glad to announce that CoinDAQ Core was updated to version 0.9.4 and we have released the first public CoinDAQ Terminal MVP. The current version (Analytical Monitor) provides the opportunity to use real-time analytics.
You will be able to control and analyze the movement of the cryptocurrency market, including trading volumes, prices, historical information and current traders interest (IRN). Interest Ratio Now is our own algorithm, which analyzes the Order Book and shows the ratio of interest in buying and selling - the most likely orders that will be executed now. You will also have information about trades, divided into the purchase and sale parts - Market History 24h (MH 24h Buy / Sell) - 24 hours trading volume of chosen cryptocurrency. Coin Volume 24h and Coin Volume 24h High are the total trading volume of the current coin in 24 hours, and the highest rate in the latest 24 hours.
CoinDAQ Terminal MVP is available at app.coindaq.net, and the user's control panel at: cp.coindaq.net. To start using it, you need to register an account.
CoinDAQ Terminal brings new methods of market analysis into cryptoindustry, that were not previously available from other providers of analytical information. Therefore, we strongly recommend you to read the documentation, which describes all the information more detailed.
Download documentation (En): https://bit.ly/2J7JMnH
And soon we will update CoinDAQ Terminal to version 0.9.5, and you will have access to the trading terminal with more features for in-depth market analysis and historical information.
CoinDAQ Terminal MVP: https://app.coindaq.net
Control Panel: https://cp.coindaq.net
Join our community:
Twitter: https://www.twitter.com/CoinDAQTerminal/
Facebook: https://www.facebook.com/CoinDAQTerminal/
Telegram: https://t.me/CoinDAQ
Discord: https://discord.gg/NhGmYnY
Steemit: https://steemit.com/@coindaqterminal/