[ANN] CoinDAQ Terminal - is the provider of analytical information on cryptocurrencies
CoinDAQ Terminal
is the provider of analytical information on cryptocurrencies and platform for trading on the blockchain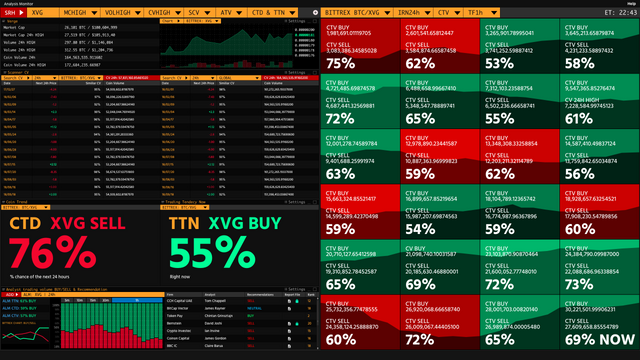 The problem and the solution
Global growth has attracted everyone, who would like to increase an income by investing in cryptocurrencies. While initially choosing an investment object, only a small number of people could understand market situation and trends correctly, all due to the absence of a credible provider of analytical information on cryptocurrencies, what ultimately, led the majority to financial losses.
CoinDAQ Terminal is the cross-platform application for Windows/Linux/macOS.
CoinDAQ Terminal serves the following purposes:
• helps to find answers to such fundamental questions as: where should I invest to and when should I sell? Where does an exact coin go? Should I buy more or sell more? What is a current market trend? and many others;
• provides basic knowledge for amateur traders: they can analyze transactions with various indicators divided into clusters of successful and unprofitable transactions of traders from the toplist, also studying historical data;
• provides traders with a newsfeed from credible thematic media, social networks, etc.;
• gives investors an opportunity to copy orders of successful traders in real time;
• gives an opportunity to trust one's cryptocurrency capital to successful traders;
• creates an ecosystem, that includes all aforementioned features, a trading platform
and marketplace where cryptocurrency can be exchanged for fiat money through the single interface of CoinDAQ Terminal.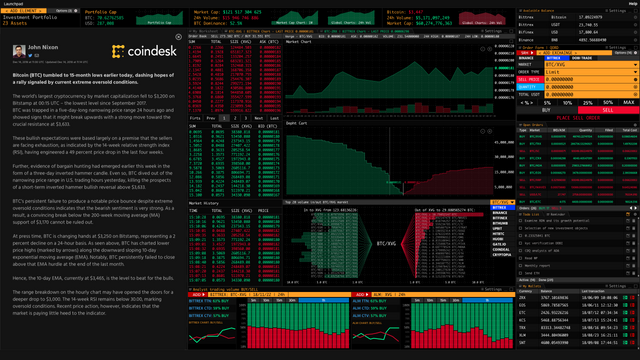 Information processing algorithms
We develop a trading platform that includes algorithms showing an exact market situation. Information processing algorithms are an essential part of the CoinDAQ project and they are being designed to provide a fundamental analysis of an investment object.
All algorithms will show information about crypto asset in a current and global market, including its dynamics, in the range from minutes to one month. This will allow you to understand a general trend before making a decision to sell or buy.
Features for traders and investors in CoinDAQ Terminal:
The possibility of managing your assets, when they are transferred to a professional trader, whose task is to preserve and raise this funds. The purpose of financial trust management is to get maximum income for an investor at an acceptable level of risk. We implemented two trust management systems into CoinDAQ:
Live Copy Order - [LCO]
Investors can copy orders of traders in real time. A trader opens an order in his exchange account with crypto funds using CoinDAQ Terminal - a smart contract automatically duplicates this order for an investor.
Financial Trust Management - [FTM]
Financial trust management differs from copying of orders. For each of investors, a trader himself set exact volume of investments in an investment object from a budget, provided by investors for trust management. CoinDAQ Terminal will offer a trader a list of trustees, for which it is necessary to select a volume of investment capital in an investment object.
Trust Trader [TT]
Rating of traders is based on indicators of successful and unprofitable transactions. Thanks to the complex rating system, users will receive accurate information and will be able to evaluate an exact trader in figures.
Trader Level [TL]
These levels regulate the limitation of number of attracted investors and the maximum budget for managing in LCO and FTM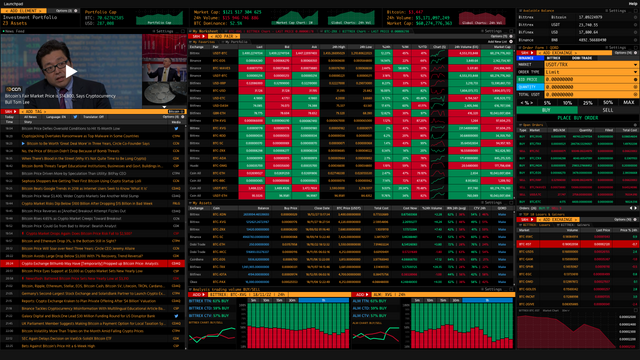 Using the blockchain/Smart contract
For amateur traders or inexperienced investors, LCO and FTM system will give a chance to increase one's capital via right choice of a trader. The credibility of any transaction, recorded in a blockchain, can not be doubted. That is why we decided to use the blockchain to store LCO, FTM and Trust Trader data. This allows to be sure that indicators in LCO, FTM or Trader Trust are recorded based on actions of a trader on an exchange and can not be changed.
As it was mentioned above, an investor, who wants to start copying orders or trust funds to a trader, is required to make a smart contract. To do this, he can search for a trader by custom parameters or select a trader from the toplist. Exact conditions of a smart contract are set by a trader, an investor can agree to them or can choose another trader.
News aggregator
CoinDAQ Terminal users will have access to a news aggregator, which in real time will open the way to news from all important thematic sources and media, as well as to popular tweets on cryptocurrency and related technologies.
Pending orders
Traders and investors will be able to create trading scenarios and open pending sell orders, indicating a high price, and then buy orders at a low price, or vice versa. This option will be available after completing of a special free training course and passing a test.
Trading terminal
The ecosystem of CoinDAQ Terminal includes a platform for trading on cryptocurrency exchanges with a single interface. CoinDAQ algorithms for market information, LCO and FTM features, news feed, forecasts from credible and successful traders, stream of charts, graphs and other stock information will be available for all connected exchanges.
Main features of the trading platform are listed below:
• Single interface for all exchanges;
• Multi-window mode – customize content of windows to your requirements.
• Up to 6 monitors at one time;
• Launchpad – group coins in a window and watch their market tendency in real
time, so to know, when to buy/sell; do it all in the launchpad just in 2 clicks;
• Investigate successful and unprofitable transactions of top traders;;
• Get personal recommendations and forecasts from credible traders;;
• Create a script for pending order
• Use built-in messenger and mails for communication.
Isn't it great?
The CoinDAQ team sets challenging tasks, the solution for which will bring truly necessary and useful product to the cryptocurrency industry for years ahead!
More information on our website: https://coindaq.net
Join our community:
Twitter: https://www.twitter.com/CoinDAQTerminal/
Facebook: https://www.facebook.com/CoinDAQTerminal/
Telegram: https://t.me/CoinDAQ
Discord: https://discord.gg/NhGmYnY