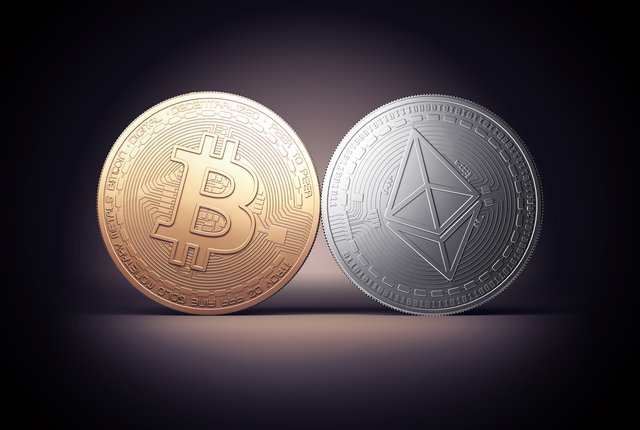 After two days of bleeding, the cryptocurrency markets rallied on Wednesday, rewarding investors who bought into the dip on Monday and Tuesday, when the total cryptocurrency market cap shed more than $25 billion during the downturn as investors cashed out profits from the recent bull run. Both the bitcoin and ethereum prices rose considerably, and–per usual–the altcoins followed suit.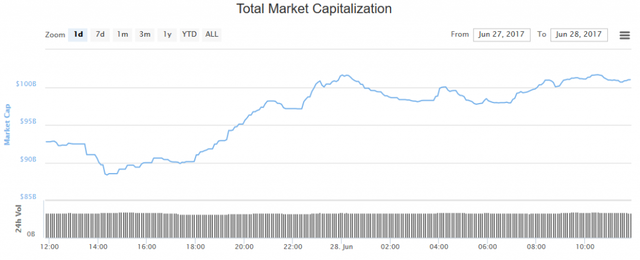 Chart from CoinMarketCap
Total cryptocurrency market cap once again crossed the $100 billion threshold after falling as low as $92 billion on Tuesday. This still represents a $17 billion decline from its mid-June high.
Bitcoin Price Leads the Rally
The bitcoin price led the charge, increasing by more than 5% in 24 hours to $2534. This price rally was a welcome change from yesterday, when bitcoin fell well below $2400. The bitcoin price still has some climbing to do if it wants to get back to $3,000, but today has put it on the right track.

Chart from CoinMarketCap
Ethereum Price Rebounds Past $300
Plagued with a congested network and false rumors about a co-founder's death, the market downturn absolutely pummeled Ethereum, dropping it more than 40% from its mid-June high of $391. As recently as yesterday, the ethereum price was only $231, and the Flippening was getting further and further out of sight.
But just as the downturn hit ethereum the hardest, today's cryptocurrency price rally has disproportionately helped the ethereum price recover. Ethereum rose by more than $72 to $303, constituting a 28% single-day rebound.

Chart from CoinMarketCap
Notably, ethereum 24-hour trading volume rose to $2.2 billion, outpacing bitcoin's $1.4 billion by more than $800 million.
Flippening Watch
The ethereum price has not recovered enough to make the Flippening a foregone conclusion, but it has helped ethereum chip away at bitcoin's market cap dominance. In the past day, Ethereum has increased its market cap share by about 2% to 27%. Bitcoin, which yesterday controlled nearly 44% of the market, now claims a 41% share. Ripple's market share declined by a hair to 10.4%.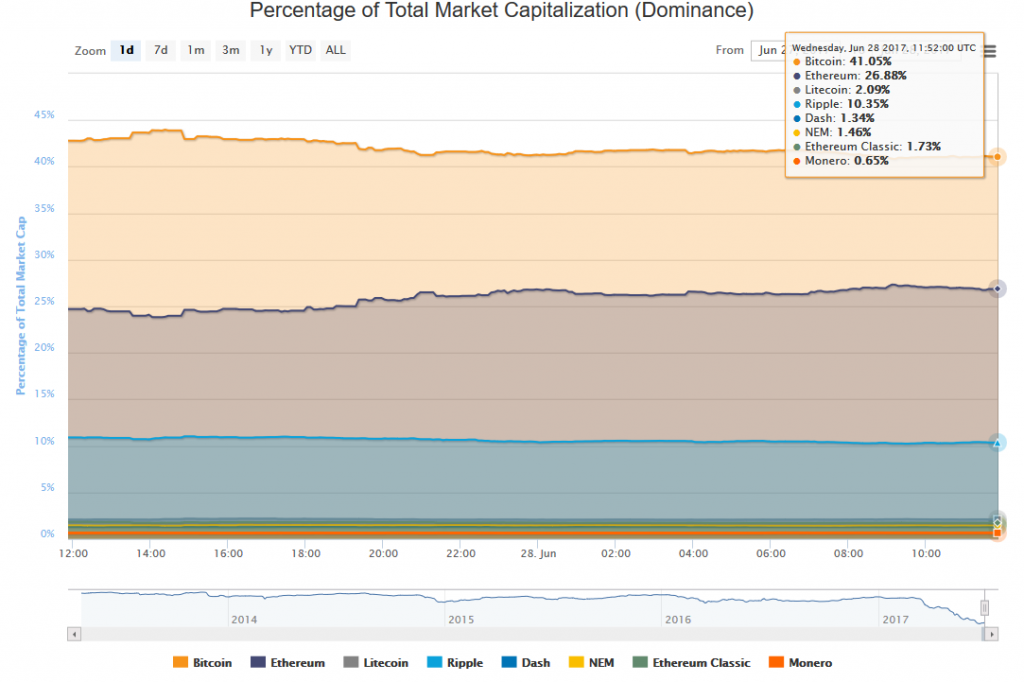 Chart from CoinMarketCap
At $41.6 billion, bitcoin now maintains a $13.5 billion advantage on ethereum, whose current market cap is $28.1 billion.
Altcoins See Welcome Gains
Except for IOTA, every top-10 cryptocurrency experienced gains of at least 5%. Ripple rose nearly 7% to $.274. Litecoin rebounded by 13% to nearly $42. Ethereum Classic is up almost 11% to $19.23. NEM rose nearly 14% to bring its market cap past $1.5 billion, and Dash climbed almost 15% $184. Of the top 10, Stratis had the second-best 24-hour gain, rising 19% to $6.80. Monero, which briefly fell outside of the top 10 during the downturn, fought its way back with a 13% increase to more than $45 (and an ominous $666 million market cap).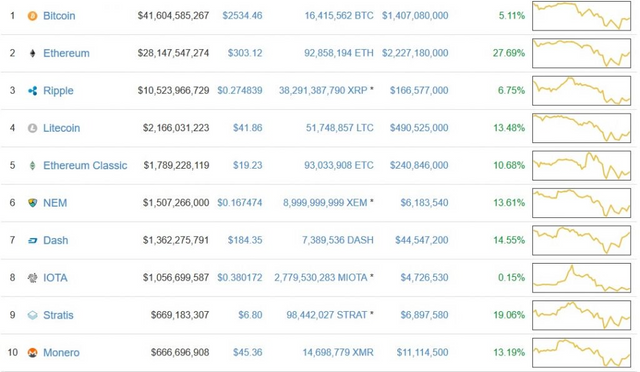 Chart from CoinMarketCap
Outside of the top 10, the numbers are equally as impressive, but AntShares and Iconomi deserve special recognition. AntShares has been on an absolute tear this week. The token followed up yesterday's 25% rebound with a remarkable 44% rise today. At present, one token trades for $8.62, giving AntShares the 15th-largest market cap. Iconomi, ranked 18th, also experienced impressive gains, rising 37% to $4.51