Project Description
The blockchain system provided by Ethereum and Bitcoin gave a good foundation for synchronization, concensus and security of the blockchain data. By facilitating smart contracts, Ethereum in particular, paved the way of all kinds of new applications. Despite all of these, however it's known that Bitcoin and Ethereum have some weaknesses like low TPS and smart contract data compatibility issues and to mention a few. Also currently publicly available blockchains do not rely on time, or make a weak assumptions abou tthe participants abilities to keep time.
To solve these problems, Solana plans to provide a new High-Performance blockchain that can support up to 710k transactions per second on a 1gb network without data partitioning. Solana will be faster and more scalable than any other blockchain.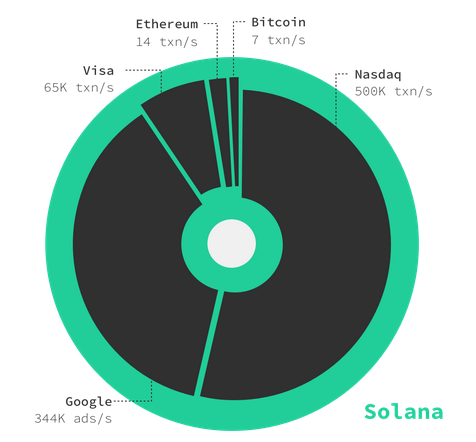 Solana will make use of a consensus mechanism called Proof of History which is a sequence of computation that can provide a way to cryptographically verivfy passage of time between two events. This design also supports horizontal scaling as multiple generators can synchronize amongst each other by mixing their state into each others sequences. By periodically synchronizing the generators, each generator can then handle a portion of external traffic, thus the overall system can handle a larger amount of events to track but at the cost of true time accuracy due to network latencies between the generators.
Product
The Solana team has a MVP ready which can be found on their github here: https://github.com/solana-labs/solana. They currently have a testnet performing at 35k TPS.
Solana will be a Proof of Stake (PoS) network, and we will use Proof of History (PoH) as our scaling solution (not sharding). Solana will have smart contract capability and will likely begin by supporting Solidity and JS, and later move toward a safer, established contract language that caters to our high-throughput pipeline. - Raj Gokal
Roadmap
Now - Whitepaper and initial testnet
June 2018 - Testnet 2.0 and public demo
September 2018 - Public beta
Q4 2018 - Live mainnet
Q1 2019 - Token distribution and partnerships. It is not known yet wether Solana will have interim ERC-20 tokens or not.
Hard cap, valuation and price per token
The token metrics is yet to be announced.
How to participate
The project has not announce a date yet for their ICO. You can submit a private sale enquiry by sending an email to [email protected]
Social Media metrics
At the time this article was published, Solana had 4752 members on Telegram, 485 followers on Twitter and 13 followers on Medium.
Team
CEO, Anatoly Yakovenko: He led development of operating systems at Qualcomm, distributed systems at Mesosphere, and compression at Dropbox. He holds 2 patents for high performance Operating Systems protocols, was a core kernel developer for BREW which powered every CDMA flip phone (100m+ devices), and led development of tech that made Project Tango (VR/AR) possible on Qualcomm phones.
CTO, Greg Fitzgerald:
Greg is the principal architect of Solana. Formerly of Qualcomm's Office of the Chief Scientist, Greg has explored the full landscape of embedded systems. He created an bidirectional RPC bridge between C and Lua for the BREW operating system, helped launch the ARM backend for the LLVM compiler toolchain, and published a variety of open source projects including a streaming LLVM optimizer in Haskell, license analysis tooling in Python, and a reactive web framework in TypeScript.
Data Sciene, Token economics, Eric Williams:
Eric heads data science and token economics. He studied particle physics at Berkeley and received his PhD from Columbia while Higgs hunting at CERN. He completed a postdoc in Medical Physics at Memorial Sloan Kettering Cancer Center and later led data science at Omada Health.
Operations, Product, Finance, Raj Gokal:
Raj leads operations, product, and finance. He has spent 10 years in product management and finance. He was a venture investor at General Catalyst, started the consumer medical device company Sano which attracted over $20m in investment, and led product management at Omada Health.
Strategy and Marketing, Alan Yu:
Alan heads partnerships and community. He spent 10 years at Google in sales and marketing, winning several awards during his tenure. He has been active in the crypto community for years, engaging in defining the future of the space.
Engineering, Stephen Akridge:
He has 10 years of critical GPU optimization expertise at Qualcomm and Intel. He led the GPU backend that constantly beat Nvidia.
Conclusion
Strengths
They offer a potential solution to scalability and interoperability — key problems on the blockchain.
A strong team.
Potential risks for investors
No named advisors and partnerships.
Relatively long roadmap.
Disclaimers:
Nothing in this article is a legal or investment advice. Information found in this article can change without prior notice. Make sure to verify everything you read here with the project team.