EtherBTC a coming ICO distributing "Free" tokens...
My first post here...
So I might owe you a short intro about myself:
50 years old Swiss guy who was living just above the "working poor" limit in a beautifull, clean, well managed country where life can be very comfortable but terribly expensive.
First backpacking to Thaïland back in 1989 made me fall in love with South-East Asia where I came back as often as I could, dreaming of settling down in one of these "Juicy Sweet Mangoes and Orange Robes Buddhist Monks Nations".
I finally could leave my "Chocolate and Watches Country" to get a life under the tropics by the end of 2011.
After a couple experiences as manager, I actually run my Auberge du Soleil, a well reputated Swiss-French Cuisine Restaurant and small Guesthouse in a beautiful colonial house of Kampot, on the south coast of Cambodia and I do accept Bitcoin and cryptocurrencies payment since day one as I believe in their future.

Trained as a professionnal Chef, I had many passions in my life and I have been looking on ways to get a "nomad life" supporting activity, that's how I met Bitcoin and finally got involved with it in september 2013.
Now if my restaurants gives me a decent life, margins being tight, there is not much I can save for the future or retirement making a little trading of cryptos an interresting and rewarding hobby.
So naturally, l like to get "free coins" as most of us.
... Another crypto gave away some tokens a couple years ago, and today even if not much, they have a some value.
I will speak about other distributions in a future article but for today, I will only speak about the one which should reward me for spreading the word about it...
... and You, readers are as well welcome to tip me if you like my story ;-)
So Please don't blame me if it looks advertizing, I do follow the rules to get free coins for a coming ICO. (one more!)
Its name is EtherBTC, a new cryptocurrency pretending to combine the advantages of Etherum and Bitcoin.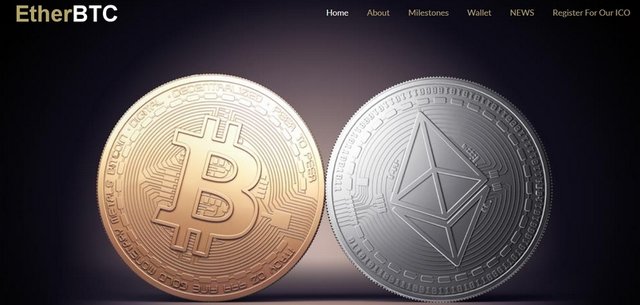 I received an email yesterday inviting me to send them an email to claim 5 free ETHB and today I have been credited, that's nice,
Thank You EtherBTC.
Register yourself at http://etherbtc.io to get some free ETHB as I did, and do your own due dilligence to decide to invest or not.
Now I have no clear idea about the validity of this ICO, I did not invest in any of them even some were quite appealing and I do regret not having throwned a couple bucks in some.
I do not fully support the ICO way as I believe not many will deliver a truly valuable product or solution while collecting huge sums, and I consider they might devaluate the reputation of established blockchain solutions and cryptocurrencies.
I am not sure if I will or not put any money in here, there is no whitepaper, no registered company, no physical address or founder(s) or devs names, as well, the links to their fb or twitter pages are not active...
All this combined gives me some king of a red flag and I hope my post can push them to come out of the wood with more credibility.
OK, enough for today, don't forget to register at http://etherbtc.io and claim your free coins in case the project delivers a real value solution.
Thank you for reading.
Cedric