[EN]
Hello Steemit,
It's been now one month since I started investing in cryptocoins, I wanted to share with you my main wallet called coinbase that I use to buy Bitcoins. I will show you how to buy cryptocoins and then how to sell them =).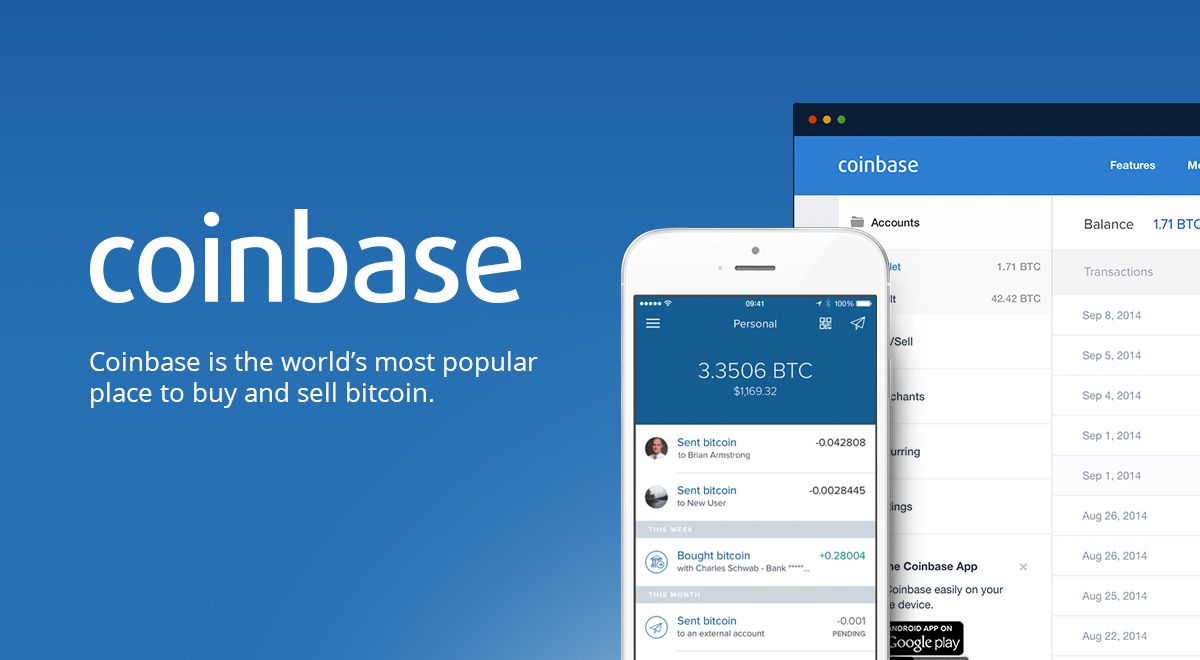 So first a little introduce, what is coinbase?
Coinbase is a secure online platform for trading cryptocoin. You can buy, sell, transfer, store coins, and convert digital currency into local currency (dollars, euros …).

Of course, your will need to create an account, it is not something complicated but just in case I give you main steps to do ;) :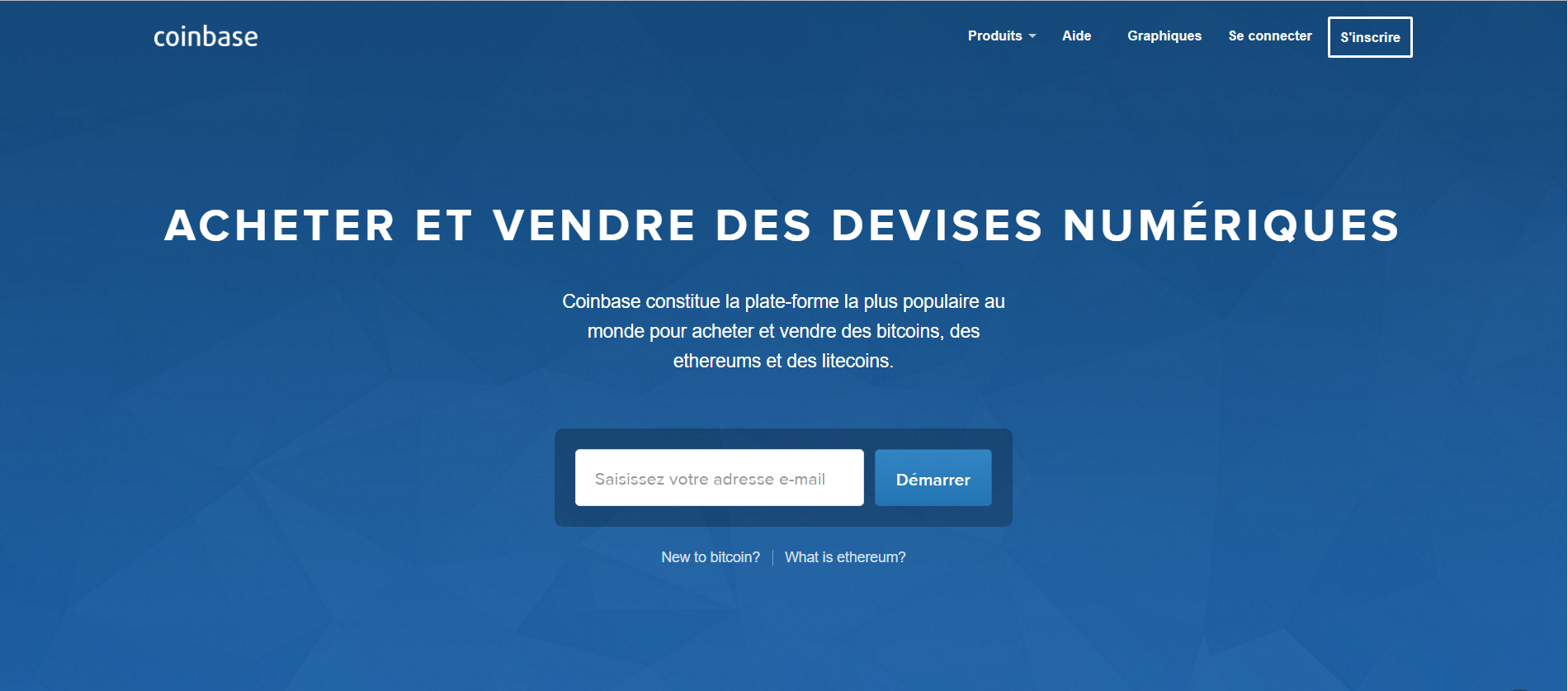 Connect to https://www.coinbase.com and click on "Sign up"
Fill your first name, last name, email and choose a password. /!\ You need to be 18 years old minimum
You will receive an email (check SPAM), click on the link in it and validate your account
Put your phone number, that's essential because every time you will connect in Coinbase, they will send you a code by SMS to validate the connexion.
Fill new information (City, Postal code …)
Then is the verifying identity step, the best thing to do here is to download the application coinbase to take a picture of your identity card, passport or your drive license
Wait for 2 or 3 minutes and when it is validated save your payment card.
Congratulation, you now can buy coins!!
But how to buy coins?
Be aware that coinbase is a wallet to buy only Bitcoin, Litecoin and Ethereum.
Go in the tab "Buy/Sell". Then put the price in dollar or the bitcoin you want to buy.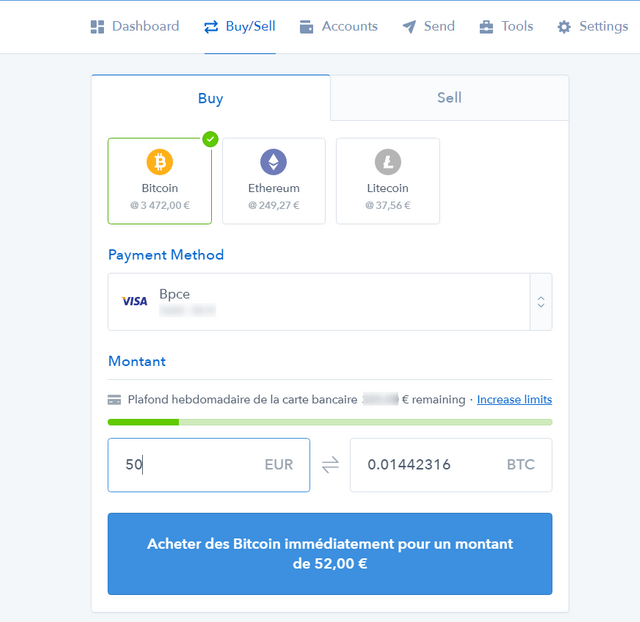 You can see in the picture above that there is a fee when you paid. Here for example they took me 2€, don't be surprises if you paid more than you wrote, just check the final price. Then click on buy, they will send you a SMS to check your identity, fill the SMS code and you will receive an email to confirm you purchase.
Then you can check on your Dashboard with the resume of the transaction: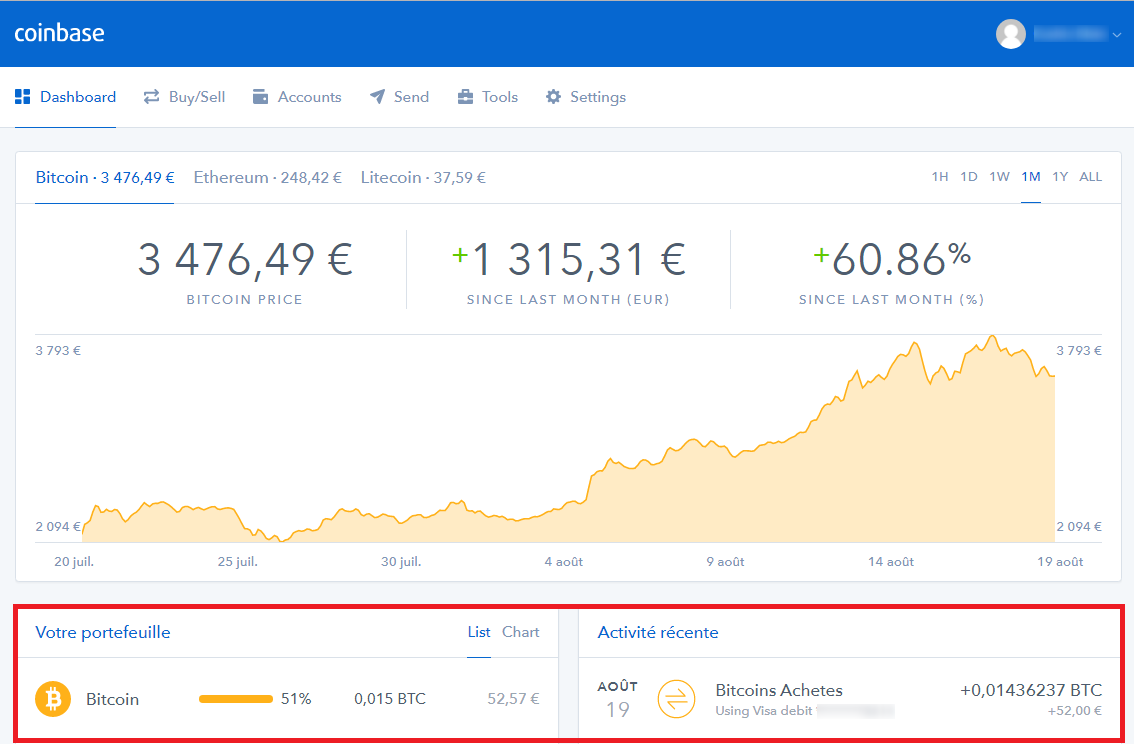 Like I already said, there is also a mobile application coinbase for IOS and Android, it is very useful, pleasant and convenient so don't hesitate to download it.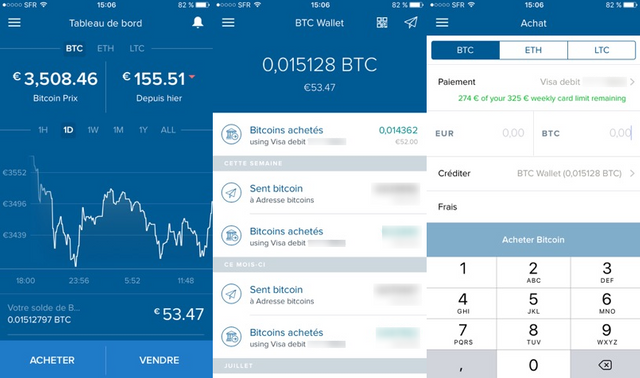 How to sell coins?
There are 2 steps to sell the crytocoin in coinbase.
First you must sell it in the USD wallet. It could be very useful. It converts your Bitcoin (for example) in dollars. If a day you want to sell all your Bitcoin because you think his value will go down, you can sell it and keep the money in Coinbase. And then easily buy again Bitcoin.
To sell, go on "Buy/Sell", put the coin you want to sell and validate the transaction. Don't forget there is also a fee for this transaction.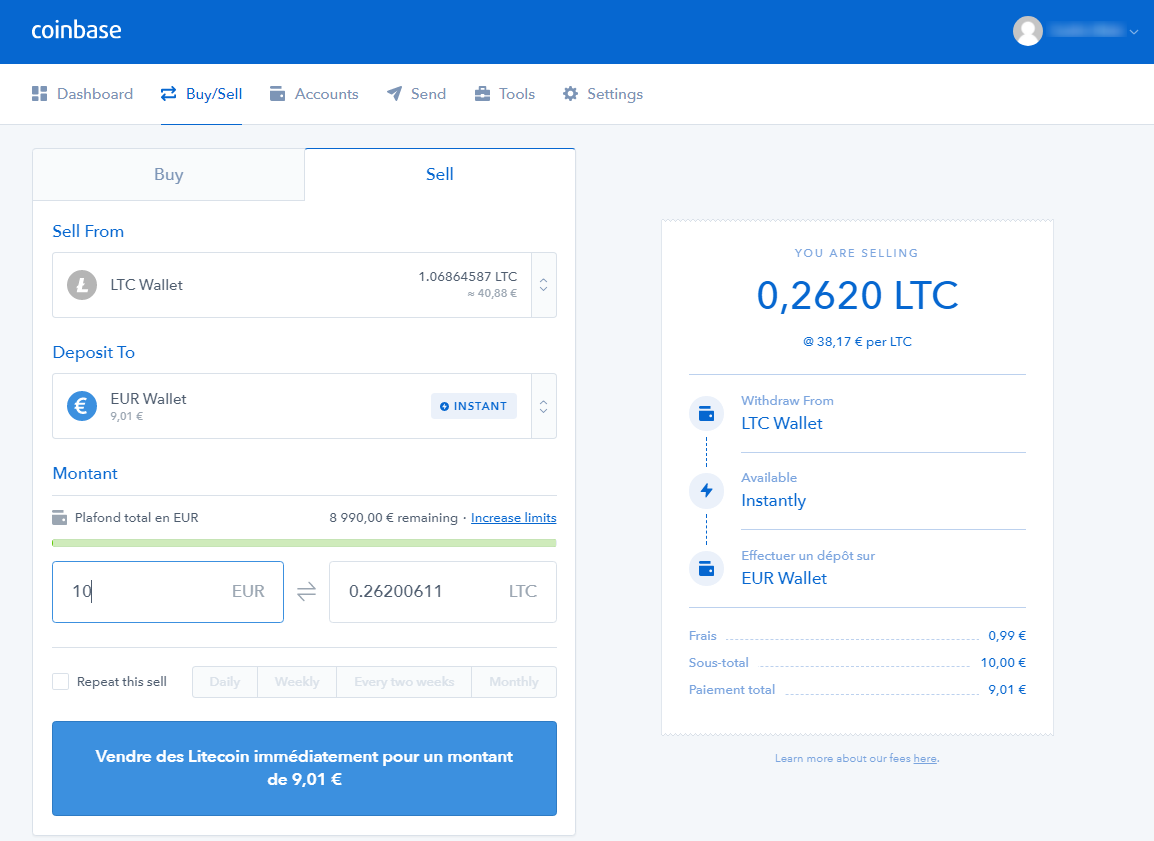 The second step to withdraw your money in your real account is to add this account in coinbase.
First click on the method "add payment method" as below: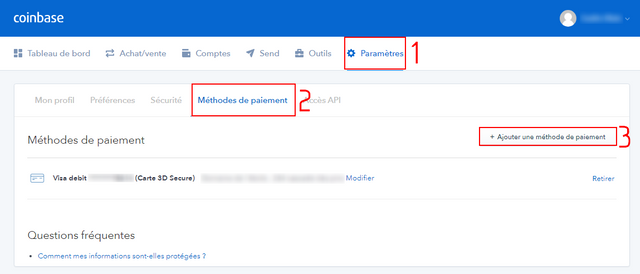 Then chose the first option: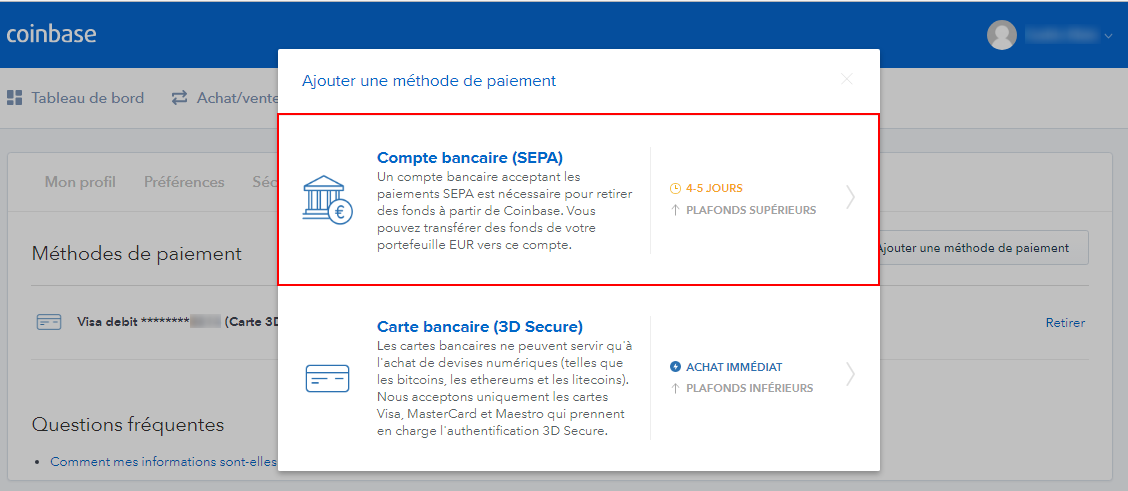 Fill "Bank name", "IBAN" and "SWIFT/BIC".
Finally, you can withdraw your money in "Account", click on "Winthdraw" and chose your account: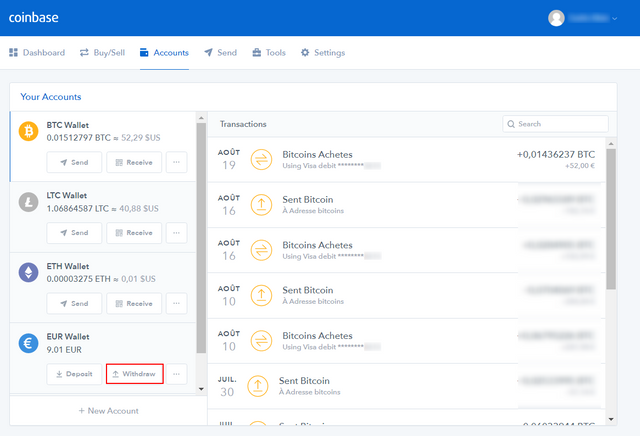 That's all for now, hope this post will help you in the crypto word, if you liked it upvote, resteemed and follow me =)!
See you soon on steemit!
[fr]
Bonjour Steemit,
Cela fait maintenant un mois que j'ai commencé à investir dans les crypto monnaies, je voulais partager avec vous mon wallet principal que j'utilise pour acheter des Bitcoins. Je vais vous montrer comment en acheter et comment les vendre par la suite =) .
Bon déjà une petite présentation, qu'est-ce que coinbase?
Coinbase est une plate-forme en ligne sécurisée pour trader de la cryptomonnaie. Vous pouvez acheter, vendre, transférer, stocker des pièces et convertir la monnaie numérique en monnaie locale (dollars, euros ...).

Bon en toute logique vous aurez besoin de créer un compte, je vous apprend rien et ce n'est pas bien compliqué. Je vous donne quand même les étapes principales de l'inscription, ça peut toujours servir 😉 :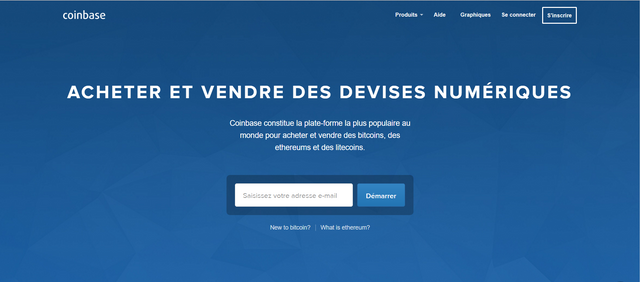 Connectez-vous à https://www.coinbase.com et cliquez sur "S'inscrire"
Remplissez votre prénom, votre prénom, votre courriel et choisissez un mot de passe. /!\ Vous devez avoir 18 ans minimum
Vous recevrez un courriel (vérifiez les SPAM !!), cliquez sur le lien pour valider votre compte
Mettez votre numéro de téléphone, c'est primordial ! En effet à chaque fois que vous vous connectez à Coinbase, vous recevrez un code par SMS pour vérifier que c'est bien vous qui vous connectez.
Remplir les nouvelles informations demandées (Ville, code postal ...)
Vient la vérification de l'identité, pour ma part la meilleure chose à faire est de télécharger l'application coinbase pour prendre une photo de votre carte d'identité ou du passeport ou de votre permis de conduire
ça ne prendra pas plus de 2 ou 3 minutes et, lorsque c'est est validé, enregistrez votre carte bancaire !
Félicitations, vous pouvez maintenant acheter des cryptos ! Nous allons voir maintenant comment en acheter.
Comment acheter des Crypto monnaies?
Juste un petit rappel, coinbase est un portefeuille pour acheter du Bitcoin, du Litecoin et de l'Ethereum seulement. Pour les autres monnaies il vous faudra passer par des platforms de trading comme Bittrex.
Revenons à nos moutons ! Pour acheter allez dans l'onglet "Buy/Sell". Ensuite, mettez le prix en euros que vous êtes prêt à dépenser ou mettez la quantité de bitcoin que vous souhaitez acheter.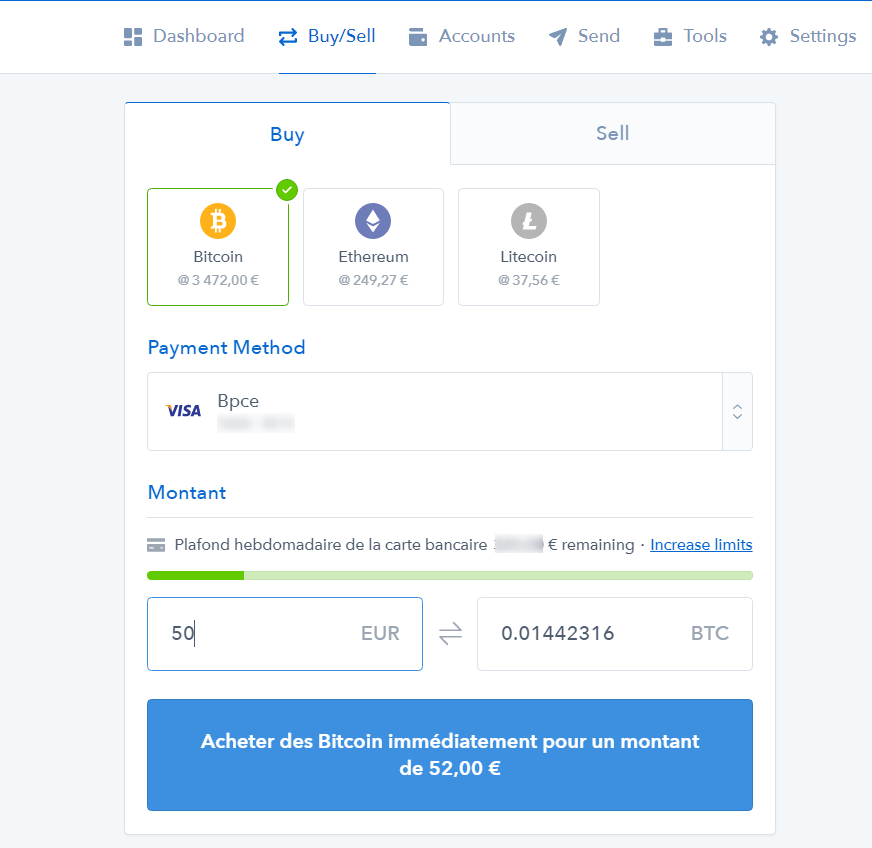 Vous pouvez voir sur la photo ci-dessus qu'il y a des frais lorsque vous allez payer. Ici, par exemple ils m'ont pris 2 € x), ne soyez donc pas surpris si vous avez payé plus que votre mise de départ, donc vérifiez le prix final avant de valider. Cliquez ensuite sur acheter, ils vous enverront un SMS pour vérifier votre identité, remplissez le champ avec le code. Vous devriez recevoir un email pour confirmer votre achat.
Vous pouvez ensuite aller sur votre tableau de bord et trouver un résumé de la transaction: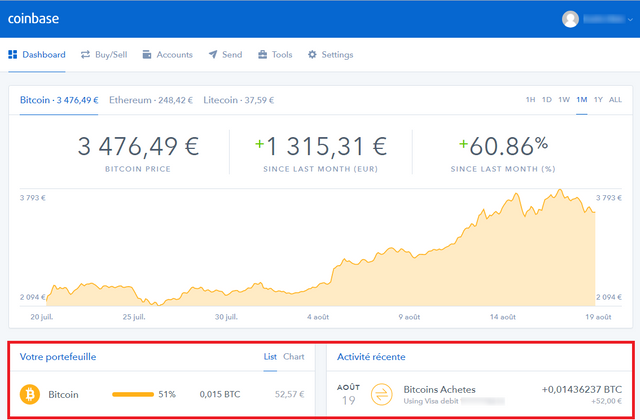 Comme je l'ai déjà dit, il existe également une application mobile coinbase pour IOS et Android, je la trouve assez bien fait donc n'hésitez pas à la télécharger.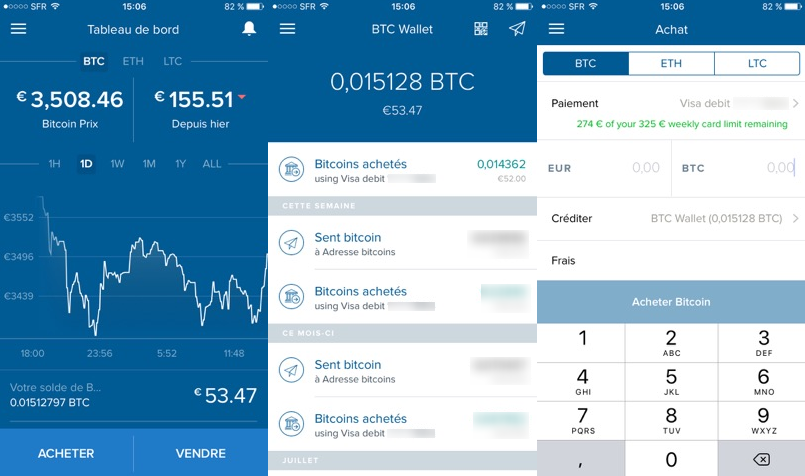 Comment vendre des pièces de monnaie ?
2 étapes sont requises pour vendre ses cryptos.
D'abord, vous devez les vendre dans le portefeuille USD. Ce portefeuille peut être très utile. Il convertit votre Bitcoin (par exemple) en dollars. Gardez juste à l'esprit que vous perdez un peu d'argent à chaque transaction.
Donc pour vendre, retournez dans "Buy/sell", mettez la monnaie et le montant voulu et validez la transaction.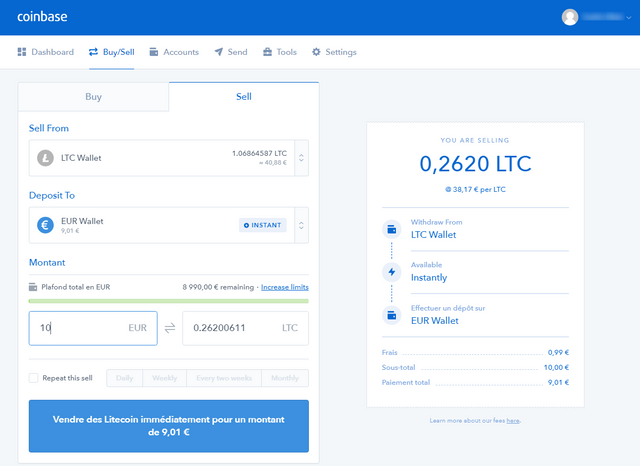 Pour la deuxième étape, vous devez d'abord ajouter votre compte sur coinbase.
Cliquez d'abord sur la méthode "ajouter le mode de paiement" comme suit :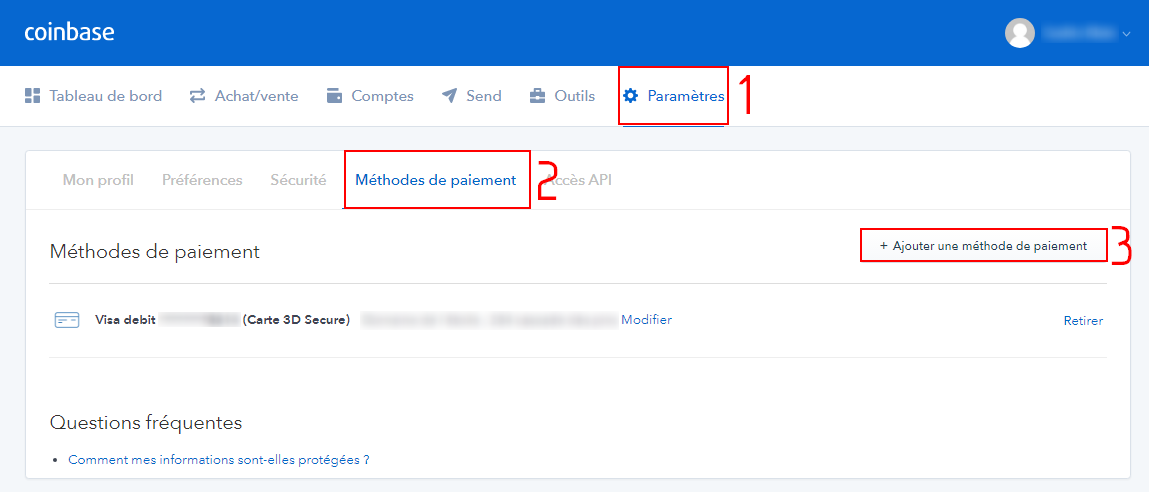 Ensuite, choisissez la première méthode de paiement :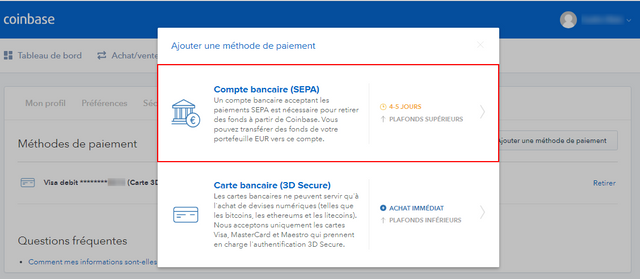 Remplissez « Nom de banque », « IBAN » et « SWIFT / BIC ».
Enfin, vous pouvez retirer votre argent dans « Accounts », cliquez sur "Winthdraw" et choisissez votre compte :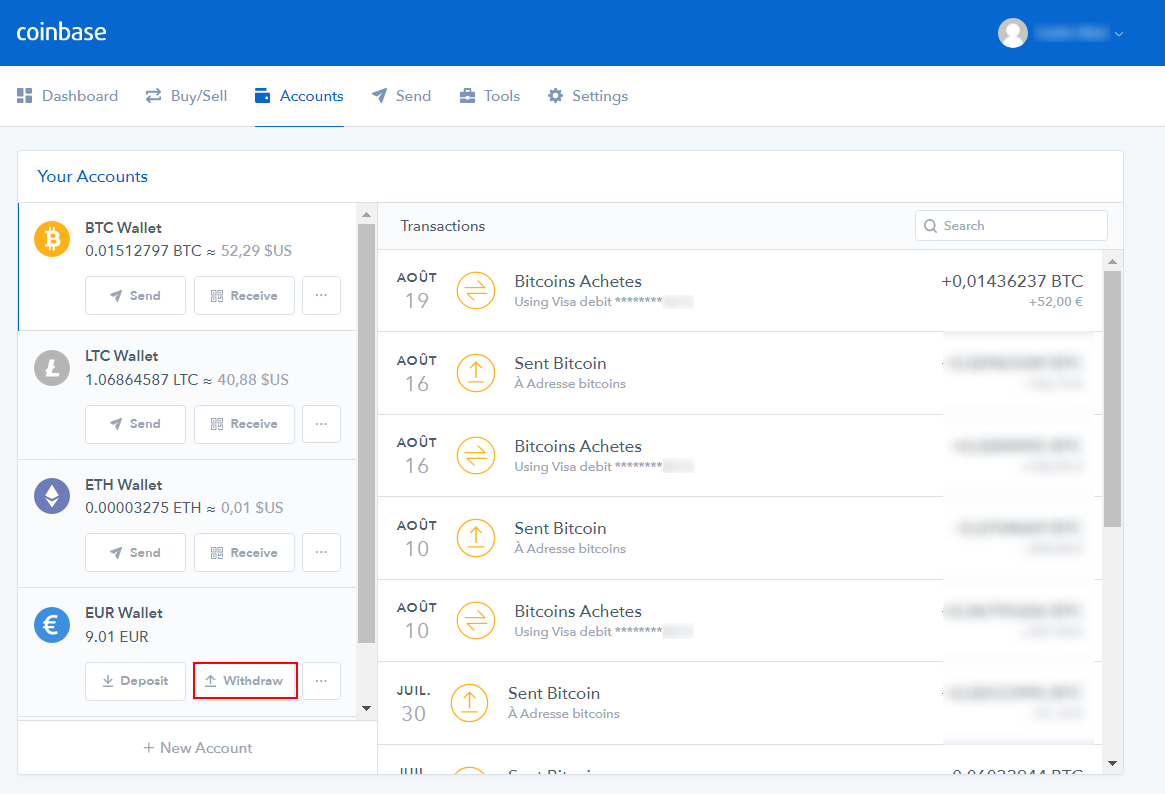 Voilà c'est tout pour l'instant, j'espère que cette publication vous aidera dans le crypto word. Si vous l'avez aimé n'oubliez pas d'upvote, de resteemed et de me suivre =) !
A bientôt sur Steemit !