Metizer.com - cloud mining website review [possible scam warning!]
Hi folks,
Today I'll review the metizer.com - a new cloud-mining website that claims to bring really high profits but in the same time it's reputation is very questionable.
---
Disclamer: everything that you read here is my opinion only. I do not believe that I'm always right so always filter everything that you read trough your own judgement.
---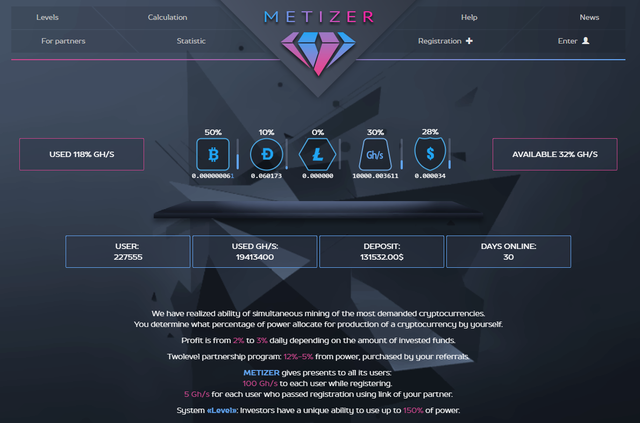 It's (probably) a trap!
We'll start with the most important thing - it's probably a scam or a ponzi-type website. This means that the website will exist as long as new users come in and make their deposits in sufficient amount. Sufficient to cover the existing withdrawals because probably this website doesn't "mine" anything. It just uses new users deposits to fund other users withdrawals in order to pretend that it is working. But there will be a moment, soon or later, when the amount of deposits won't be high enough to cover the withdraws. This is when the website will suddenly close and users will be left with nothing.
Now, why do I think so:
there is absolutly no information who is the owner of the website - no company name, no individual name, even no e-mail contact!!! This is like 100% proof of scam, seriously.
the GHs price is super low compared to other cloud-mining websites - $0.01
the FAQ states that "Withdrawal is realized manually, in the next 48 hours" . Yeah, my website has 227 000 users but I do the withdrawals manually

Let's check the metizer.com domain:
Name: Registration Private
Organization: Domains By Proxy, LLC
Address: DomainsByProxy.com
Proxy, proxy... It's really fishy. But OK, this was about reviewing the website, not only proving that this is a scam. Let's assume that tomorrow all the missing informations will appear on the website - we'll know who's the owner, who's resposinble for the withdrawals etc. Or maybe you like high profit / high risk investments - let's see what the website has to offer.
Metizer.com experience
First thing you notice is that the interface is very fancy and responsive - that's good. The navigation is easy, you don't have to look for anything longer that few seconds.
Upon registration you receive 100 GHs for free - without need to do any deposits. That's good.
The website incorporates a levelling system - the more you deposit (remember, only small portion of your assets which you can afford to loose!) the more free GHs you receive. But it also works the other way around - if you deposit less than $5, you won't be able to use all GHs that you have bought (sneaky!).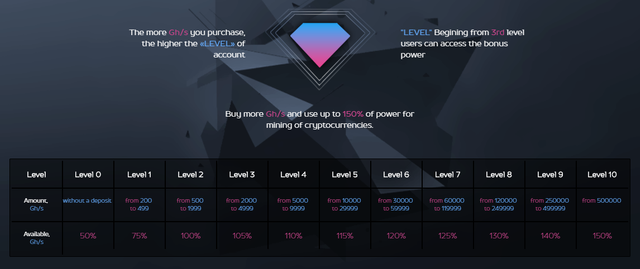 The price per GHs is $0.01 - that's really low. In fact, that means that you can get return of your investment in 2 months - that's crazy short time period for any investment.
The cool part of the metizer.com is the mining panel - it allows you to set which coins you want to mine with desired amount of GHs (if there's any mining at all) with just few clicks: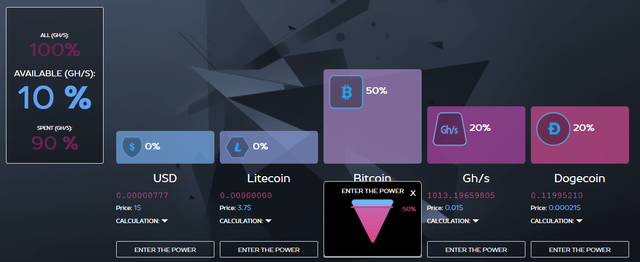 And immediately check how much profits it will bring:

You buy your GHs by depositing few of the major crypto currencies (which you can also mine) or just US dollars:


There is also a support panel where you can only send a ticket - no e-mail address, no phone number, nothing.
Conclusion
Metizer.com is one of the most fishy crypto-based websites that are currently online, despite the fact that there are confirmed withdrawals from it. It promises great profits but the high risk is more than obvious. I can not stress this enough - if you're planning to invest your crypto coins into this website - do it only with small fraction of your assets, small enough that you can afford to loose it. As always - decision is yours. Over and out!
---
Please note: the links to the website in this article include my referral - if you still want to try to invest in this website, please consider it again and if so - only a small portion of your assets. If you find this article helpful, please consider using my referral which is: https://metizer.com/?ref=J3kmFc
---
Ps. I'm planning to write about other crypto-based investments in the near future so please feel free to follow me if you're interested.