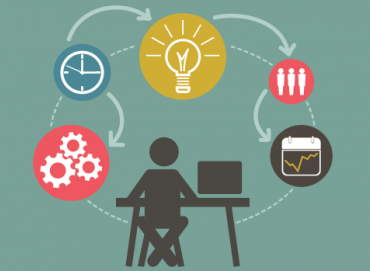 Over the 9 years that have passed since the appearance of Bitcoin, it has evolved from a small project into a worldwide payment network. And Bitcoin is not alone. We tell about the blockchain startups, which should be looked at in 2018 - and each of them has its own cryptocurrency.
Ark
Investing in alternative crypto-currencies is not safe. The industry is very unstable, and within a single day, giant jumps in value are possible. Overnight, your investments can double - or vice versa, almost disappear, and the whole point of these "rollercoasters" is to guess the next bitcoin or ether.
Ark is a new solution for users, developers and start-ups, designed to integrate previously incompatible block-network networks. In detail, the technology can not be described here, so just keep in mind that, perhaps, this solution will "shoot" the next.
ExtraCredit
Imagine that you are studying bitcoin and get paid for it in bitcoins. This is what ExtraCredit is trying to do: according to the creators, this is the first project of educational crypto currency in the world, in which users receive remuneration in the crypto currency Extra Credits (XTRA) for studying the blockade and passing online tests. People earn money, and at the same time an increasing part of the society learns about the blockade.
TrustToken
TrustToken offers unprecedented flexibility when dealing with real assets like shares, patents, bonds or real estate - any user can issue a crypto currency based on any value, thereby gaining the ability to split the rights to this property and provide insurance and audit to customers. This technology has already launched the first crypto currency for the song, and it's time to prepare the rest of the real world assets worth $ 256 trillion.
ShipChain
In shipping and logistics, innovation depends very much, because transporting goods through half the world is a slow, expensive and risky process.ShipChain is a logistic blocking start-up, focused on cargo transportation and allowing you to track a particular package from the seller's warehouse to the threshold of the recipient's home. The project has already been joined by famous persons: former DHL CEO Roger Crook, Kevin Harrington (Shark Tank), Steve Shohh (Amgen / Miramax), and John Monarch, Joel Comm and Brian Evans.
Thrive
Thrive represents a meritocratic system for rewarding publishers and consumers - in fact, it is a comprehensive decentralized advertising market. Blocker is used here to create a safe, useful platform where users can buy and sell advertising space, while consumers and reviewers that make the system work are also rewarded - this is next-generation Internet marketing. ICO will be held in February 2018.
Cypherium
The new block system developed by the top managers of Amazon, Google and Microsoft, is characterized by an incredible scalability. Cypherium understands that the main problem of slow commercial implementation of the block is a weak infrastructure, and their multi-level management system is designed to solve this problem. They set themselves the task of making crypto-currencies universally accepted, and they must be paid attention to next year.
Loci
Using Loci network tokens (they are called LOCIcoin), inventors around the world can exhibit patented ideas for sale. Loci wants to conquer the world market, becoming the place of purchase and sale of intellectual property. Making a patent is expensive and unreliable, and Loci offers inventors a new tool for monetizing their ideas.
ConnectJob
The economy of dynamic allocation of resources, of which Uber, Lyft and Taskrabbit are a part, is developing rapidly, but it has much to grow. What do ordinary consumers need? Access to qualified performers. At the same time, a huge number of workers need a channel through which they could receive remuneration for their work, and ConnectJob is just such a database based on the blockbuster.
Experty
This application is for voice and video calls, unlike Skype or Viber. The idea is that some "experts" receive time compensation for conversations with other users. Instead of creating your own knowledge market with a database and search, Experty allows experts to expose their profiles anywhere. At the same time, users who needed a consultation will be able to use the application to make a call and pay the specialist's time tokens.
Odem
Odem wants to create an educational online platform with the help of a blockbinder, where teachers and students can exchange knowledge without intermediaries - each transaction is processed using a smart contract. The sale of tokens will begin in February 2018.
SolidOpinion
It is always difficult to attract an active audience to the site, and the SolidOpinion platform is designed to solve this problem: they offer to reward the audience for the time spent on interacting with the website. They use gaming and plan to benefit publishers, advertisers, and the audience. Publishers increase the price of interaction with their content, thereby attracting both the consumer and the advertiser who is willing to pay for a suitable audience. The company already serves more than 4 million users, and next year intends to begin selling tokens.
Dispatch Labs
The architecture of Dispatch is designed to bring blocking to new frontiers, not limited to smart contracts - you can download a variety of programs on the network. In addition, Block Dispatch supports the external storage of smart contracts and data files, that is, you can add information without inflating the block, and therefore, as the network grows, transactions will not slow down. Dispatch is a platform where developers can implement their solutions without traditional restrictions.
TraDove
Most of the block-start-ups in this list are consumer-oriented, TraDove is a ready-made block-protocol for international trade. The company is trying to use smart contracts based on Ethereum to solve the basic trust problem in transactions between business counterparties. The identity of all platform users is confirmed, which allows you to make transactions in a safe, risk-free environment.
Coinlancer
The freelancing market is characterized by an abundance of opportunities - and at the same time its participants are at great risk and regularly become victims of abuse. The product Coinlancer is designed to solve this problem, providing freelancers and their customers a much more reliable and safe environment. To process each transaction, a smart contract based on Ethereum is used; to this is added a deposit system. In general, the company intends to make a revolution in the market of freelance services, expanding opportunities and keeping low prices.