Show us how you can use Binance Coins to buy anything and get a chance to win more BNB!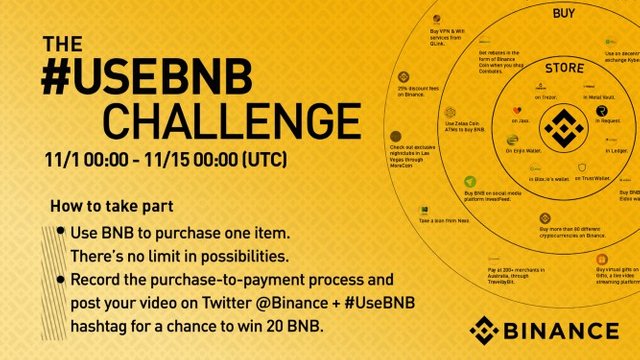 Activity period: 2018/11/1 00:00–2018/11/15, 00:00 (UTC)
How to take part in the contest:
Use BNB to purchase one item. There's no limit to the possibilities.
Record the purchase-to-payment process and post your video on Twitter @Binance + #UseBNB hashtag for a chance to win 20 BNB.
Qualifying for rewards:
20 BNB will go to each of the top 10 videos ranked on Twitter by the number of retweets + comments + likes.
The first 100 users who successfully complete this activity will be awarded 2 BNB each. The ranking is based on the order of submissions to the #UseBNB form. Top 10 videos are exempt from this reward.
Rewards will be distributed within seven working days after the activity. You can log in and check your prize via the "distribution history" section in the user center.