Binance's New Stablecoin Moves
Binance added Paxos Standard Token as a quote currency and introduced the new Stablecoin Market. Find out more about these moves here.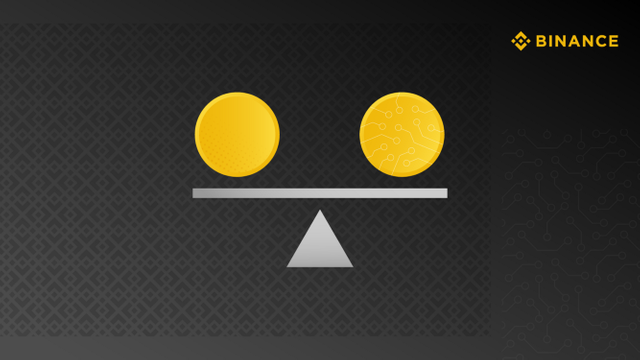 This week, Binance made significant moves related to stablecoins and stablecoin trading on the cryptocurrency exchange platform.
On Monday, we renamed the USDT Market (USDT) to the Stablecoin Market(USDⓈ), which features various cryptocurrency trading pairs using stablecoins as a quote currency. On Tuesday, we announced the Paxos Standard Token (PAX) will be added as a quote currency on the exchange, joining Tether (USDT) as a quote currency on the newly-formed Stablecoin Market (USDⓈ).
A quick recap on stablecoins: A stablecoin is cryptocurrency designed to be pegged to a specific value, according to Binance Academy. There are several stablecoins being offered around the world (blockchain news service BitDigest estimates that there are about 170), and Binance recognizes the major role of stablecoins in the blockchain ecosystem, as well as our role to enlighten the public regarding their options regarding these fiat-pegged tokens.
We break down each stablecoin-related move by Binance below:
Paxos Becomes a Quote Currency on Binance
Starting November 29, Binance is listing six cryptocurrency trading pairs using Paxos Standard Token (PAX) as the quote currency. PAX can be traded for Binance Coin (BNB), Bitcoin (BTC), Ethereum (ETH), Ripple (XRP), EOS (EOS), and Stellar Lumens (XLM).
On a related note, the trading pairs PAX/BNB, PAX/BTC, and PAX/ETH are being delisted by November 30, being replaced by aforementioned BNB/PAX, BTC/PAX, and ETH/PAX.
We added PAX as a stablecoin quote pair because we believe it will help to increase overall liquidity of the crypto market. More trading pairs will be added soon.
Changpeng Zhao, Binance CEO
Launched in 2012, PAX is a stablecoin issued by a regulated trust company and approved for issuance by the New York State Department Financial Services.
The six new PAX quote pairs add to the current 22 trading pairs using Tether (USDT) as a quote currency, increasing the trading pair count on the newly renamed Stablecoin Market to 28.
USDT Market Becomes Stablecoin Market
In the increasingly competitive stablecoin market, where several such coins peg their value to the US dollar and other major currencies, it can be hard to stay on top of all the trading action. To make things more convenient for our Binancians, we have started featuring more trading pairs with different stablecoins, with the newly renamed Stablecoin Market (USDⓈ).
But first, a clarification: USDⓈ is NOT a new stablecoin. It's a new classification in the Binance exchange platform where trading pairs involving stablecoins are prominently featured in a separate tab, alongside the trading pair tabs for BNB, BTC, and ETH.
Under the USDⓈ, we listed trading pairs using USDT and PAX as quote currencies. The USDⓈ will feature and support more trading pairs with different stablecoins in the near future.
In the near future, we will provide updates on what other trading pairs will be included in the USDⓈ (again, not a new stablecoin).