Binance's AML/KYC Partners
Meet Chainalysis and Refinitiv, two of Binance's partners in our mission to keep the blockchain ecosystem safe, trustworthy, and compliant.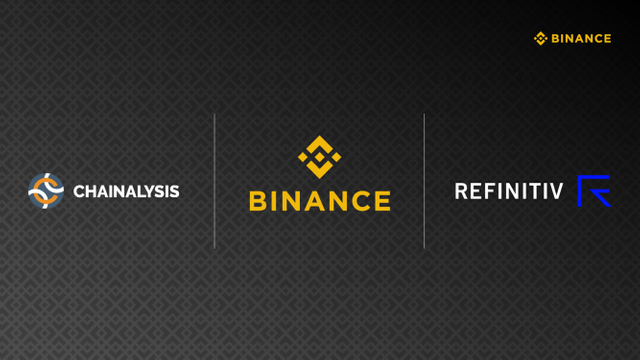 Binance recently announced our partnership with Refinitiv, a know-your-customer (KYC) services provider company affiliated with Thomson Reuters.This partnership, through which Binance will utilize Refinitiv's automated KYC application on the world's leading cryptocurrency trading platform, was formed more than a month after Binance partnered with Chainalysis for cryptocurrency compliance and investigation services.
At Binance, we recognize our ongoing responsibility of ensuring the integrity of our platform and safeguarding it from bad actors. With millions of users trading on the Binance platform, we take additional steps to ensure that the platform remains safe, trustworthy, and compliant.
We dig deeper into what each partnership will bring to Binance.
Refinitiv: Leading global compliance services provider
Refinitiv, formerly known as the Financial & Risk business division of Thomson Reuters, is now a leading global financial markets data and infrastructure provider. It serves more than 40,000 institutions across more than 190 countries, and it now contributes its expertise to the Binance ecosystem.
Refinitiv's KYC-as-a-Service solution screens, identifies, verifies, and monitors clients for onboarding and remediation purposes. Binance will use Refinitiv's World-Check service, which includes a streamlined KYC compliance process and integrates legal entity information from more than 200 countries and regions, in 60 languages.
This service suits Binance's global reach and is proven to be resilient, having undergone stress tests from more than 100 regulators and financial institutions. With the service, the screening process for onboarding, KYC, and third-party risk due diligence gets streamlined, enabling us to deliver verification processes at a faster, more efficient manner.
Chainalysis: Industry-recognized blockchain investigation and analytics expert
A big challenge in the cryptocurrency world is keeping illicitly gained money out of the system to maintain the integrity of the assets circulating in the system. This is the mission where Binance and Chainalysis are working hand in hand.
Last month, Chainalysis rolled out its anti-money laundering (AML) compliance and investigation solution on the Binance platform. The integration of Chainalysis KYT (KYT stands for Know Your Transaction), a real-time transaction monitoring solution for cryptocurrencies, strengthens our existing measures for combating money laundering and our capacity to expand in new markets and user segments.
Chainalysis KYT identifies and categorizes cryptocurrency services using features such as pattern recognition, proprietary algorithms, and millions of open source references. The software raises live alerts on transactions involved in suspicious activity, thwarting money laundering attempts on our platform.
Binance and Allies: Working toward a best-in-class secure platform
One of the core values of the Binance platform is security, and we always strive to find ways to improve on existing systems. This involves having our partners like Refinitiv and Chainalysis, encouraging collaborations between them and our in-house AML experts, and combining the power of our in-house tools with our partners'
"Combating malicious actors is a collaborative effort. We maintain a firm stance against money laundering and suspicious activities, and hope to guide the crypto industry in taking AML/CFT (anti-money laundering/combating the financing of terrorism) seriously," said Binance CFO Wei Zhou.
Wei pointed out that while Binance has already invested heavily in KYC and AML systems, in terms of both manpower and technology, the cryptocurrency industry is young, and criminals are always looking to loopholes in the system. Thus, we take a proactive approach to detecting and squashing money laundering, for the sake of our users.
And indeed, the bottom line for the partnerships with Refinitiv and Chainalysis is to strive towards a more positive trading environment which is fair and compliant. By doing so, we will be able to advance our core mission of spreading the freedom of money globally.