Binance Introduces Sub-Account Support
With our new sub-account feature, we are moving one step closer to a comprehensive, full-stack offering for institutional clients.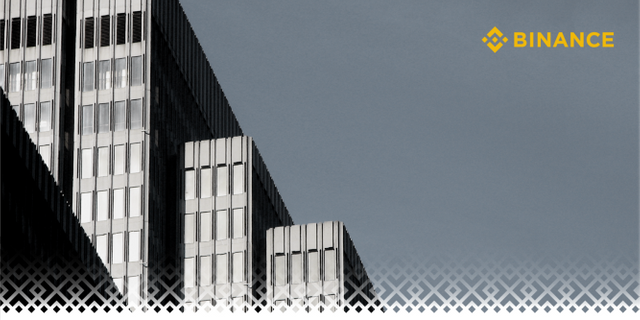 Binance is thrilled to announce the launch of our long-anticipated sub-account feature, which brings improved managerial control and asset audit tools to institutional account holders.
Take control of your corporate trading strategy
At Binance, we strive to fulfill the needs of our users and to constantly improve the user experience. The ability to have sub accounts was one of our most-requested features — we have been working on this functionality and are happy to now offer this to our institutional accounts.
This upgrade will serve entities looking to set up multiple trading accounts within one organization and control access on an account level. The original/main account has sole control over the movement of assets within the accounts as well as the ability to set permissions and grant different access levels for up to 200 sub accounts. API users will be pleased to know that each sub account will have its own set of API limits, enabling them to trade with more freedom and at a higher capacity.
Security is a core principle of our firm, and this principle also underlies the design of this new feature. Account login information has been properly subdivided to maximize security and minimize risk.
The VIP tiers will be calculated on an aggregate basis, and corresponding discounts will be applied to all sub accounts.
Here's a table summarizing the difference between a master account and a sub account.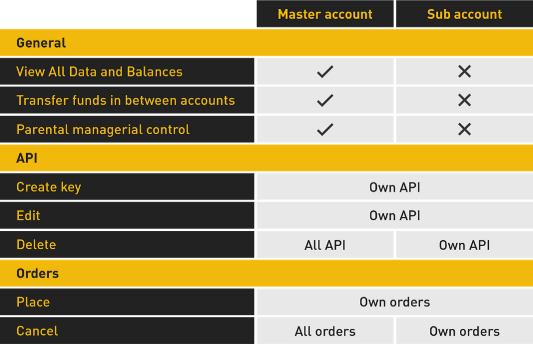 The full scope of the sub-account dashboard
The brand-new dashboard panel now has comprehensive balance reporting. We have also added navigational features and filters. It's broken down into five tabs:
Account Management
Asset Management
Order Management
Transfer History
Login History
From the Account Management tab, users have the ability to create new sub accounts as well as modify the "working" status, ownership, and security information (passwords, 2FA reset) of the existing ones. Users can create new sub accounts by clicking the Create Sub Account button on the upper right side of the dashboard. If necessary, sub accounts can also be frozen/unfrozen here.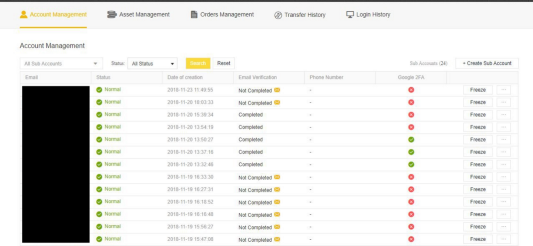 Overall token inventory can be observed in Asset Management tab. This section allows master accounts to transfer funds between linked sub accounts instantaneously at zero cost. Just click on the Transfer button at the top right corner of the screen or the In and Out buttons next to each sub account to initiate a transfer.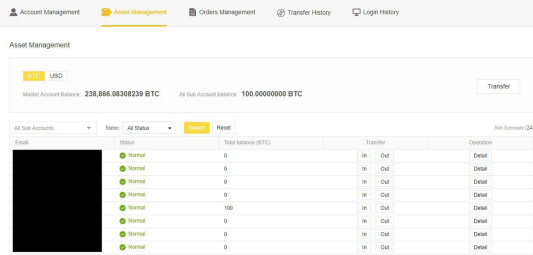 The Order Management tab shows information about current Open Orders, Order History and Trade History. Users are able to filter this information by a number of different options such as by sub account, traded pair, or time period.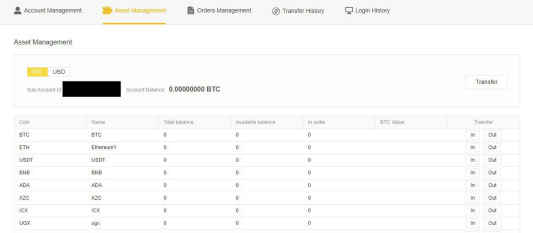 The Transfer History tab lets users know about when assets are transferred, and the parties involved in such transactions. Meanwhile, the Login Historytab logs the details of each login session made by sub accounts.
The new sub-account feature is just one of the several enhancements we offer for our corporate accounts. Register for a Binance account today and try our industry-leading trading experience for your organization. For more information on corporate accounts, reach out to us at [email protected].
The new sub-account feature is available to corporate users and individuals with VIP 3 tier (or higher) accounts. Please navigate to the "User Account" to try it out and check out our FAQ to learn more.